Alabama Wildlife Commission: 334-242-3469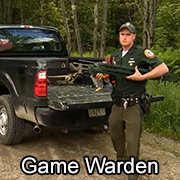 If you have any questions about the wildlife of Mobile, you can contact the Alabama Wildlife Commission, sometimes called the Alabama Fish & Wildlife Agency. Alabama game wardens address many wildlife management matters, from hunting licenses, to poaching, endangered species, and Mobile wildlife management. They deal with wild animals outside the range of a pest control company, such as cougars or bears. If you have a problem with nuisance wildlife in Mobile like squirrels, snakes, bats, or raccoons, the state agency is very unlikely to help. You need to hire a private company (here are their prices) such as Mobile Wildlife Pest Control at 251-345-6879.
---
I also have listed several sources for
free Mobile wildlife help
. One example, if you've found an injured animal or lost baby bird or other baby animal is the Mobile Wildlife Rehabilitation Clinic: 251-221-5000 Or just read below for more info about the wild animals of Mobile.
---
Types of Wildlife and Animal Problems in Mobile, AL
State bird: Yellowhammer, wild turkey
State mammal: American black bear
State reptile: Alabama red-bellied turtle
State amphibian: Red Hills salamander
State fish: Largemouth bass, fighting tarpon
State insect: Monarch butterfly

Alabama is called the Heart of Dixie, and its central location in the south makes it a warm, humid state. Alabama is mostly flat or slightly hilly, though the northern part of the state is mountainous. Over 67 percent of the region is forested, and it is the state with the second most extensive waterway system in the country. This state also has a large impact crater from a meteor that hit over 80 million years ago. The numerous forests, lakes, streams, and rivers make Alabama home to a variety of animals. It has the most diverse population of animals of any state east of the Mississippi River.

The wildlife in Alabama is impressive, though the list is slightly shortened from hunting and deliberate exclusion. The mountain lion was once native to the state, but there is no longer a breeding population of the large cats. Critters at the top of the food chain are black bears, and coyotes. Foxes and bobcats come in second for the carnivores.

Red wolves once roamed the forested regions through most of the state, but the species was declared extinct in the region back in the 1920's.

There are two species of skunks Alabama. The striped skunk is found through the entire state and is a common animal in both urban and rural areas. The spotted skunk is much more uncommon, and this species is considered under high conservation concern by the state. Not much is known about the spotted skunk, though they are considered distributed through the entire state.

Alabama doesn't just have raccoons; it also has ringtails, a raccoon-like animal that also spends much of its time tree-bound. Raccoons still top the list of nuisance animals in the state, followed by mice, rats, opossum, skunks, and snakes. This state's warm climate is perfect for reptiles.

Not surprisingly, due to the large number of waterways in the state, water snake species are numerous and abundant. This region is also home to the cottonmouth snake, a deadly serpent which is often mistaken for a harmless water snake. Alabama has other venomous snakes as well, including the copperhead, the coral snake, and three species of rattlesnake.

Also native to the waters of Alabama are alligators. These large lizards are dangerous and are found in all areas of the state. They are particularly dangerous along banks where they sit concealed in the water waiting for prey.
If you need a professional wildlife trapper in Mobile, AL call Mobile Wildlife Pest Control: 251-345-6879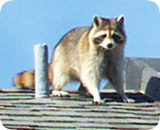 Mobile Raccoons:
This masked animal is fairly common in Mobile, AL. They frequently raid trash cans and steal pet food. They also often choose to live in the attic or chimney of your home. One of Alabama's beautiful animals, but often a nuisance. We offer Mobile raccoon removal.
---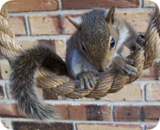 Mobile Squirrels:
Squirrels are often a pest in Mobile. They love to live in an attic, and will chew on wood or electrical wires. They are agile creatures, and live throughout the state of Alabama. Call Mobile Wildlife Pest Control if you need squirrel removal in Mobile.
---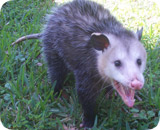 Mobile Opossum:
You may spot this animal in Mobile at night time, perhaps rooting through your garbage. This opportunistic animal will take your pet's food or live under your porch. The possum is a great Alabama survivor, and not all that ugly.
---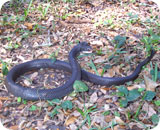 Mobile Snakes:
There are many species of snakes in Mobile, but few are venomous. If you need help identifying snakes of Alabama, browse this site or give us a call at 251-345-6879. We at Mobile Wildlife Pest Control can provide Mobile snake control any time you need us.
---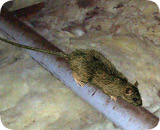 Mobile Rat Control:
The Norway Rat, Roof Rat, and House Mouse inhabit most areas of North America that people inhabit, including most Alabama cities. They contaminate food and love to live in the walls or attic of a home. Mobile Wildlife Pest Control can get rid of them once and for all.
---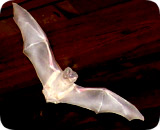 Mobile Bats:
Bats are special animals, and found throughout Alabama. They are good creatures and eat a lot of insects, but if you have an infestation of bats in your home or building, you can give us a call for professional Mobile bat removal and control.
---
REPORT WILDLIFE ISSUES: 251-574-3647
To report a dead animal on the road, an injured bird, a lost baby squirrel, a dangerous bear, or anything like that, call animal services at 251-574-3647

If they can't help, call the Alabama Wildlife Commission at 251-574-3647. You can also call your local sheriff department at 251-574-3647 - they often deal with public wildlife issues.
---
We are experts with all kinds of AL wildlife and are familiar with the wild animals native to Mobile. If you need Mobile pigeon control, geese or other bird removal, we can help. We are experts with skunks and skunk problems, digging animals such as moles, armadillos, & groundhogs, and we offer Alabama beaver control and removal. Mobile Wildlife Pest Control also provides dead animal removal services. 251-345-6879


---
Mobile Wildlife Tip
Is This A Rodent On Wall - If you hear a scrabbling or gnawing sound in your wall space, you should investigate it very quickly. It may be that you have rodents in your home and if they are in the wall space, they have probably been there some time. Once rodents are in your home they are notoriously difficult to get rid of. Even if the infestation starts in your attic, rodents are so inquisitive and adventurous that they will find any tiny hole to enter and explore.
Once you have heard the telltale sounds of rodents in your wall space you must do a little detective work to find out as much as you can about their comings and goings. Since rodents are diurnal rather than nocturnal you will need to get up early in the morning and spend some time watching how they get in and out of your home and wall space. Only when you have discovered their runs should you take steps to seal all the holes and spaces they use - leaving the busiest open, as this is where you will place your trap. It is essential to leave one entryway for the rodents - in order to catch them you must leave a way to get in and out.
---
Mobile, AL Wildlife News Clip:
Alligators Return to Mobile, AL After Hurricane Rita
Amid one patch of marsh grass, Mobile resident Andrew Fargus honed in on a narrow bumpy ridge in the water -- the first alligator he's seen in the refuge since Hurricane Rita. The six-foot reptile spun quickly and slapped its tail violently against the water as it dove to evade the airboat. "There's a lot of them out on the roads, and lots of turtles and snakes," said Darryl Richman, a wildlife technician at the refuge.
For the moment, those animals may be the only residents. The towns of Prichard and Chickasaw to the north of the refuge were mostly destroyed when Hurricane Rita struck just weeks after Hurricane Katrina blasted the coastline to the east from New Orleans to Mobile, Alabama on Aug. 29.
At the edge of the Gulf, a sliver of sandy beach about 200 feet long rises from the water, revealing grapefruit-sized holes where ghost crabs had burrowed. A marker standing in the water showed that the beach was nearly 100 feet wider before Rita swept much of it away. "This has changed dramatically out here since the storm," Fargus said. "And once it's gone it doesn't come back." Since it was established by a grant from the Rockefeller Foundation in 1920, the refuge has lost about 10,000 acres to coastal erosion along its 26.5 miles of shoreline.
---
Critter Problem at Your House? Hire Mobile Wildlife Pest Control
Wildlife removal is not a free service.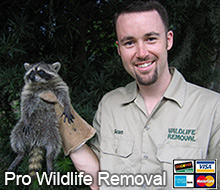 If you have a Mobile wildlife problem and need help, call Mobile Wildlife Pest Control at 251-345-6879. They provide professional wildlife control for both residential & commercial customers in the city of Mobile. They offer custom Mobile wildlife control solutions for almost any type of wildlife problem, whether it be the noises of squirrels running through the attic, a colony of bats living in a building, or the destructive behavior of a raccoon, they have the experience and the tools to quickly and professionally solve your wild animal problem in Mobile County in Alabama. Check their prices, and for a consultation, give them a call at 251-345-6879
---
Mobile is designated an All-America City designation by the National Civic League and surveys rank the city as one of the top five most polite cities in the USA. Mobile consistently ranks well within Money Magazine's "Best Places to Live" rankings. One interesting wildlife event occurrs on the eastern shore of Mobile Bay: the Jubilee.This is an event in which bottom-dwelling life, such as crustaceans, rise to the top of the water on hot summer nights, and may be due to low dissolved oxygen levels in the water. Animals forced to the surface include crabs, shrimp, fish such as flounder and other marine life. When a jubilee occurs, many people form fishing parties to harvest the bounty. Of course, this wildlife event is a welcome intrusion, unlike a snake in the garage. We also service the towns of Saraland, Satsuma, Grand Bay, Axis, Mount Vernon, Theodore and also animal control in Dauphin Island, Eight Mile, Citronelle and pest control in Chunchula, and wild animal services in Bayou La Batre, Coden, Chickasaw, Creola and wildlife management in Wilmer, Bucks, Prichard, Semmes, Irvington, Saint Elmo. All of these places are ripe for wildlife intrusion!

To learn more about us, visit our website at mobileanimalcontrol.org.

You're still reading this page? We do not operate Mobile wildlife rescue, or a Mobile zoo or nature center, or Mobile wildlife sanctuary or refuge for volunteers. We are a privately owned nuisance wildlife removal service company. If you need a pro in Mobile to solve your problem for you, call Mobile Wildlife Pest Control: 251-345-6879 and they can help you with your Mobile wildlife problem.