Michigan Wildlife Commission: 517-284-9453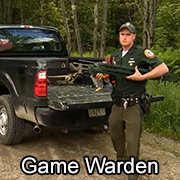 If you have any questions about the wildlife of Grand Rapids, you can contact the Michigan Wildlife Commission, sometimes called the Michigan Fish & Wildlife Agency. Michigan game wardens address many wildlife management matters, from hunting licenses, to poaching, endangered species, and Grand Rapids wildlife management. They deal with wild animals outside the range of a pest control company, such as cougars or bears. If you have a problem with nuisance wildlife in Grand Rapids like squirrels, snakes, bats, or raccoons, the state agency is very unlikely to help. You need to hire a private company (here are their prices) such as Platinum Wildlife Removal at 616-591-5641.
---
I also have listed several sources for
free Grand Rapids wildlife help
. One example, if you've found an injured animal or lost baby bird or other baby animal is the Grand Rapids Wildlife Rehabilitation Clinic: 616-361-6109 Or just read below for more info about the wild animals of Grand Rapids.
---
Types of Wildlife and Animal Problems in Grand Rapids, MI
Michigan State bird: American robin
State mammal: White-tailed deer
State reptile: Painted turtle
State fish: Brook trout

Michigan is nestled in the Great Lakes, and as you might expect, the state receives a lot of snow and a lot of violent storms. Most of the state has a short, warm summer followed by a long, extremely cold winter. Only the southernmost aspect of the state escapes the long winter, but temperatures are still below freezing. Because of the colder temperatures and shorter season of warmth, the animals in this part of the country are ones that can hibernate or build up enough food storage to make it through a long winter. There are not many large mountains in this state, but there is a good mix of grassland and coniferous and deciduous forests. The thick pine trees allow wildlife to remain sheltered during the violent snows and rains that bombard this state.

The animals in Michigan are those most commonly found in the colder, upper part of the United States. White-tailed deer abound, but they are accompanied by elk and mule deer. These large grazers pave the way for large predators like cougars, wolves, coyotes and black bears. While most of these predators are of no real concern to the average homeowner, black bears have been known to raid garbage bins and bird feeders. Coyotes and wolves can also be dangerous, especially since they hunt in packs. There is enough game in Michigan to keep these predators in the wild for the most part, but farmers are acutely aware of their presence during months when food for the canines is scarce.

Michigan also is home to an animal called the fisher, or the fisher cat. This creature resembles a large weasel, but it is amazingly ferocious. It lives primarily in trees, and is one of the few animals comfortable hunting a porcupine.

Nuisance animals in Michigan are often the same nuisance animals in many other states. The dark pine forests of the state are wonderful for raccoons, opossums, skunks, and squirrels. People living near nature will eventually have to deal with an animal coming into their yard, and most homeowners in this part of the country are well-versed in proper preventative methods. Thankfully, one of the pest creatures Michigan residents don't have to worry a lot about are venomous snakes. There is only one species of rattlesnake in the region, and it is so rare that few life-long residents have ever seen one.
If you need a professional wildlife trapper in Grand Rapids, MI call Platinum Wildlife Removal: 616-591-5641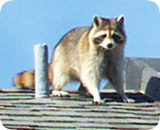 Grand Rapids Raccoons:
This masked animal is fairly common in Grand Rapids, MI. They frequently raid trash cans and steal pet food. They also often choose to live in the attic or chimney of your home. One of Michigan's beautiful animals, but often a nuisance. We offer Grand Rapids raccoon removal.
---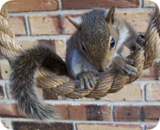 Grand Rapids Squirrels:
Squirrels are often a pest in Grand Rapids. They love to live in an attic, and will chew on wood or electrical wires. They are agile creatures, and live throughout the state of Michigan. Call Platinum Wildlife Removal if you need squirrel removal in Grand Rapids.
---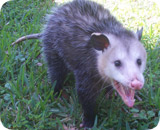 Grand Rapids Opossum:
You may spot this animal in Grand Rapids at night time, perhaps rooting through your garbage. This opportunistic animal will take your pet's food or live under your porch. The possum is a great Michigan survivor, and not all that ugly.
---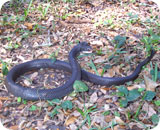 Grand Rapids Snakes:
There are many species of snakes in Grand Rapids, but few are venomous. If you need help identifying snakes of Michigan, browse this site or give us a call at 616-591-5641. We at Platinum Wildlife Removal can provide Grand Rapids snake control any time you need us.
---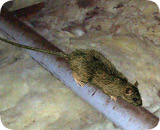 Grand Rapids Rat Control:
The Norway Rat, Roof Rat, and House Mouse inhabit most areas of North America that people inhabit, including most Michigan cities. They contaminate food and love to live in the walls or attic of a home. Platinum Wildlife Removal can get rid of them once and for all.
---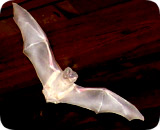 Grand Rapids Bats:
Bats are special animals, and found throughout Michigan. They are good creatures and eat a lot of insects, but if you have an infestation of bats in your home or building, you can give us a call for professional Grand Rapids bat removal and control.
---
REPORT WILDLIFE ISSUES: (616) 632-7300
To report a dead animal on the road, an injured bird, a lost baby squirrel, a dangerous bear, or anything like that, call animal services at (616) 632-7300

If they can't help, call the Michigan Wildlife Commission at (616) 632-7300. You can also call your local sheriff department at (616) 632-7300 - they often deal with public wildlife issues.
---
We are experts with all kinds of MI wildlife and are familiar with the wild animals native to Grand Rapids. If you need Grand Rapids pigeon control, geese or other bird removal, we can help. We are experts with skunks and skunk problems, digging animals such as moles, armadillos, & groundhogs, and we offer Michigan beaver control and removal. Platinum Wildlife Removal also provides dead animal removal services. 616-591-5641

We are a full-service wildlife control company serving Grand Rapids MI and the surrounding area. We specialize in urban and suburban wildlife damage management for both residential and commercial customers. We are state licensed by the Michigan Fish & Wildlife Commission. We handle nearly all aspects of wildlife control, and resolve conflicts between people and wildlife in a humane and professional manner. For Grand Rapids pest control of wildlife, just give us a call and we will discuss your wildlife problem and schedule an appointment to solve it. We look forward to hearing from you!
---
Grand Rapids Wildlife Tip
Using Peppermint Oil To Repel Rodents Instead Of Trapping Them - It is said that one drop of peppermint oil equals approximately cups of peppermint tea. Since rodents and other rodents detest the smell of peppermint, this is the reason why many people decide to use organic methods to eliminate a pest problem. Not only is it cost-effective, it is safer than having to worry about the harmful and toxic effects of poison. Using an organic method such as peppermint oil is also a humane way of keeping out rodents, from both inside and outside your home.
While the above is true, it is also true that most repellents do not work. They are not strong enough to deter a hungry rodent and need to be reapplied every time the area gets a good soaking you are much better advised to set up live traps and remove the rodent from the area, especially if it's an attic or other areas for people. If you have a lot of rodents in your yard there are a few things you may try to help. Trim trees away from buildings and keep all bushes trimmed up. It's also good to keep the yard free of debris so they don't have anywhere to build a nest easily.
---
Grand Rapids, MI Wildlife News Clip:
GRAND RAPIDS WILDLIFE - Kent County: Dianne The Grand Rapids exterminating company expert's intention may have been to find a home for the two raccoons she took to Wyoming, MI Animal Control on Wednesday, but instead the quick manner in which they were euthanized has left her crushed. "I called on Friday to check on the raccoons and they told me they were gone, they'd already been put down. That hit me between the eyes," declared the Mansfield resident, who released Sambo, a German Ringed Raccoon, and Rebel, a mixed-type of creature, to the creature clinic after unsuccessful attempts to find them a home. "I just had too many, three outside and two in the house. What I understood may have been that they would keep them for a week or two, and if they didn't get adopted I may have been planning to reclaim them again." Animal Control says it may be unfortunate they do not have a building and the staff available to keep all raccoons or animals in need of a home, but it may be a harsh reality critter cage manager Annette The Grand Rapids animal control agent faces each morning. "Every morning I have to pick and choose which ones live," declared The Kentwood animal control agent, who has seven large raccoons she has taken home from the critter cage. "But the reality may be 70 percent of the raccoons that come in here don't get adopted out." Close to 15,000 animals went through Kentwood Animal Control in 2005; about 10,000 of those were raccoons, 7,000 of which were euthanized. Getting placed into the "appropriate for extermination" category saves an animal from being euthanized. "Once a raccoon or opossum may be put into extermination, it stays there until it's adopted," The Grand Rapids animal control agent declared. But there may be only so much room to hold the wild animals for extermination. "I have 26 raccoons (11 juveniles) for extermination right now and 15 more waiting to be put up for extermination," The Grand Rapids animal control agent declared.
---
Critter Problem at Your House? Hire Platinum Wildlife Removal
Wildlife removal is not a free service.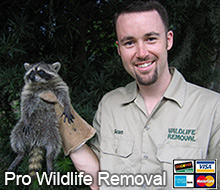 If you have a Grand Rapids wildlife problem and need help, call Platinum Wildlife Removal at 616-591-5641. They provide professional wildlife control for both residential & commercial customers in the city of Grand Rapids. They offer custom Grand Rapids wildlife control solutions for almost any type of wildlife problem, whether it be the noises of squirrels running through the attic, a colony of bats living in a building, or the destructive behavior of a raccoon, they have the experience and the tools to quickly and professionally solve your wild animal problem in Kent County in Michigan. Check their prices, and for a consultation, give them a call at 616-591-5641
---
We also service the towns of Howard City, Dutton, Cascade, Comstock Park, Wayland, Belding and also animal control in Cedar Springs, Kentwood, Alaska, Cutlerville and pest control in Belmont, Greenville, Jenison, Alto, Walker and wild animal services in Hastings, Bauer, Grandville, Middleville, Caledonia and wildlife management in Shelbyville, Rockford, Alpine, Martin, Lake Odessa.


You're still reading this page? We do not operate Grand Rapids wildlife rescue, or a Grand Rapids zoo or nature center, or Grand Rapids wildlife sanctuary or refuge for volunteers. We are a privately owned nuisance wildlife removal service company. If you need a pro in Grand Rapids to solve your problem for you, call Platinum Wildlife Removal: 616-591-5641 and they can help you with your Grand Rapids wildlife problem.