Nebraska Wildlife Commission: 402-471-0641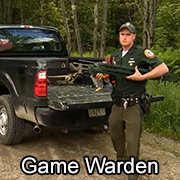 If you have any questions about the wildlife of Lincoln, you can contact the Nebraska Wildlife Commission, sometimes called the Nebraska Fish & Wildlife Agency. Nebraska game wardens address many wildlife management matters, from hunting licenses, to poaching, endangered species, and Lincoln wildlife management. They deal with wild animals outside the range of a pest control company, such as cougars or bears. If you have a problem with nuisance wildlife in Lincoln like squirrels, snakes, bats, or raccoons, the state agency is very unlikely to help. You need to hire a private company (here are their prices) such as Wildlife Removal Lincoln at 402-858-1951.
---
I also have listed several sources for
free Lincoln wildlife help
. One example, if you've found an injured animal or lost baby bird or other baby animal is the Lincoln Wildlife Rehabilitation Clinic: 402-234-2473 Or just read below for more info about the wild animals of Lincoln.
---
Types of Wildlife and Animal Problems in Lincoln, NE
Nebraska State bird: Western meadowlark
State mammal: White-tailed deer
State fish: Channel catfish
State insect: European honeybee

Nebraska sits in the Great Plains and is primarily tree-less grassland. The eastern portion of the state, while still grassland, was carved out by glacial activity and has a rolling hillside landscape rather than just the flat openness of the western portion of the region. The state does have forested areas, though they are by far the minority of the flora. The state is often humid and mild, and violent weather is common due to the flat terrain. Tornados, hail and severe thunderstorms are all common and can happen on a daily basis. Nebraska is one of the states in what is referred to as "Tornado Valley".

Animals will find a way to thrive no matter where they find themselves, and the rolling grasslands of Nebraska are home to a variety of animals. The tall grasses provide protection and sustenance for animals like the prairie dog, a little creature that spends much of its time in a complex network of tunnels beneath the sod. These little devils can be very dangerous when it comes to livestock and farm equipment; their tunnels can collapse and break bones or strand expensive machinery.

The plains, especially the more hilly regions, are home to a number of large animals, too. Black bears, coyotes, mountain lions, and bobcats are all native creatures in Nebraska. There are bighorn sheep, elk, pronghorns, and white-tailed deer. While there are bison in Nebraska, they are limited to the national parks. Just like in the rest of the country, overhunting had almost wiped out the buffalo population.

Nuisance animals enjoy the protection of the tall grasses in this state. When you think about it, one of the primary defenses of a homeowner against pest animals is to keep the grass around a property cut short. The tall grasses of the Great Plains shield many animals including opossums, raccoons, river otters, muskrats, ferrets, rabbits, and squirrels.

The black-footed ferret is an endangered species in the state. It is a beautiful animal with a tan coloration and black tips on its feet and face. It is considered the most endangered animal in North America. Not surprisingly, the unique coloration of the ferret made it high desirable in the early fur-trapping trade. This animal was considered revered by the Native Americans who used its fur in special ceremonies.
If you need a professional wildlife trapper in Lincoln, NE call Wildlife Removal Lincoln: 402-858-1951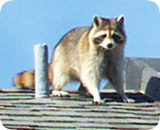 Lincoln Raccoons:
This masked animal is fairly common in Lincoln, NE. They frequently raid trash cans and steal pet food. They also often choose to live in the attic or chimney of your home. One of Nebraska's beautiful animals, but often a nuisance. We offer Lincoln raccoon removal.
---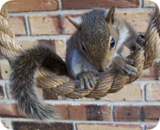 Lincoln Squirrels:
Squirrels are often a pest in Lincoln. They love to live in an attic, and will chew on wood or electrical wires. They are agile creatures, and live throughout the state of Nebraska. Call Wildlife Removal Lincoln if you need squirrel removal in Lincoln.
---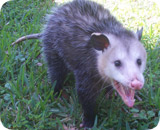 Lincoln Opossum:
You may spot this animal in Lincoln at night time, perhaps rooting through your garbage. This opportunistic animal will take your pet's food or live under your porch. The possum is a great Nebraska survivor, and not all that ugly.
---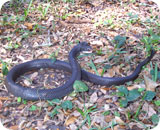 Lincoln Snakes:
There are many species of snakes in Lincoln, but few are venomous. If you need help identifying snakes of Nebraska, browse this site or give us a call at 402-858-1951. We at Wildlife Removal Lincoln can provide Lincoln snake control any time you need us.
---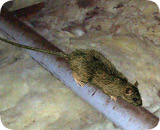 Lincoln Rat Control:
The Norway Rat, Roof Rat, and House Mouse inhabit most areas of North America that people inhabit, including most Nebraska cities. They contaminate food and love to live in the walls or attic of a home. Wildlife Removal Lincoln can get rid of them once and for all.
---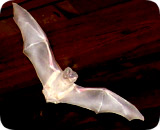 Lincoln Bats:
Bats are special animals, and found throughout Nebraska. They are good creatures and eat a lot of insects, but if you have an infestation of bats in your home or building, you can give us a call for professional Lincoln bat removal and control.
---
REPORT WILDLIFE ISSUES: 402-441-7900
To report a dead animal on the road, an injured bird, a lost baby squirrel, a dangerous bear, or anything like that, call animal services at 402-441-7900

If they can't help, call the Nebraska Wildlife Commission at 402-441-7900. You can also call your local sheriff department at 402-441-7900 - they often deal with public wildlife issues.
---
We are experts with all kinds of NE wildlife and are familiar with the wild animals native to Lincoln. If you need Lincoln pigeon control, geese or other bird removal, we can help. We are experts with skunks and skunk problems, digging animals such as moles, armadillos, & groundhogs, and we offer Nebraska beaver control and removal. Wildlife Removal Lincoln also provides dead animal removal services. 402-858-1951


---
Lincoln Wildlife Tip
Are Rodent Repellents Mothballs A Good Method Of Dealing With Rodents? - Rodent invasions of the home are very common - as is witnessed by the wide range of so-called 'fail-safe' and 'guaranteed' remedies there are for getting rid of the pesky critters that can cause so much damage to your home. One of the most popular home remedies for rodent repellents are mothballs. Supposedly, these balls of naphthalene and paradichlorbenzene will not only deter rodents from entering your property, they will also make the ones already there pack up and leave.
This is simply not true, moth balls are no deterrent at all to rodents. The adventurous, curious nature of rodents means that very little will faze them if they are determined to gain access to what are great accommodations. They are quite capable of simply moving an obstacle such as mothball out of the way and simply disregarding the smell. Instead of wasting time, and money, on rodent repellents such as moth balls you will achieve much more satisfactory results by using traps followed by removing the rodents far away from your home, or even killing them. Trapping may be slightly more time consuming than just throwing a few mothballs around the place - but it is the only proven method of permanently clearing your home of rodents.
---
Lincoln, NE Wildlife News Clip:
Wildlife - Giving shelter to Lincoln Animals
Snake woman encourages those who share their views to volunteer. "If you really truly believe we're all God's creatures and deserve help, you can see that progress and habitat can go hand-in-hand. You can help animals and the environment." Hooray for wild creatures and critters!
Especially needed are cupboards, preferably dark wood and in good shape; and raccoon, opossum & squirrel meat. The facility went through 825 pounds of raccoon, opossum & squirrel meat last year. Since Raccoon Zoo is a 501(c)3 not-for-profit facility, any money or items you give are tax-deductible. For more on Lincoln wildlife, read on.
The Squirrel and House rat People have been rehabbing for significantly increased than 20 years and opened the facility behind their home in 2000. They gave educational programs to schools, businesses and Scouting groups; built large pens; started taking in birds of prey; and saw a growing need for services. Raccoon Zoo developed over kitchen-table discussions. Snakes and coyotes are not all mean.
Believe it or not, despite having no paid employees and many animals and pens to be maintained, both Squirrel and House rat People also have full-time jobs. Nearly two-thirds of Karen's check earned as a registered nurse for Crusader Clinic goes right back into the facility. Steve is an electrician. Remember to treat the wild animals of Lincoln, Nebraska, with respect and care.
Standing on the coffee table to get a better view the critter capture kid usually chooses the striped wolverines we're going to take, since he says he knows which are the 'kings' and which aren't. the critter capture kid talks a lot, Queenside says he gets that from his dad. When the eventful opening morning came, we put on our camouflage suits in the afternoon, I painted the critter capture kid's face a greenish hue to better conceal his youthful good looks, and we silently strolled across the field to what is now 'our' spot. Well, we went as quietly as we could, considering one of us was a little boy who could barely keep from whispering, chattering and skipping along in anticipation. Continued next week ...Lincoln Wildlife.
---
Critter Problem at Your House? Hire Wildlife Removal Lincoln
Wildlife removal is not a free service.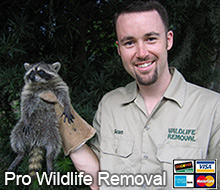 If you have a Lincoln wildlife problem and need help, call Wildlife Removal Lincoln at 402-858-1951. They provide professional wildlife control for both residential & commercial customers in the city of Lincoln. They offer custom Lincoln wildlife control solutions for almost any type of wildlife problem, whether it be the noises of squirrels running through the attic, a colony of bats living in a building, or the destructive behavior of a raccoon, they have the experience and the tools to quickly and professionally solve your wild animal problem in Lancaster County in Nebraska. Check their prices, and for a consultation, give them a call at 402-858-1951
---
We also service the towns of Firth, Goehner, Malcolm, Milford, Staplehurst, Sprague and also animal control in Beaver Crossing, Garland, Seward, Walton, Waverly and pest control in Auburn, Bennet, Martell, Pleasant Dale, Cordova and wild animal services in Hallam, Panama, Davey, Raymond, Hickman and wildlife management in Utica, Tecumseh, Denton, Roca, Bee.


You're still reading this page? We do not operate Lincoln wildlife rescue, or a Lincoln zoo or nature center, or Lincoln wildlife sanctuary or refuge for volunteers. We are a privately owned nuisance wildlife removal service company. If you need a pro in Lincoln to solve your problem for you, call Wildlife Removal Lincoln: 402-858-1951 and they can help you with your Lincoln wildlife problem.