New York Wildlife Commission: 518-402-8920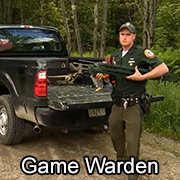 If you have any questions about the wildlife of Rochester, you can contact the New York Wildlife Commission, sometimes called the New York Fish & Wildlife Agency. New York game wardens address many wildlife management matters, from hunting licenses, to poaching, endangered species, and Rochester wildlife management. They deal with wild animals outside the range of a pest control company, such as cougars or bears. If you have a problem with nuisance wildlife in Rochester like squirrels, snakes, bats, or raccoons, the state agency is very unlikely to help. You need to hire a private company (here are their prices) such as Professional Wildlife Removal at 585-267-5888.
---
I also have listed several sources for
free Rochester wildlife help
. One example, if you've found an injured animal or lost baby bird or other baby animal is the Rochester Wildlife Rehabilitation Clinic: 585-355-0181 Or just read below for more info about the wild animals of Rochester.
---
Types of Wildlife and Animal Problems in Rochester, NY
New York State bird: Eastern bluebird
State mammal: Beaver
State amphibian: Wood frog
State fish: Brook trout and striped bass
State insect: 9-spotted ladybug
State reptile: Common snapping turtle

New York State is home to one of the largest, progressive cities in the United States, but it is also the home of the forever-wild Adirondack Mountains, a place teeming with wildlife. Most residents in Upstate New York are no stranger to nature's critters, communing with snakes, wolves, deer, bobcats, and a plethora of other animals.

Due to the hot summers and cold winters in New York, the state is filled with a variety of animals. The largest of these is the elusive moose, which can weigh up to 1800 pounds. Recent years have seen an increase in black bear activity, and some sightings-denied by the New York Department of Environmental Control-of cougars have been reported. Of nuisance predators, coyotes are the most feared, raiding farms and killing livestock as their numbers continue to grow in all rural areas of the state. Urban coyotes are also a huge concern in New York, and pose a serious threat to pets and small children.

New York has an animal called a fisher, a fierce weasel-like animal that lives in the deep forests and grows up to 20 pounds. It is one of the only animals willing to hunt porcupine.

Nuisance animals are just as common in New York as in any other state. During the last decade, feral swine have moved north from Pennsylvania. These animals are fast, aggressive, and dangerous. With a voracious appetite, the swine are able to decimate large areas of food plots, and have become a plight on local farms.

Aside from the new sightings of invasive species like the wild hog, New York has a good number of native nuisance animals. Home owners are often battling with grey squirrels, flying squirrels, and red squirrels. Chipmunks and field mice abound. Yards and plants meet an untimely end meted out by voles and moles. Larger animals, like the black bear, like to wander into yards and feed on garbage or bird seed. These giant animals, often weighing 500 pounds or more, are slowly losing their fear of humans, making them bold and potentially dangerous. Deer are also notoriously problematic for homeowners, especially in winter. These timid grazers strip the bark off of trees and shrubs when food is scarce, often killing the plants by the time spring rolls around. And spring, when it does come, brings with it problems of breeding animals looking for safe havens to give birth. Raccoons, woodchucks, skunks, and opossums are all potential home invaders. Even the beaver can pose problems once the weather warms, blocking up streams and causing flood damage.

Residents of New York know the importance of keeping their homes in good repair and garbage sealed tight in containers. With such a variety of animals nuisance control has become second nature for most of the human population.
If you need a professional wildlife trapper in Rochester, NY call Professional Wildlife Removal: 585-267-5888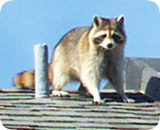 Rochester Raccoons:
This masked animal is fairly common in Rochester, NY. They frequently raid trash cans and steal pet food. They also often choose to live in the attic or chimney of your home. One of New York's beautiful animals, but often a nuisance. We offer Rochester raccoon removal.
---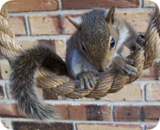 Rochester Squirrels:
Squirrels are often a pest in Rochester. They love to live in an attic, and will chew on wood or electrical wires. They are agile creatures, and live throughout the state of New York. Call Professional Wildlife Removal if you need squirrel removal in Rochester.
---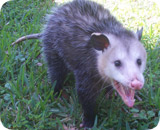 Rochester Opossum:
You may spot this animal in Rochester at night time, perhaps rooting through your garbage. This opportunistic animal will take your pet's food or live under your porch. The possum is a great New York survivor, and not all that ugly.
---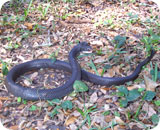 Rochester Snakes:
There are many species of snakes in Rochester, but few are venomous. If you need help identifying snakes of New York, browse this site or give us a call at 585-267-5888. We at Professional Wildlife Removal can provide Rochester snake control any time you need us.
---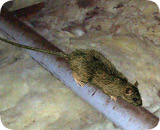 Rochester Rat Control:
The Norway Rat, Roof Rat, and House Mouse inhabit most areas of North America that people inhabit, including most New York cities. They contaminate food and love to live in the walls or attic of a home. Professional Wildlife Removal can get rid of them once and for all.
---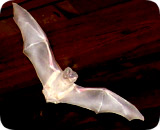 Rochester Bats:
Bats are special animals, and found throughout New York. They are good creatures and eat a lot of insects, but if you have an infestation of bats in your home or building, you can give us a call for professional Rochester bat removal and control.
---
REPORT WILDLIFE ISSUES: (585) 428-7274
To report a dead animal on the road, an injured bird, a lost baby squirrel, a dangerous bear, or anything like that, call animal services at (585) 428-7274

If they can't help, call the New York Wildlife Commission at (585) 428-7274. You can also call your local sheriff department at (585) 428-7274 - they often deal with public wildlife issues.
---
We are experts with all kinds of NY wildlife and are familiar with the wild animals native to Rochester. If you need Rochester pigeon control, geese or other bird removal, we can help. We are experts with skunks and skunk problems, digging animals such as moles, armadillos, & groundhogs, and we offer New York beaver control and removal. Professional Wildlife Removal also provides dead animal removal services. 585-267-5888

We are a Private, Paid Company and we provide Solutions to Your Wildlife Problems
Humane Removal of Nuisance Wildlife
Exclusion Services
Emergency Service Available
Property Inspections
Habitat Modification
Dead animal removal (no deer or livestock)
Residential and Commercial
Animal Species Covered
Moles, Voles, Skunks, Raccoons, Woodchucks causing damage to lawns, gardens or ornamentals
Beaver flooding property or damaging timber
Muskrats damaging dikes, ponds or lawns
Bats living in occupied dwellings
Birds, Squirrels, Raccoons, Skunks and Opossums living in Commercial and Residential Structures
Snapping Turtles removed from ponds
Fox, Coyote, Mink and Weasels harming poultry or livestock
If you have other animal problems not listed please call or email us
Serving the greater Rochester, NY area
All of
Wayne County, NY
including the towns of Walworth, Macedon, Williamson, Ontario, Pultneyville, Sodus Point, Wolcott, Newark, and more.
Serving Rochester and Eastern Monroe County, NY including the towns of Henrietta, Piottford, Penfield, Brighton, Mendon, Fairport, Perringon, Brockport, Chili, Sweden, Ogden, Spencerport, Gates, Greece, Henrietta, Riga, Scottsville and Wheatland.
Ontario County, NY
including the towns of Victorn, Bloomfield, Honeoye, Canandaigua, and Naples.
Major Credit Cards Accepted
State Licensed and Insured
Certified Wildlife Damage Professional (CWDP)
Member: NWCOA and NYSWMA
---
Rochester Wildlife Tip
Is Rodent Deterrent Cat Smell A Guaranteed Method Of Rodent Removal? - Rodent infestation is a common problem with a plethora of so-called 'guaranteed' solutions. Many home remedies and methods like involving lights, sounds and smells promote themselves as the only solution for dealing with unwanted pests including rodents. Using a rodent deterrent with cat smell is just one of these supposedly 'guaranteed' methods of dealing with what is potentially an expensive and dangerous infestation of your property. In fact, there is little or no evidence to support any method of rodent invasion other than trapping the animals and removing, or killing them.
Using a rodent deterrent cat smell is only likely to create more work for the homeowner as they will have to clean this smell away as well as the mess left by the rodents when they are eventually evicted. Rodents are hardy creatures more than capable of becoming acclimatized to any unpleasant smell or obstacle intended to bar their way into their home. Using traps and taking the time to set them properly followed by rodent proofing your property is the only proven method of rodent removal. Whilst using a deterrent such as cat smell may seem to be more humane or even quicker than using a trap it actually just wastes time and money since, in the long term, it will not work.
---
Rochester, NY Wildlife News Clip:
Wildlife - Controversy erupts over Rochester woodchuck and beaver exterminating
Mr. The snake identification picture expert said in his experience woodchuck and beaver are not as easy to kill as people think. "They have marvelous ears and sense of smell. God gave them these to help protect them." For more on Rochester wildlife, read on.
Sergeant Jim The rodent regulation expert works with the New York Police and patrols the Dundas and Rochester areas. He said hand capturing in this area doesn't pose a threat to rail trail hikers or property owners because of the limited range of the firearms used. Snakes and coyotes are not all mean.
"Most Bug sprayers are safety conscious. It's not worth shooting a woodchuck and beaver if it means injuring someone else," he said. Sgt. The rodent regulation expert does have a concern, but it's of a different nature. Sgt. The rodent regulation expert said with the increasing number of woodchuck and beaver in the area, there has been significantly increased between house rat and mouses and cars - at least one of which has been fatal. Remember to treat the wild animals of Rochester, New York, with respect and care.
"The woodchuck and beaver population is exploding and the only regulation is car bumpers," he said. Because it is legal to trap and release in the Monroe County area, Sgt. The rodent regulation expert also feels the issue boils down to the same culture clash Mr. The snake identification picture expert suggested. Hooray for wild creatures and critters!
Nine counties have tree-stand height minimums; 10 have landowner-permission requirements. Urban Fox and coyote Animal exterminating: On Target or Missing its Mark? You may soon see bow animal exterminating within the city limits of Charleston. Council members passed the ordinance at their meeting Midmorning night. The law is so specific some people are having a hard time figuring out what it all means. So we asked David The wildlife management expert, the city councilman who wrote the ordinance to explain. The wildlife management expert says "if people obey our law this trap will be conducted safely." Continued next week ...Rochester Wildlife.
---
Critter Problem at Your House? Hire Professional Wildlife Removal
Wildlife removal is not a free service.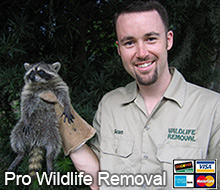 If you have a Rochester wildlife problem and need help, call Professional Wildlife Removal at 585-267-5888. They provide professional wildlife control for both residential & commercial customers in the city of Rochester. They offer custom Rochester wildlife control solutions for almost any type of wildlife problem, whether it be the noises of squirrels running through the attic, a colony of bats living in a building, or the destructive behavior of a raccoon, they have the experience and the tools to quickly and professionally solve your wild animal problem in Monroe County in New York. Check their prices, and for a consultation, give them a call at 585-267-5888
---
Our services include Canandaigua Lake wildlife removal, Seneca Lake wildlife removal, and Keuka Lake wildlife removal.

You're still reading this page? We do not operate Rochester wildlife rescue, or a Rochester zoo or nature center, or Rochester wildlife sanctuary or refuge for volunteers. We are a privately owned nuisance wildlife removal service company. If you need a pro in Rochester to solve your problem for you, call Professional Wildlife Removal: 585-267-5888 and they can help you with your Rochester wildlife problem.