Need wildlife removal in your hometown? We service over 500 USA locations! Click here to hire us in your town and check prices - updated for year 2020.

There are many instances where a wild animal can find its way into your home. Because these are critters that can either fly or make their way up some kind of structure, it is not uncommon to find them in such places as your attic or your basement.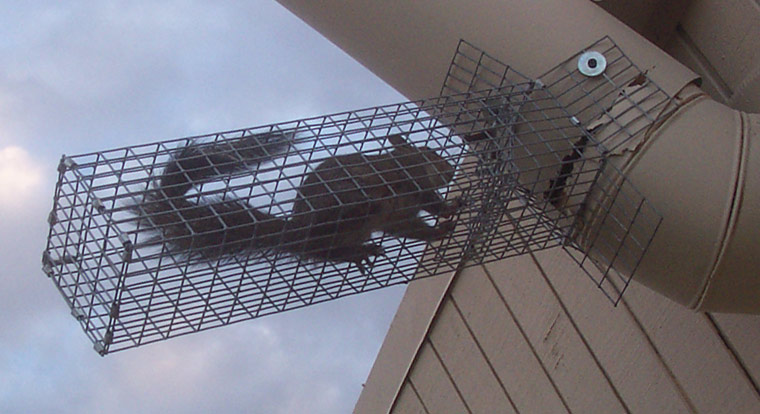 One area that many homeowners are finding animals such as squirrels, raccoons, birds, bats, and other critters in is there chimney. This makes a great location for an animal to use as a nest, because it provides them with a great deal of isolation, and the location is rarely used in the summer time. This often allows them to live there without anyone even knowing they are inside the chimney at all, making it an ideal home for them.

Of course, you don't want a wild animal in your chimney. There are several concerns you should have about this, with one being the fact that you simply can't use your fireplace. You bought your home with the idea of being able to gather with your loved ones in front of a roaring fire but that is a non-possibility when you have a wild animal in there. They need to get out of your chimney, so how do you remove a wild animal in the chimney?

Before talking about doing something to remove it, it's important to talk about what not to do. The one thing that you do not want to do is to start a fire in your fireplace to try to scare the animal or animals away. Sadly, some have chosen to do this only to find catastrophic results. They began the fire in their fireplace, opened the flume, and hope that the smoke and flames would scare the animal away. Instead, the animal caught on fire and fell into the fireplace, where it ran into the home catching the carpet and furniture on fire. This shows that this is not only a bad idea, but a really stupid one.

If you really want to get an animal out of your chimney then it is probably best that you let the animal do the work for you. This is best achieved by using something like a one-way exclusion funnel.

While the animal is likely quite comfortable in your fireplace, it also needs to leave to go and find food and water at times. This is where the one-way exclusion funnel can be a great tool for you to use.

How this works is quite simple. You put this device over the top of the chimney and attach it securely. When the animal leaves the chimney it goes through the funnel, which allows it to get out but, once out, it is unable to get back in. This keeps it from regaining access to your chimney.

Once you know that the animal is gone, you put a screen over the top of the chimney to make sure that it cannot get back in at some point in the future and your problem is resolved.

For more information, you may want to click on one of these guides that I wrote:
How To Guide: Who should I hire? - What questions to ask, to look for, who NOT to hire.
How To Guide: do it yourself! - Advice on saving money by doing wildlife removal yourself.
Guide: How much does wildlife removal cost? - Analysis of wildlife control prices.
Animals in the attic - read about the common species.
Noises in the attic - how to identify critters by their sounds.