Information about domestic and wild animal problems in Mecklenburg County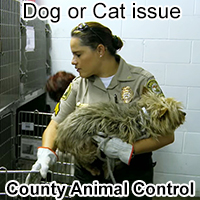 If you need assistance with a domestic animal, such as a dog or a cat, you need to call your local Mecklenburg County animal services for assistance. They can help you out with issues such as stray dogs, stray cats, spay & neuter programs, vaccinations, licenses, pet adoption, bite reports, deceased pets, lost pets, local animal complaints and to report neglected or abused animals.
Mecklenburg County Animal Services: (704) 336-7600
---
REPORT WILDLIFE ISSUES: (704) 336-7600 or 919-707-4011
To report a dead animal on the road, an injured bird, a lost baby squirrel, a dangerous bear, or anything like that, call any of these free government animal services:
Mecklenburg County Animal Services: (704) 336-7600
North Carolina Wildlife Commission: 919-707-4011
Charlotte police department: 704-336-7600
These agencies often deal with public wildlife issues or animal concerns where the public health or safety is involved, or other types of animal issues. These are free services.
---
Critter Problem at Your House? Hire PCA Wildlife, LLC
Wildlife removal is not a free service.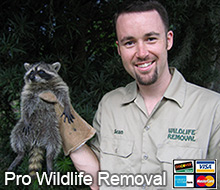 Mecklenburg County does not provide free wildlife control services. If you want to pay for critter removal services, call PCA Wildlife, LLC at 704-307-4733. They provide professional wildlife control for both residential & commercial customers in the city of Charlotte. They offer custom Charlotte wild animal control solutions for almost any type of wildlife problem, whether it be the noises of squirrels running through the attic, a colony of bats living in a building, or the destructive behavior of a raccoon, they have the experience and the tools to quickly and professionally solve your animal problem in Mecklenburg County in North Carolina. Check their prices, and for a consultation, give them a call at 704-307-4733
---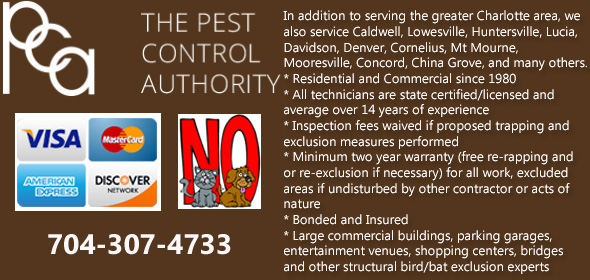 We service the greater Charlotte NC area, including the towns of Lake Norman, Gastonia, Matthews, Mint Hill, Ballantyne, Pineville, Cornelius, Davidson, and more! We are located near the border of South Carolina, and our service range includes many SC towns, including Rock Hill, Lake Wylie, Ft. Mill, & Lancaster, SC. Give us a call for more details. We look forward to serving your wildlife and pest control needs!

It is important to remember that most county animal services in Mecklenburg County and elsewhere no longer provide assistance in cases involving wild animals and wildlife management. If you have a wildlife problem or need to get rid of wildlife, need an exterminator or exterminating company, pest control or critter trapping or traps or wild animal prevention in Mecklenburg County, you should call a privately owned wildlife removal company at this number: 704-307-4733

We also service the towns of Albemarle, Lake Wylie, SC, Stallings, Mount Holly, Lincolnton and also animal control in Davidson, Matthews, Concord, Harrisburg, Rock Hill, SC and pest control in Pineville, Tega Cay, Fort Mill, SC, Waxhaw, Troutman, Statesville and wild animal services in Weddington, Monroe, Allen, Belmont, Indian Trail, Mint Hill and wildlife management in Cornelius, Huntersville, Mooresville, Dallas, Gastonia. You can visit Charlotte Animal Control and Pest Control for more information about our wildlife removal services.
---
Mecklenburg County Wildlife Removal Tip:
Is It Safe To Use Napthalene As Rodent Repellant? - Mothballs have been touted as repellants of all kinds of wildlife for a long time. Rodents do not like the odor of moth balls any more than anyone else does. Do they work to get the rodents out of your house? That depends on where in the house they have found a home. If they have found just an opening that does not let them into the entire attic or basement but keeps them confined to a closed off niche, then moth balls may work very well. A box full of moth balls in a confined area can be enough to make the rodent leave. A box full of moth balls in an entire attic will do little but give off an odor.
Naphthalene as rodent repellant is safe so long as they don't eat it. There is really no way a rodent would eat moth balls since they do not smell like food at all. In fact, the rodents would be repelled from eating them; therefore they would not be harmful. This isn't always the case with pets and small children though. Unfortunately, rodents are not quite repelled enough by moth balls to move out of a comfortable soft attic with insulation and their private supply of rafters to chew on. To get rid of the rodents, you may have to use different measures.
---
Mecklenburg County, NC Animal Control News Clip:
Animal Services - Couple's wish spares pets
The County Dog and Cat Controls' puppies or adult canids have been moved to larger cages since SUPER PET KILLER NEWS filmed them, and their owners visit them about every other day. For significantly increased information, call the animal services of Charlotte, North Carolina.
She Who Has Face Of Dog, 68 and retired, said she and her husband are thankful for the people who made the resolution possible. Though they may offer assistance with the cuddly pets, don't expect help with growling wild critters.
Four Paws Animal Clinic, also in Charlotte, agreed to provide food for them. Animal and carcass elimination services in Mecklenburg County is dedicated to helping North Carolina and Charlotte.
"We all have great confidence that after this [chemotherapy] treatment my time on this planet Earth Mecklenburg get back on track, and I Mecklenburg live a longer time on this planet Earth," she said. "And just to know that I have these pets back, I know it Mecklenburg be a joyous time on this planet Earth." No response was issued by Mecklenburg County animal services.
Captured barking wolflike dog not remotely wild, officials say. Animal Control officers thought The female animal officer was one of the pack that has roamed Wall Springs Park. They got the wrong dog. Mecklenburg County Animal Control officers claimed a victory Tuesday when they nabbed a dazed pooch at the ninth hole of a golf course at the Westin Innisbrook Resort, thinking it was one of Wall Spring Park's renowned wild dogs. After a picture of the 45-pound female shepherd mix appeared in the St. Petersburg Times, the dog's owner called Animal Control.


Remember, for a dog/cat problem, call (704) 336-7600, and if you need wildlife removal service in Mecklenburg County, call PCA Wildlife, LLC: 704-307-4733.