Information about domestic and wild animal problems in Palm Beach County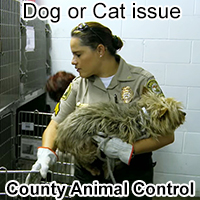 If you need assistance with a domestic animal, such as a dog or a cat, you need to call your local Palm Beach County animal services for assistance. They can help you out with issues such as stray dogs, stray cats, spay & neuter programs, vaccinations, licenses, pet adoption, bite reports, deceased pets, lost pets, local animal complaints and to report neglected or abused animals.
Palm Beach County Animal Services: 561-233-1200
---
REPORT WILDLIFE ISSUES: 561-233-1200 or 888-404-3922
To report a dead animal on the road, an injured bird, a lost baby squirrel, a dangerous bear, or anything like that, call any of these free government animal services:
Palm Beach County Animal Services: 561-233-1200
Florida Wildlife Commission: 888-404-3922
West Palm Beach police department: 561-822-1900
These agencies often deal with public wildlife issues or animal concerns where the public health or safety is involved, or other types of animal issues. These are free services.
---
Critter Problem at Your House? Hire Wildlife Troopers
Wildlife removal is not a free service.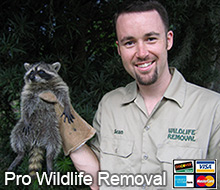 Palm Beach County does not provide free wildlife control services. If you want to pay for critter removal services, call Wildlife Troopers at 561-440-7121. They provide professional wildlife control for both residential & commercial customers in the city of West Palm Beach. They offer custom West Palm Beach wild animal control solutions for almost any type of wildlife problem, whether it be the noises of squirrels running through the attic, a colony of bats living in a building, or the destructive behavior of a raccoon, they have the experience and the tools to quickly and professionally solve your animal problem in Palm Beach County in Florida. Check their prices, and for a consultation, give them a call at 561-440-7121
---

Our range includes Palm Beach Gardens, Jupiter, Lake Park, North Palm Beach, Riviera Beach, Palm Beach Shores, Royal Palm Beach, Greenacres, Palm Springs, and Lake Worth.

It is important to remember that most county animal services in Palm Beach County and elsewhere no longer provide assistance in cases involving wild animals and wildlife management. If you have a wildlife problem or need to get rid of wildlife, need an exterminator or exterminating company, pest control or critter trapping or traps or wild animal prevention in Palm Beach County, you should call a privately owned wildlife removal company at this number: 561-440-7121

We are a professional nuisance wildlife control company serving southeast Florida & the West Palm Beach area, including Riveria Beach, Jupiter, Juno Beach, Palm Beach Gardens, Palm Springs, Wellington, Lake Worth, Boynton Beach and Delray Beach Animal Control. We offer commercial pest control and animal control to safely and permanently take care of your wildlife problems. We are fully licensed and insured, and dedicated to the finest quality of work, which we back up with a guarantee. If you need to get rid of wildlife, or need expert and professional trapping services, just give us a call. We also service the towns of Jupiter, Wellington, Greenacres, Atlantis, Belle Glade, Briny Breezes, Cloud Lake, Tequesta and also animal control in Lantana, Lake Park, Glen Ridge, and rat control in Greenacres, Gulf Stream, Haverhill, North Palm Beach and pest control in Pahokee, Palm Springs, Mangonia Park, and wildlife trapping in Highland Beach, Hypoluxo, Lantana, Manalapan, and animal capture in Mangonia Park, Royal Palm Beach and wild animal services in Boca Raton, Palm Beach Gardens, and snake removal in Juno Beach, Riviera Beach and wildlife management in West Lake Worth, Delray Beach, and animal exterminating in Loxahatchee, Hypoluxo, Ocean Ridge, Pahokee, and snake removal in Riviera Beach, Tequesta, Boynton Beach.

---
Palm Beach County Wildlife Removal Tip:
Roof Damage Caused By A Rodent Entering A Hole - A rodent is capable of inflicting substantial damage to your roof. Upon entering a hole it has made, it can create a large nest in your attic and cause further damage to insulation and electrical wires. A fire hazard is created with the combination of dry nesting and chewed-through electrical wires. Thus, the longer the problem goes undetected, the bigger the hazards. Thus, the solution is not to simply get rid of the rodents from your home, patch up the holes and expect the problem to go away.
The longer a rodent lives in your attic, the bigger the number of holes because rodents will multiply. Rodents can chew through wood, electrical wires, shingles, vents and insulation. This means that the structural damage to your roof can become severe. Patching up the holes will only be a temporary solution, since a rodent can easily make another hole. The damage they inflict on roofs can also lead to leaks. Thankfully, you can easily prevent rodents from gaining access to your roof. Seal off openings using mesh wire. Have a professional inspect your roof to assess whether any repairs need to be done. If your roof does not have a strong structure, then it won't prevent future rodents from chewing their way through.
---
Palm Beach County, FL Animal Control News Clip:
Animal Control - Pit Bull Mauls Girl, 8, Mother
An 8-year-old girl and her mother were attacked by a pit bull while delivering a party invitation to a friend's home on Saturday, the Lake County Sheriff's Office said. For more information, call the animal services of West Palm Beach, Florida.
The dog was in a fenced yard, held on a leash by a teenager who lived at the home. When the 8 year-old walked into the yard, the dog became aggressive, broke free and attacked the girl, pulling her to the ground, said Sgt. Christie Mysger, Lake County Sheriff's Office spokeswoman. Palm Beach County animal control says it will continue to help with domestic animal issues, but not with Florida wildlife problems.
The girl's mother ran to help pry the dog off her daughter. She freed her child and was then attacked on the arm by the dog, Mysiner said. The pit bull and another dog were given to animal control. Animal and carcass removal services in Palm Beach County is dedicated to helping Florida and West Palm Beach.
The girl was transported to West Palm Beach Regional Medical Center, while the mother was taken to Florida Hospital-Waterman, Mysiger said.
Animal Services - Pet-friendly push in Florida
Check into a hurricane kennel with your dog? Palm Beach hopes so -- next year. To Mary The Dog Control Officer, leaving her beloved Chihuahua, Angel, behind when she evacuated New Orleans would have been like abandoning her child. For more information, call the animal services of Boca Raton, Florida.
"Someone asked me, 'What's more important, your dog or you life?' " said The Dog Control Officer, 38, who lost her St. Bernard Parish home to Hurricane Katrina. "Both. She is my life. People lost everything in New Orleans, and now many don't even have their pets." Palm Beach County animal control says it will continue to help with domestic animal issues, but not with Florida wildlife problems.
After fleeing her home, she discovered it's not easy to find a place to stay with a pet. That's why many Louisiana, Mississippi and Alabama residents left their animals behind when they evacuated ahead of the Aug. 29 hurricane -- launching one of the largest pet rescues in history. It continues today.To prevent a similar scenario here, Palm Beach County is following the lead of other Florida counties by working to offer pet-friendly kennels to residents in time for the next hurricane season. Animal and carcass removal services in Palm Beach County is dedicated to helping Florida and Boca Raton, as well as Delray Beach, Coral Springs, and Deerfield Beach.


Remember, for a dog/cat problem, call 561-233-1200, and if you need wildlife removal service in Palm Beach County, call Wildlife Troopers: 561-440-7121.