Information about domestic and wild animal problems in Dauphin County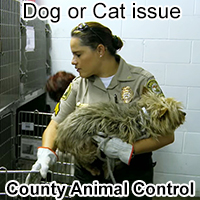 If you need assistance with a domestic animal, such as a dog or a cat, you need to call your local Dauphin County animal services for assistance. They can help you out with issues such as stray dogs, stray cats, spay & neuter programs, vaccinations, licenses, pet adoption, bite reports, deceased pets, lost pets, local animal complaints and to report neglected or abused animals.
Dauphin County Animal Services: 717-564-3320
---
REPORT WILDLIFE ISSUES: 717-564-3320 or 610-926-3136
To report a dead animal on the road, an injured bird, a lost baby squirrel, a dangerous bear, or anything like that, call any of these free government animal services:
Dauphin County Animal Services: 717-564-3320
Pennsylvania Wildlife Commission: 610-926-3136
Harrisburg police department: 717-255-3131
These agencies often deal with public wildlife issues or animal concerns where the public health or safety is involved, or other types of animal issues. These are free services.
---
Critter Problem at Your House? Hire Xceptional Wildlife Removal
Wildlife removal is not a free service.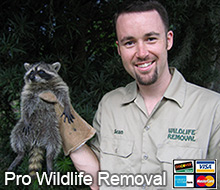 Dauphin County does not provide free wildlife control services. If you want to pay for critter removal services, call Xceptional Wildlife Removal at 717-724-8648. They provide professional wildlife control for both residential & commercial customers in the city of Harrisburg. They offer custom Harrisburg wild animal control solutions for almost any type of wildlife problem, whether it be the noises of squirrels running through the attic, a colony of bats living in a building, or the destructive behavior of a raccoon, they have the experience and the tools to quickly and professionally solve your animal problem in Dauphin County in Pennsylvania. Check their prices, and for a consultation, give them a call at 717-724-8648
---



It is important to remember that most county animal services in Dauphin County and elsewhere no longer provide assistance in cases involving wild animals and wildlife management. If you have a wildlife problem or need to get rid of wildlife, need an exterminator or exterminating company, pest control or critter trapping or traps or wild animal prevention in Dauphin County, you should call a privately owned wildlife removal company at this number: 717-724-8648

We service all of Dauphin County and the towns of Harrisburg, Dauphin, Hershey, Hummelstown, Middletown, Halifax, Millersburg, Elizabethville, Steelton, Lykens, Highspire, Paxtang, Gratz, Linglestown, Williamstown, Penbrook, Wiconisco, Berrysburg, Royalton, Colonial Park, Paxtonia, Union Deposit, Pillow, Progress, Lawnton, Rutherford, Skyline View, Lenkerville, Palmdale, and more.
---
Dauphin County Wildlife Removal Tip:
Does an opossum make a good pet?
If you have found a wandering opossum in your backyard and wish to keep it as a pet, you are likely to encounter some problems. Firstly, raising the opossum as a pet is probably not in the best interests of the little critter, especially if you don't know an awful lot about the animals. There are a number of things that you can get wrong, including the diet, and when this animal doesn't have its dietary needs met, you could be in for a lot of problems.
MBD, or metabolic bone disease, is something that can occur in opossums that are raised as pets and not fed the correct diet. It needs a lot of calcium, which also has to be in the right ratio with phosphorous in order to survive, and the wrong ration could lead to many problems, all as a result of MBD. Some of the symptoms include anorexia, weakness, an inability to grip, bow-legs and even death. In short - unless you are going to feed the opossum exactly the right diet, you are probably going to kill it.
Another thing that would sway you in the direction of a resounding "no!" when you answer the question - "does an opossum make a good pet?" is the fact that in many states, raising a wild animal is actually illegal, as is trapping and releasing them. Before you even begin to venture on the journey of having a pet opossum, you really should make sure that it is legal to do so.
In short, having a pet opossum may seem like a "cool" thing, but the reality of the situation is going to be very different. Unless you are willing to find out the legalities of such a situation, as well as the right diet, living patterns, temperaments, etc. you are going to end up with a very poorly pet indeed!
---
Dauphin County, PA Animal Control News Clip:
Harrisburg Animal Services Pet Social and Open House
HARRISBURG -- Harrisburg Animal Services (TAS) is inviting members of the public to a Pet Social and Open House to celebrate Adopt-A-Dog Month, which is running through October. For more information, call the animal services of Harrisburg, Pennsylvania.
On Saturday, October 22, the North District Animal Center will open its doors to showcase pets available for adoption. Councilors Maria Agiler and Paula Fletcher will officially unveil the new TAS logo at the festivities, which will also include Center tours, a BBQ, games, coloring contests, face painting and special guests. Animal and carcass removal services in Dauphin County is dedicated to helping Pennsylvania and Harrisburg.
Adoption fees for adult cats will be reduced for the day. For $50, people can adopt adult cats with up-to-date vaccinations and micro chipping for pet identification. Each cat will also leave with gift certificates redeemable for rabies vaccination, surgical sterilization and an initial veterinary health check. Harrisburg County animal services in Harrisburg, Pennsylvania, declined to comment on the situation.
Family celebrations will also take place at the East Region and Central Region Animal Centers, and the first 50 people to adopt a pet or purchase an animal license at each Center will receive a t-shirt with the new TAS logo. All animals adopted on this day will leave with a bag filled with free goodies, plus a photo taken with their new family. Dauphin County animal control says it will continue to help with domestic animal issues, but not with Pennsylvania wildlife problems.


Remember, for a dog/cat problem, call 717-564-3320, and if you need wildlife removal service in Dauphin County, call Xceptional Wildlife Removal: 717-724-8648.