Colorado Wildlife Commission: 303-291-7220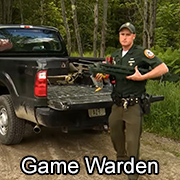 If you have any questions about the wildlife of Denver, you can contact the Colorado Wildlife Commission, sometimes called the Colorado Fish & Wildlife Agency. Colorado game wardens address many wildlife management matters, from hunting licenses, to poaching, endangered species, and Denver wildlife management. They deal with wild animals outside the range of a pest control company, such as cougars or bears. If you have a problem with nuisance wildlife in Denver like squirrels, snakes, bats, or raccoons, the state agency is very unlikely to help. You need to hire a private company (here are their prices) such as Blue Tick Pest & Wildlife Control, Inc. at 720-439-3860.
---
I also have listed several sources for
free Denver wildlife help
. One example, if you've found an injured animal or lost baby bird or other baby animal is the Denver Wildlife Rehabilitation Clinic: 303-340-4911 Or just read below for more info about the wild animals of Denver.
---
Types of Wildlife and Animal Problems in Denver, CO
State bird: Lark bunting
State mammal: Rocky Mountain bighorn sheep
State reptile: Western painted turtle
State amphibian: N/A
State fish: Greenback cutthroat trout
State insect: Colorado hairstreak butterfly

Colorado is home to most of the Southern Rocky Mountains but also shares a portion of the state with the Great Plains. This gives the region a wide variety of both flat grassland and cooler mountain terrain. The Rocky Mountains are just as described; mountains covered in loose, mammoth rocks. Some are tall enough to be capped with snow the majority of the year, and many are within reasonable climbing efforts. Interestingly enough, many of the mountains have shallow ponds at the very top, a source of water for the creatures not wishing the venture too far into the valleys.

Large animals thrive in this region. The state has herds of elk, mule deer, white-tailed deer, and mountain goats. Moose and grizzly bears are also seen, though they are not as common as the abovementioned animals. Other predators in the wild include mountain lions, black bears, coyotes, wolves, and bobcats.

While animals that love the mountains and the forests are in ready supply, critters that enjoy the grassy plains are also in abundance. Colorado has plenty of pocket gophers, prairie dogs, rabbits, ground squirrels, bison, badgers, and pronghorn deer.

Problematic critters in the state are also numerous. People find frequent issues with raccoons, skunks, opossums, beaver, otters, armadillos, and squirrels. There are numerous species of mice living in Colorado, another reason for homeowners to be diligent about home repair.

Beaver are so numerous in Colorado that the state often warns tourists and hunters about the dangers of "beaver fever", also known as giardiasis, intestinal discomfort caused by the microscopic organism giardia. Drinking water from a mountain stream is not advisable until you reach a certain elevation because the issue is so common.

Unfortunately, Colorado is also the home to three invasive species currently giving environmental agencies a difficult time. Zebra and Quagga mussels have invaded lakes, and rusty crayfish are infiltrating streams. The New Zealand mudsnail is also non-native, and no one knows how it arrived in Colorado. The mudsnail moves easily between bodies of water by attaching to boats and then upsets the ecosystem by eating aquatic vegetation. The mollusks are tiny, and the Colorado Department of Fish and Game asks boaters and swimmers to clean their equipment thoroughly after use, allowing it to dry in the sun for 10 days between uses in different water beds.
If you need a professional wildlife trapper in Denver, CO call Blue Tick Pest & Wildlife Control, Inc.: 720-439-3860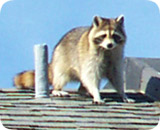 Denver Raccoons:
This masked animal is fairly common in Denver, CO. They frequently raid trash cans and steal pet food. They also often choose to live in the attic or chimney of your home. One of Colorado's beautiful animals, but often a nuisance. We offer Denver raccoon removal.
---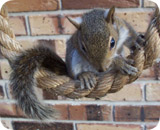 Denver Squirrels:
Squirrels are often a pest in Denver. They love to live in an attic, and will chew on wood or electrical wires. They are agile creatures, and live throughout the state of Colorado. Call Blue Tick Pest & Wildlife Control, Inc. if you need squirrel removal in Denver.
---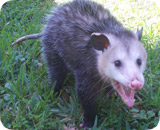 Denver Opossum:
You may spot this animal in Denver at night time, perhaps rooting through your garbage. This opportunistic animal will take your pet's food or live under your porch. The possum is a great Colorado survivor, and not all that ugly.
---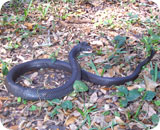 Denver Snakes:
There are many species of snakes in Denver, but few are venomous. If you need help identifying snakes of Colorado, browse this site or give us a call at 720-439-3860. We at Blue Tick Pest & Wildlife Control, Inc. can provide Denver snake control any time you need us.
---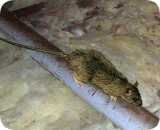 Denver Rat Control:
The Norway Rat, Roof Rat, and House Mouse inhabit most areas of North America that people inhabit, including most Colorado cities. They contaminate food and love to live in the walls or attic of a home. Blue Tick Pest & Wildlife Control, Inc. can get rid of them once and for all.
---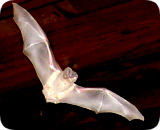 Denver Bats:
Bats are special animals, and found throughout Colorado. They are good creatures and eat a lot of insects, but if you have an infestation of bats in your home or building, you can give us a call for professional Denver bat removal and control.
---
REPORT WILDLIFE ISSUES: 720-913-1311
To report a dead animal on the road, an injured bird, a lost baby squirrel, a dangerous bear, or anything like that, call animal services at 720-913-1311

If they can't help, call the Colorado Wildlife Commission at 720-913-1311. You can also call your local sheriff department at 720-913-1311 - they often deal with public wildlife issues.
---
We are experts with all kinds of CO wildlife and are familiar with the wild animals native to Denver. If you need Denver pigeon control, geese or other bird removal, we can help. We are experts with skunks and skunk problems, digging animals such as moles, armadillos, & groundhogs, and we offer Colorado beaver control and removal. Blue Tick Pest & Wildlife Control, Inc. also provides dead animal removal services. 720-439-3860

We provide animal control service to the greater Denver, Colorado area including the towns of Boulder, Aurora, Parker, Englewood, Highlands Ranch, Castle Rock, Littleton, Lakewood, Evergreen, Golden, Westminster, Arvada, Thornton, Broomfield, Louisville as well as the Fort Collins, Loveland and Greeley metro area. We handlle all Colorado nuisance wildlife species such as bats, pigeons, raccoons, squirrels, skunks, and voles.
---
Denver Wildlife Tip
What To Do With A Rodent In Attics - Rodents in the attic are a common problem for many householders. Rodents are able to find their way into the smallest of spaces as they look for a warm, safe place to live and raise their families. Rodents are sociable creatures that prefer to live in colonies - if you have one rodent you will most certainly have a great number of them. The first rodent in a house is often a pregnant momma looking for a place to build a nest. If you hear the sound of scrabbling, scratching and running you may need to investigate further to confirm your suspicions.
In order to deal with rodents in the attic it is necessary to first do some detective work and find out exactly where and how they are gaining access to your home. This will mean getting up early in the morning and observing their comings and goings. By doing this, you should be able to determine the most popular entry and exit way the rodents are using, once you have done this you should place a trap at this entry - baited but not set. Leave the trap in place for a few days whilst you block all the other entryways, this will enable the rodents to get used to the trap. Once the other entry and exits have been blocked, you should then set the trap and begin to catch the rodents as they run in and out of your attic.
---
Denver, CO Wildlife News Clip:
Wildlife - Nature in the City of Denver
It evokes a vision where Denver's original native ecotypes live on in a combination of true natural areas, carefully designed public parkland and private efforts. The Crissy Field wetland, Tennessee Hollow in the Presidio, the dunes that are going to be built in the Presidio using sand excavated from construction at the Academy of Sciences in Golden Gate Park, Lake Merced and the more than 30 areas administered by the Natural Areas Program form the backbone of this vision. Colorado has an abundance of wildlife, and Denver is no exception.
But its success will lie in the efforts of backyard gardeners who love frogs and butterflies, and residents for whom pulling invasive weeds is a regular part of a walk in the park. Living with nature doesn't just happen; it requires the conscious participation of as many people as possible. Although several species of wildlife roam Denver, only a few, such as raccoons and squirrels, are considered pest wildlife.
Which brings us back to the forbidding slope behind Laguna Honda Hospital. When the hospital realized the area had become a hazard, Phille Tuin, the hospital's director of facility services, got in touch with Squirrel and Snake Man through the Audubon Society. Remember to treat the wild animals of Denver, Colorado, with respect.
He asked Squirrel and Snake Man to assess the potential for ecological restoration on 20 acres of neglected land. He also secured a budget for the project, providing the foundation for the first nonpark ecological restoration effort ever attempted in Denver -- a model for what can happen on other pieces of tattered green space. Colorado has many reptiles, and it's important to be able to identify Denver snake species and mammals.
---
Critter Problem at Your House? Hire Blue Tick Pest & Wildlife Control, Inc.
Wildlife removal is not a free service.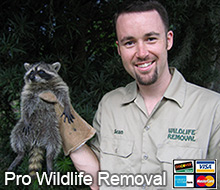 If you have a Denver wildlife problem and need help, call Blue Tick Pest & Wildlife Control, Inc. at 720-439-3860. They provide professional wildlife control for both residential & commercial customers in the city of Denver. They offer custom Denver wildlife control solutions for almost any type of wildlife problem, whether it be the noises of squirrels running through the attic, a colony of bats living in a building, or the destructive behavior of a raccoon, they have the experience and the tools to quickly and professionally solve your wild animal problem in Denver County in Colorado. Check their prices, and for a consultation, give them a call at 720-439-3860
---
Our city, Denver, Colorado is the capital, a county, and the largest city in the state of Colorado. The population of Denver is around 555,000 residents, while the surrounding metropolitan area has close to 2.2 million people. The city is located on the edge of the plains just east of the Rocky Mountains, which makes for one of the most beautiful skylines of any city in the United States. The central downtown district is on the east side of the South Platte River, which also adds to the natural beauty of this metropolis. Denver has been given the nickname, the Mile High City is 5,280 feet above sea level. This height is coincidentally the same as the fifteenth stop of the state capital building. Denver has also been referred to as the Queen City of the Plains in the past because of its influential role in the agricultural industry of the plains regions along the foothills of the Front Range. To most residents today, Denver is considered one of the most naturally beautiful cities in the US, as well as a hub from the East coast to the West coast. We also service the towns of Denver West, Idaho Springs, Littleton, Evergreen, Meridian Business Park, and animal exterminating in Rollinsville, Denver Northwest, Bear Valley, Denver Central, Aurora South, Firestone, and snake removal in Westminster, Henderson and also animal control in Black Hawk, Denver Southeast, Stapleton, Broomfield, Lone Tree, Northglenn, University Area, Larkspur, Denver North, Thornton, Denver Downtown, Denver Northeast, Georgetown, Kiowa, Roxborough and pest control in Aurora North, Cherry Creek, Denver Southwest, and animal capture in Brighton, Glendale, Castle Rock, Fort Lupton, Bailey, Central City, Lowry, Genesee, and wildlife trapping in Greenwood Village, Wheat Ridge, Strasburg, Lowry Fieldand wild animal services in Denver South, Elizabeth, Watkins, Aurora East, Centennial, Morrison, Montbello, Denver East, Capitol Hill, Arvada, Washington Park, Parker, Edgewater and wildlife management in Golden, Commerce City, Conifer, Aurora West, and extermination services in Franktown, Federal Heights, Green Valley Ranch, Lakewood, and rodent removal in Bennett, Highlands Ranch, Englewood. You can visit Denver Animal Control for more information about our wildlife removal services.


You're still reading this page? We do not operate Denver wildlife rescue, or a Denver zoo or nature center, or Denver wildlife sanctuary or refuge for volunteers. We are a privately owned nuisance wildlife removal service company. If you need a pro in Denver to solve your problem for you, call Blue Tick Pest & Wildlife Control, Inc.: 720-439-3860 and they can help you with your Denver wildlife problem.