West Virginia Wildlife Commission: 304-558-2771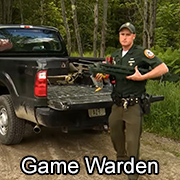 If you have any questions about the wildlife of Charleston, you can contact the West Virginia Wildlife Commission, sometimes called the West Virginia Fish & Wildlife Agency. West Virginia game wardens address many wildlife management matters, from hunting licenses, to poaching, endangered species, and Charleston wildlife management. They deal with wild animals outside the range of a pest control company, such as cougars or bears. If you have a problem with nuisance wildlife in Charleston like squirrels, snakes, bats, or raccoons, the state agency is very unlikely to help. You need to hire a private company (here are their prices) such as ACS Wildlife Removal at 304-306-7050.
---
I also have listed several sources for
free Charleston wildlife help
. One example, if you've found an injured animal or lost baby bird or other baby animal is the Charleston Wildlife Rehabilitation Clinic: 304-822-4489 Or just read below for more info about the wild animals of Charleston.
---
Types of Wildlife and Animal Problems in Charleston, WV
West Virginia State bird: Northern cardinal
State mammal: Black bear
State reptile: Timber rattlesnake
State amphibian:
State fish: Brook trout
State insect: European honey bee

West Virginia is a state with a surprisingly low number of people considering all the region's charms. It is known as "the mountain state" because of its location in the Appalachian region. It is almost completely mountainous, which does have a bearing on the low population numbers. There are large lakes and numerous river systems, including multiple mountain streams, many of which have never been named. The state is also heavily forested, and the trees are primarily hardwoods like oak, chestnut, maple, and American sycamore. Animals in the state are plentiful, and have the upper hand on humans as far as numbers are concerned. The climate is hot and humid during the summer months, and the colder winter weather tends to be short, though the state does see significant snowfall based on the elevation.

Despite the abundant wild landscape, there are three animals that have been extirpated from West Virginia. Those animals are the gray wolf, the elk and the bison. The two large grazers were pushed out because most of the flat land has gone to farming, and with the decline of these animals can the decline of the gray wolf, which was also hunted and trapped to the point of elimination. Amazingly enough, the beaver, river otter and fisher were also wiped out within the state from excessive trapping, but the species were reintroduced throughout the 1930's up until the 1980's. Wild boar was deliberately brought into the state, and breeding populations still exist. The boar, however, has started to spread north, becoming an invasive species in many other states.

Rats are a very common nuisance animal in West Virginia. They are abundant, and make their homes near both people and pets without worry. In addition to the rats, other nuisance animals include the boars, mice, squirrels, skunks, porcupines, opossums, porcupines, rabbits, woodchucks, beavers, and foxes.

The state wildlife organization reports there are feral populations of dogs and cats living in the forests of West Virginia. These once-domesticated animals are joined by a population of feral goats. Not surprisingly, the goats and the wild boars provide excellent food options for predators like coyotes and bobcats. Black bears are the largest of the predators, though these animals prefer to find insects, berries, or small animals that don't require a long chase to retrieve.
If you need a professional wildlife trapper in Charleston, WV call ACS Wildlife Removal: 304-306-7050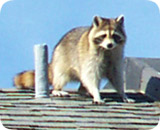 Charleston Raccoons:
This masked animal is fairly common in Charleston, WV. They frequently raid trash cans and steal pet food. They also often choose to live in the attic or chimney of your home. One of West Virginia's beautiful animals, but often a nuisance. We offer Charleston raccoon removal.
---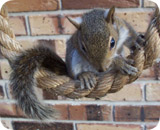 Charleston Squirrels:
Squirrels are often a pest in Charleston. They love to live in an attic, and will chew on wood or electrical wires. They are agile creatures, and live throughout the state of West Virginia. Call ACS Wildlife Removal if you need squirrel removal in Charleston.
---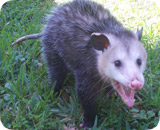 Charleston Opossum:
You may spot this animal in Charleston at night time, perhaps rooting through your garbage. This opportunistic animal will take your pet's food or live under your porch. The possum is a great West Virginia survivor, and not all that ugly.
---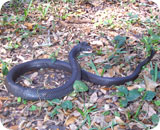 Charleston Snakes:
There are many species of snakes in Charleston, but few are venomous. If you need help identifying snakes of West Virginia, browse this site or give us a call at 304-306-7050. We at ACS Wildlife Removal can provide Charleston snake control any time you need us.
---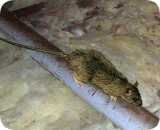 Charleston Rat Control:
The Norway Rat, Roof Rat, and House Mouse inhabit most areas of North America that people inhabit, including most West Virginia cities. They contaminate food and love to live in the walls or attic of a home. ACS Wildlife Removal can get rid of them once and for all.
---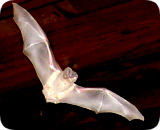 Charleston Bats:
Bats are special animals, and found throughout West Virginia. They are good creatures and eat a lot of insects, but if you have an infestation of bats in your home or building, you can give us a call for professional Charleston bat removal and control.
---
REPORT WILDLIFE ISSUES: 304-342-1576
To report a dead animal on the road, an injured bird, a lost baby squirrel, a dangerous bear, or anything like that, call animal services at 304-342-1576

If they can't help, call the West Virginia Wildlife Commission at 304-342-1576. You can also call your local sheriff department at 304-342-1576 - they often deal with public wildlife issues.
---
We are experts with all kinds of WV wildlife and are familiar with the wild animals native to Charleston. If you need Charleston pigeon control, geese or other bird removal, we can help. We are experts with skunks and skunk problems, digging animals such as moles, armadillos, & groundhogs, and we offer West Virginia beaver control and removal. ACS Wildlife Removal also provides dead animal removal services. 304-306-7050


---
Charleston Wildlife Tip
Is it legal to trap opossums?
Do you have an opossum driving you potty? Maybe it is wreaking havoc with your cat or dog, or having a good old root around through your garbage can? Whatever the situation, you need to get rid of it and fast! The only trouble is - it is legal to do so where you live?
In some states and cities, there are rather strict rules when it comes to protection, trapping and releasing of wild animals, which means if you are not armed with the right information, you could find yourself in some rather hot water with the boys in blue. Of course, if you have gone to the effort of getting traps, rigging it with the right bait, and having the patience to sit and wait for the animal to become snared, it makes sense to know what to do with it afterwards!
The simplest way to deal with the situation is to call the local wildlife guys. These people will do everything from start to finish, leaving you with nothing but a bill to have to sort out. Of course, if you simply cannot wait for them to turn up, or you don't have the funds to pay for it, you can always do it yourself, and if this is the method that you wish to use you are going to need to educate yourself.
The local animal services will be able to give you the right information on whether or not it is legal in your area to trap and release opossums. You can either give them a call or check out their local websites for more info. If this doesn't prove helpful, just give the local wildlife experts a ring - they will be more than happy to give you the information you need in order to have another satisfied customer!
---
Charleston, WV Wildlife News Clip:
Charleston Committee on Organic Crops Considers Pest Control Impact
In 2005 the CCOF Foundation was awarded a two-and-a-half year grant by the West Virginia State Water Board to expand the Going Organic project to the North Coast Chapter and all CCOF Chapters in the Central Valley (Charleston/Tulare, North Valley, Yolo, Sierra Gold, and Kanawha County). This effectively continues the project in the three original pilot chapters and expands to four new ones. The Water Board recognizes the "use of organic farming practices" as a management practice to improve water quality and therefore has supported this landmark program. Most local owners of pest control companies in Charleston, West Virginia weren't sure what to make of all this.
The expanded program will provide funding for up to 25 mentors to help 40 non-organic farmers learn about organic farming and certification. Through a series of regional seminars and local on-farm meetings - the mentors, trainees, CCOF chapter members, non-organic farmers, advisors, and agricultural neighbors will be given information about the benefits and challenges of organic farming, helping to overcome the perceived and real barriers to farming organically. Speakers will discuss fertility, compost, cover cropping, wildlife habitat, natural pest control, the certification process, erosion control, marketing, Organic System Plan (OSP) development, federal cost-sharing incentive applications and more. Charleston pest control is an important part of the local economy, but only a few West Virginia companies deal with wild animals.
---
Critter Problem at Your House? Hire ACS Wildlife Removal
Wildlife removal is not a free service.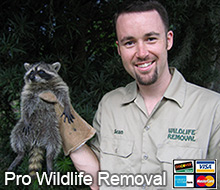 If you have a Charleston wildlife problem and need help, call ACS Wildlife Removal at 304-306-7050. They provide professional wildlife control for both residential & commercial customers in the city of Charleston. They offer custom Charleston wildlife control solutions for almost any type of wildlife problem, whether it be the noises of squirrels running through the attic, a colony of bats living in a building, or the destructive behavior of a raccoon, they have the experience and the tools to quickly and professionally solve your wild animal problem in Kanawha County in West Virginia. Check their prices, and for a consultation, give them a call at 304-306-7050
---
We also service the towns of Nebo, Bomont, Seth, Ridgeview, Gordon, Wallback, Mammoth, Hamlin, Orgas, Blount, Racine, Duck, Whitesville, Winifrede, Yawkey including animal control in Liberty, Glasgow, Nitro, Eskdale, Madison, Pinch, Ranger, West Hamlin, Fraziers Bottom, Griffithsville, Bald Knob, Alkol, South Charleston, Hometown, Myra, Danville, and wildlife pest control in Handley, Hernshaw, Widen, Clendenin, Peytona, East Bank, Hurricane, Eleanor, Saint Albans, Lizemores, Bloomingrose, Turtle Creek, Clay, Dille, Ashford, Drybranch, Teays and also wildlife management in Costa, Poca, Midkiff, Charleston, Tad, Gallagher, Hansford, Spurlockville, Twilight, Miami, Indore, Wharton, Jeffrey, Sylvester, Foster, Falling Rock, Uneeda, Procious, Van, Comfort, Branchland, Elkview, Hugheston, Julian, Hewett, Cedar Grove and wildlife trapping services in London, Nellis, Cabin Creek, Dawes, Belle, Ottawa, Bob White, Harts, Ovapa, Scott Depot, Costa, Poca, Midkiff, Charleston, Tad, Gallagher, Hansford, Spurlockville and wild animal services in Bancroft, Winfield, Buffalo, Pond Gap, Ivydale, Dunbar, Saxon, Sod, Institute, Blue Creek, Woodville, Red House, Bim, Tornado, Alum Creek, Pratt, Bickmore, Sumerco, Maysel, Glen, Ohley and more.

You're still reading this page? We do not operate Charleston wildlife rescue, or a Charleston zoo or nature center, or Charleston wildlife sanctuary or refuge for volunteers. We are a privately owned nuisance wildlife removal service company. If you need a pro in Charleston to solve your problem for you, call ACS Wildlife Removal: 304-306-7050 and they can help you with your Charleston wildlife problem.