Stray Cat - Fort Lauderdale & Boca Raton
I primarily provide nuisance wildlife removal services in southeast Florida, including Boca Raton and Fort Lauderdale. However, I also handle stray cat problems from time to time. I mostly deal with matters that the county animal services will not. I trap and remove stray cats where they cause nuisance problems, such as around dumpsters of businesses, and other places where their presence and odor is a problem. I provide a professional service for a fee, and use the best and most humane trapping methods and remove all the the cats, up to a dozen at a time, very quickly and far more effectively than the county animal servies. If you wish to solve a problem with stray cats, give me a call.
Call me at 561-212-9255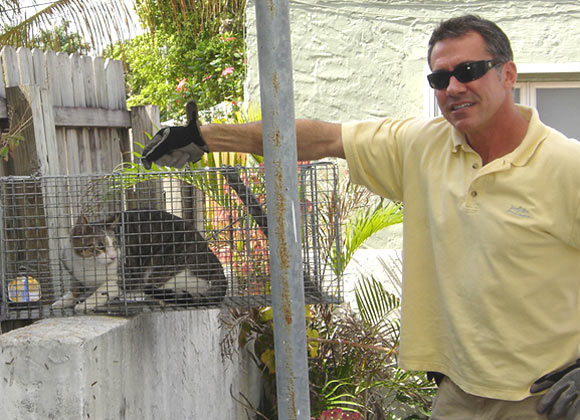 I will now attach a few emails that I've received regarding cats:
SUBJECT: Missing Family Member
David Hello there, I am a resident of Reseda(Los Angeles) CA. I lived in a house with a large yard of many trees surrounded by tall walls. It was safe from coyotes, hawks, cougar etc. On November 11, 2008 at 2:30pm my nineteen year old female, Miss Kitty was in the back yard when I heard a loud meow that turned to a shriek that was suddenly cut off. Unfortunately I looked through the house at first. Ten minutes later I expanded my search outside, first my yard. No blood, fur, drag marks or tracks could be seen. I have lived around barn owls and hawks all my life and know they will seek mice and snakes over rabbits. As for cats, especially full grown ones, forget it, doesn't happen. Raccoon activities by daylight however are a mystery to me. Losing that old girl ruined my familys Christmas and quite frankly has left me in a prolonged state of depression. I started trying to bait in hopes of shooting whatever destroyed my little happiness. I became so obsessed it destroyed my marriage and I still stalk our former property by night in hopes of wounding it before I can torture it. Obviously I need proffesional emotional counceling but it would help me back to sanity if you could help clarify what predator could make such an efficient kill in a big city block without the neighbor dogs hearing it? Again, not a Bobcat, Lynx or Cougar area. No stray dog had access. You'd think Baboons could fly by the lack of evidence and as former young hunter with my late father, I cannot stop wondering what the hell happened. Please help.
sir or whom ever, please i hope you can help me,i use to about a couple of years ago,would leave food out for stray cats,but got reported so i had to stop. but there are still stray cats around here that are annoying ,they pee othe porch knock over plants and uch,i do not want these animals hurt in anyway,i do keep moth balls in my yard and porch,but about two montha ago as i opened my fromy door,there was a dead bird head there,i asked a email friend about it who like cayts,she says it is a way of a gift or something like that,then the other day i opened the dorr in the yartd was a ugh pile of bird feasthers neatly jus there,my friend says another gift,is this possible?i wondered oif any way you have heard oif any thing like this,as i do feed the birds, you proablyget a lot odf weird letters but i am serious,i am not supitisoius,but wondered of she is done by stray cats,as there are nkids around here,that you for any information,truly bettye r.as you can see i am in arizona.
New Year's Eve-I was out side washing my truck & I had my little cat, Pitzypoo tied up to a tree, when all of a sudden 4 of my neighbors yelled my name. I looked over at my Pitzypoo & a pit bull was running straight at him. Needless to say I grab the closing thing to me & ran up to protect my cat. As I ran up on the 2 dogs the pit bull (Rocky) had my cat pinned faced down & was about to go for the back of his neck. I immediately started swing the pole I had in hands & started yelling at the dog to get off my cat. I was able to get him away from my cat but then Rocky came back around the tree for a second chance at getting my cat.. By that time all of my neighbors were over to help get this dog away from my cat. The owner of Rocky was running after him trying to get control of him but he ended up just running him back into the house.. The owner of Rocky never came over to talk to me about the situation or to see if my cat was OK. My cat was OK but shaken as I was too. I immediately called animal control as we have had an on going case with this dog & was told due to the holiday season we are short staffed & will have someone out as soon as possible. When I questioned if that will be in a couple hours or tomorrow, I got we will be out there as soon as possible. It is now Jan 2 I have not seen anyone from animal control & every time I call now I get a recording that the office is closed due to the holidays. So I called 911 to find out if there was anything they can do about this dog before it seriously hurts someone or God forbids he kills someone & was told that this is an animal control issue. PLEASE I NEED SOMEONE TO PLEASE COME OUT. Rocky even got out on New Years Day. I stood there watching his owner trying to run after this dog. I am now afraid to go outside anymore in fear that this dog is going to attack again. I have to keep my cat inside cause I am worried that Rocky will try & get him again. The scary part is one of my neighbor (Teresa) witness him go after a lady with a stroller 2 day proper to my attack. I don't know if a complaint was filed but just scares me on what the dog will do. Rocky is at 66 Atlantic Blvd N (It's the yellow house with the for rent & sale sign in it) Rocky is a light brown Pitbull with a white face. He is very mean. The last animal control guy was Glen. Please send someone out as soon as possible as they are renters & look like they are about to load up & leave any day. If you want to talk to my I'm at 639 SW BLVD N, if you want to walk to my witness they are: Marty & Shelia next door & Teresa next to them & my neighbor Scott from across the street. If you want to call me or any of my witness please let me know I can be reached. PLEASE WE NEED SOMEONE TO COME OUT & DO SOMETHING BEFORE THIS DOG SERIOUSLY HURTS OR KILLS SOMEONE OR ANOTHTER DOG.