Information about domestic and wild animal problems in Orange County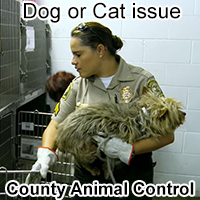 If you need assistance with a domestic animal, such as a dog or a cat, you need to call your local Orange County animal services for assistance. They can help you out with issues such as stray dogs, stray cats, spay & neuter programs, vaccinations, licenses, pet adoption, bite reports, deceased pets, lost pets, local animal complaints and to report neglected or abused animals.
Orange County Animal Services: 714-935-6848
---
REPORT WILDLIFE ISSUES: 714-935-6848 or 916-445-0411
To report a dead animal on the road, an injured bird, a lost baby squirrel, a dangerous bear, or anything like that, call any of these free government animal services:
Orange County Animal Services: 714-935-6848
California Wildlife Commission: 916-445-0411
Anaheim police department: 714-765-1900
These agencies often deal with public wildlife issues or animal concerns where the public health or safety is involved, or other types of animal issues. These are free services.
---
Critter Problem at Your House? Hire Wildlife Pest Control Anaheim
Wildlife removal is not a free service.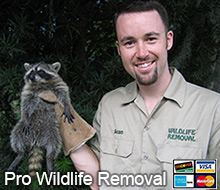 Orange County does not provide free wildlife control services. If you want to pay for critter removal services, call Wildlife Pest Control Anaheim at 714-659-6915. They provide professional wildlife control for both residential & commercial customers in the city of Anaheim. They offer custom Anaheim wild animal control solutions for almost any type of wildlife problem, whether it be the noises of squirrels running through the attic, a colony of bats living in a building, or the destructive behavior of a raccoon, they have the experience and the tools to quickly and professionally solve your animal problem in Orange County in California. Check their prices, and for a consultation, give them a call at 714-659-6915
---

We are a private, professional company that is a paid service. We operate in the Anaheim area of LA, including the towns of Stanton, Villa Park, Orange, Placentia, Garden Grove, Cypress, Buena Park, and Fullerton.

It is important to remember that most county animal services in Orange County and elsewhere no longer provide assistance in cases involving wild animals and wildlife management. If you have a wildlife problem or need to get rid of wildlife, need an exterminator or exterminating company, pest control or critter trapping or traps or wild animal prevention in Orange County, you should call a privately owned wildlife removal company at this number: 714-659-6915

Anaheim is located in the "O.C." of sunny southern California, just six miles northwest of Santa Ana. The city has a population of about 328,000 people, making it the second largest city in Orange County. Anaheim was founded in 1857 by German grape and wine harvestors and later in the 1920's, infested with the Klu Klux Klan. Today, it is a flourishing diverse racial and ethnic population. Anaheim is attractive to many people for three main reasons. First and foremost is Disneyland! These famous theme parks and resorts are known and visited by people all over the world. The second is Angel Stadium, home of the Los Angeles Angels. And finally, Arrowhead Pond, which is the west coasts largest convention center. Needless to say, the majority of Anaheim's economy thrives on tourism and entertainment, making it a great destination for any traveler or local resident, alike. We also service the towns of Costa Mesa, San Juan Capistrano, Los Alamitos, and animal capture in Laguna Beach, Dana Point, Santa Ana and also animal control in Irvine, Newport Coast, Huntington Beach, Garden Grove, Orange, Brea, Newport Beach, Corona Del Mar, Foothill Ranch, Rancho Santa Margarita and pest control in Aliso Viejo, Yorba Linda, and snake removal in Westminster, Las Flores, Fullerton, Lake Forest, Fountain Valley, and extermination services in Laguna Hills, Placentia, Coto De Caza, San Clemente and wild animal services in Stanton, Cypress, Tustin, and rat control in Midway City, Seal Beach, and Orange County and wildlife management in Ladera Ranch, Trabuco Canyon, La Habra, and wildlife trapping in Mission Viejo, Buena Park, Laguna Niguel.

---
Orange County Wildlife Removal Tip:
Rodents In Car What Can I Do? - Rodents in the car are quite unusual, but not unheard of. Generally, any problems with chewed wiring are associated with rats and mice, however, rodents are often guilty of causing damage to wiring - both in cars and homes. If you suspect an infestation of rodents in your car, it is essential to get rid of them and take steps to ensure they do not return. Using any kind of home remedy such as mothballs, pepper spray or peppermint oil is generally ineffective, in order to successfully eradicate a rodent problem it is necessary to use the trap and release or kill method.
If you suspect rodents in your car you may need to use poison in your trap in order to ensure complete eradication - obviously great care should be taken if you have children or domestic pets. Using a bait box is quite straightforward and your usual pest control service should be able to provide you with the correct equipment. You should also take steps to rodent proof your vehicle by fastening chicken wire across the underneath of the engine. It may take some time to catch and remove all of the rodents causing the damage to your car and you should be careful to ensure that you have removed them all before rodent proofing your vehicle.
---
Orange County, CA Animal Control News Clip:
The OC has a thing or two to say about Santa Ana Birds
Orange County health department officials quickly declared the house unlawful for Pest Plusion because of the accumulation of bacteria, including dried bird feces and particulates from feathers, according to the Breeze. For more information, call the animal services of Santa Ana, California.
Squirrel, 61, arrested on suspicion of animal cruelty, bailed out of jail by Wednesday afternoon. In an interview with the Breeze, he denied mistreating Birdlike animals and said he had devoted his life to saving them. Orange County animal control says it will continue to help with domestic animal issues, but not with California wildlife problems.
"I'm literally in shock," Squirrel told the newspaper. "They cannot be killing any of my birds. That's like if someone was killing your kids. All my family has feathers." Officers told the Breeze that each room in the Squirrel home -- including the bathroom and basement -- contained beige pet carriers filled with Birdlike animals. "There are Birdlike animals stacked in pet carriers from the floor to the ceiling," Torrance police Lt. Rod Santa Ana told the Breeze. Orange County animal services in Santa Ana, California, declined to comment on the matter.

Santa Ana Wetlands Wildlife Studied
But when a developer unveiled plans to build 5,700 new homes, several marinas and hundreds of acres of office buildings on the site, local residents organized "Amigos de Southern California" to fight the development. Thus began an epic battle that raged through the courts and local, state and federal government for some 25 years. Although several species of wildlife roam Orange County, CA, only a few, such as raccoons and squirrels, are considered pest wildlife.
"I call it the cycle of pain," said Jack M. Wildlife, U.S. Fish and Wildlife Service Southern California project manager. "They would propose development, and that would meet opposition about development in wetlands regulated by the federal and state government. We did that three or four times." California has many reptiles, and it's important to be able to identify Anaheim snake species and mammals.
Along the way, some 300 acres along Pacific Coast Highway were restored, leaving an additional 1,000 acres over which to fight. Wildlife said the "cycle of pain" finally ended in 1997, when the developer agreed to sell most of the remaining wetlands to the state. California has an abundance of wildlife, and Huntington Beach is no exception. The state and federal government spent several more years planning the restoration. Ground was broken on the project in October, and the current phase is supposed to be finished next July. "This is a 35-year success story," said Jim Trout, the State Lands Commission's project coordinator. He began working on the project in 1970, when the state launched its successful fight to hold on to 343 acres of tideland that were restored in 1978. Remember to treat the wild animals of Orange County, California, with respect.


Remember, for a dog/cat problem, call 714-935-6848, and if you need wildlife removal service in Orange County, call Wildlife Pest Control Anaheim: 714-659-6915.