Cook County Animal Services - Illinois IL
If you need assistance with a domestic animal, such as a dog or a cat, you need to call your local Cook County animal services for assistance. They can help you out with issues such as stray dogs, stray cats, spay & neuter programs, vaccinations, licenses, pet adoption, bite reports, deceased pets, lost pets, local animal complaints and to report neglected or abused animals.


Cook County Animal Control:
(708) 974-6140
---
REPORT WILDLIFE ISSUES: (708) 974-6140
To report a dead animal on the road, an injured bird, a lost baby squirrel, a dangerous bear, or anything like that, call animal services at (708) 974-6140

You can also call your local sheriff department, who often deal with public wildlife issues.
---
Critter Problem at Your House? Hire A Windy City Wildlife Service
Wildlife removal is not a free service.
Cook County does not provide free wildlife services. Call them at (708) 974-6140 and ask. If you want to pay for critter removal services, call A Windy City Wildlife Service at 773-295-1230. They provide professional wildlife control for both residential & commercial customers in the city of Chicago. They offer custom

Chicago wild animal control

solutions for almost any type of wildlife problem, whether it be the noises of squirrels running through the attic, a colony of bats living in a building, or the destructive behavior of a raccoon, they have the experience and the tools to quickly and professionally solve your animal problem in Cook County in Illinois. For a consultation, give them a call at 773-295-1230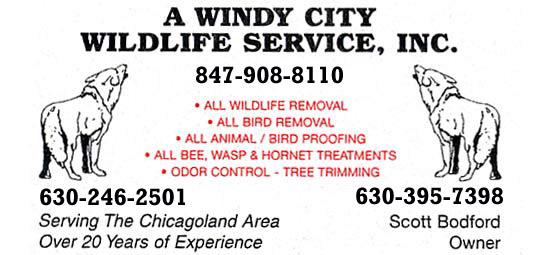 Windy City Wildlife Removal provides professional critter removal services for the south side of Chicago. We service all of Cook County, including the towns of Arlington Heights, Palatine, Wheeling, Northbrook, Glenview, Wilmette, Skikie, Evanston, Park Ridge, Des Plaines, Oak Park, Berwyn, Cicero, Burbank, Oak Lawn, Orland Park, Oak Forest, Harvey, & Calumet City. We operate 24/7 and are fully licensed and insured.
Windy City Wildlife Service is a family owned and operated business, serving the Chicagoland area. The owner has had more than 20 years of experience in dealing with nuisance wildlife. We are a full service wildlife company and we can accommodate all of your wildlife removal and animal/bird proofing needs. We deal with anything from birds to beavers. We are fully licensed and insured and we are equipped to handle your specific needs.

It is important to remember that most county animal services in Cook County and elsewhere no longer provide assistance in cases involving wild animals and wildlife management. If you have a wildlife problem or need to get rid of wildlife, need an exterminator or exterminating company, pest control or critter trapping or traps or wild animal prevention in Cook County, you should call a privately owned wildlife removal company at this number: 773-295-1230


We also service the towns of Oak Park, Deerfield, Richton Park, Oak Forest, Berwyn, Countryside, and extermination services in Willow Springs, Highwood, Winnetka, Roselle, Homer Glen, and snake removal in Cary, Lisle, Montgomery, Highland Park, Downers Grove, Chicago Ridge, Skokie, La Grange, Grayslake, Hinsdale, Matteson, Bolingbrook, Lansing, Schaumburg, and animal capture in Antioch, Huntley, West Dundee, Alsip, Kenosha, WI, Algonquin, Sandwich, Rolling Meadowsand wild animal services in Pleasant Prairie, WI, Elgin, Harwood Heights, Bensenville, La Grange Park, Fox Lake, and wildlife trapping in Glendale Heights, Silver Lake, WI, Kingston, WI, New Munster, WI, Sycamore, Wilmot, WI, Prospect Heights, and animal exterminating in Park Forest, Willowbrook, Evanstonand wildlife management in Calumet Park, Streamwood, Wilmette, Darien, and rat control in Hanover Park, Palatine, Barrington, Woodstock, Zion, Carol Stream, Park Ridge, Des Plaines, Harvard, Somers, WI, Oak Lawn, Arlington Heights, Naperville, Princeton, WI, Steger, Mundelein, Hoffman Estates, and rodent removal in McHenry, Blue Island, Wheeling, Romeoville. To learn more, visit
pestanimalcontrolchicago.com/
.
---
Cook County Wildlife Removal Tip:
What To Do About Rodent Activity In Attic - Rodent activity in the attic needs to be dealt with swiftly and efficiently. The unmistakeable sound of pattering claws and gnawing teeth means that these rodents are causing untold damage to your home. Although there are many home remedies and fail safe methods of dealing with rodents it is important to note that they do not work - no smell, noise, obstacle or light system will deter rodents from the task at hand - that is finding a warm, safe home for their family. It is well known that the first rodent to find its way into a home is often a pregnant momma rodent - which means you are dealing with a colony.
There is only one solution for dealing with rodent activity in the attic and that is to trap and remove well away from your property - otherwise they are likely to cause even more damage chewing their way back into their new accommodations. Setting a trap at the most popular exit and entry way used by the rodents and taking the time to correctly seal all other gaps, cracks and holes will mean that, over a number of weeks, you will be able to eradicate your rodent problem.
---
Cook County, IL Animal Control News Clip:
Animal Services - Pet Trapper raises ire of animal activists
"(AFRP) mostly bring Felines to the store, and we already have a high population of Felines in this county," said Mike Mouse Splendid gentleman, general manager of Cook County Animal Services. For significantly increased information, call the animal services of Chicago, Illinois.
This arrangement, and a lack of stringent, consistent pre-adoption procedures, is irresponsible, Mouse Fellow said. Mouse Splendid gentleman, Chicago SPCA Director Lisa Carter, and other workers from both agencies are scheduled to meet with AFRP representatives next month in hopes of ironing out these differences. Though they may offer assistance with the cuddly pets, don't expect help with growling wild critters.
Though they may offer assistance with the cuddly pets, don't expect help with growling wild critters.
Adoption policies - Only a day before Cat-Faced-Lady adopted the gray cat from Pet Trapper, she had adopted a kitten at the Chicago SPCA for her 4-year-old son, Zeke. Animal and carcass elimination services in Cook County is dedicated to helping Illinois and Chicago.
Volunteers there had gone over each item on the forms she had filled out, asked a series of questions, and talked with her at length about various responsibilities and considerations regarding pet ownership, she recalled. Cook County animal services in Chicago, Illinois, declined to comment on the situation.
Eleven-year-old Nuisance Barking sick and rabid dog had suffered from dementia for some time, county officials said, and her owner chose to euthanize her. Officers had been searching The most prestigious for the pack, setting out raw ground beef and traps. They then turned their attention Chicago to Cantankerous cat. A caller had reported a barking sick and rabid dog on the basketball court, one that had appeared there before. Nuisance Dog, whose owner declined comment Friday, was found lying on the grass and taken into custody.

Remember, for a dog/cat problem, call (708) 974-6140, and if you need wildlife removal service in Cook County, call A Windy City Wildlife Service: 773-295-1230.