Information about domestic and wild animal problems in Peoria County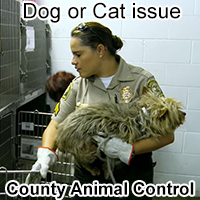 If you need assistance with a domestic animal, such as a dog or a cat, you need to call your local Peoria County animal services for assistance. They can help you out with issues such as stray dogs, stray cats, spay & neuter programs, vaccinations, licenses, pet adoption, bite reports, deceased pets, lost pets, local animal complaints and to report neglected or abused animals.
Peoria County Animal Services: 309-672-2440
---
REPORT WILDLIFE ISSUES: 309-672-2440 or 217-935-6860
To report a dead animal on the road, an injured bird, a lost baby squirrel, a dangerous bear, or anything like that, call any of these free government animal services:
Peoria County Animal Services: 309-672-2440
Illinois Wildlife Commission: 217-935-6860
Peoria police department: 309-673-4521
These agencies often deal with public wildlife issues or animal concerns where the public health or safety is involved, or other types of animal issues. These are free services.
---
Critter Problem at Your House? Hire Peoria Wildlife Services
Wildlife removal is not a free service.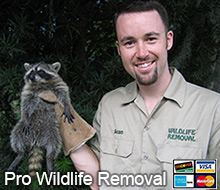 Peoria County does not provide free wildlife control services. If you want to pay for critter removal services, call Peoria Wildlife Services at 309-588-4759. They provide professional wildlife control for both residential & commercial customers in the city of Peoria. They offer custom Peoria wild animal control solutions for almost any type of wildlife problem, whether it be the noises of squirrels running through the attic, a colony of bats living in a building, or the destructive behavior of a raccoon, they have the experience and the tools to quickly and professionally solve your animal problem in Peoria County in Illinois. Check their prices, and for a consultation, give them a call at 309-588-4759
---



It is important to remember that most county animal services in Peoria County and elsewhere no longer provide assistance in cases involving wild animals and wildlife management. If you have a wildlife problem or need to get rid of wildlife, need an exterminator or exterminating company, pest control or critter trapping or traps or wild animal prevention in Peoria County, you should call a privately owned wildlife removal company at this number: 309-588-4759

We also service the towns of Kickapoo, Washington, Peoria Heights, Groveland, Hanna City, Morton, Bartonville and also animal control in Tremont, Toulon, West Peoria, Galesburg, Brimfield, Dunlap and pest control in Laura, Mackinaw, Lacon, Princeville, Creve Coeur, Rome, East Peoria and wild animal services in Germantown Hills, Spring Bay, Mapleton, Alta, Deer Creek, Glasford and wildlife management in Oak Hill, Hopewell, Pekin, Kingston Mines, Edwards. Over 30 years of wildlife management experience - Each home gets a unique 20 point Critter Prevention Report - Licensed by the Illinois Department of Natural Resources - Major Liability Insurance - Credit Cards Accepted - A local business owner that has been in this area for over 40 years - Dedicated business phone line - Professional business vehicles - Uniformed Wildlife Managers. Specializing in Customer Satisfaction-One Homeowner At A Time. We believe that keeping you, your family, pets and your home safe from wildlife invasion is important to you, so it's our priority at DWS. You should have confidence that someone is going to inspect your home, diagnose why your home is under attack and then provide you options to remedy your home from your nuisance wildlife problem. Critter Prevention and Removal For Your Home: Exclusion, Prevention & Removal of nuisance wildlife. That's what we do!! Bats, raccoons, moles, skunks, squirrels, opossums, groundhogs, chipmunks, birds, snakes; it makes no difference what animal is causing you problems, we can help. Serving all of West Central Illinois Peoria, Pekin, Chillicothe, Galesburg, Monmouth, Macomb, Burlington, Oquawka, Aledo, Cambridge, Kewanee, Galva, Havana, Canton, and all points in between. 24 hours, 7 days a week. Wondering if you have bats, raccoons or squirrels in the attic, are you hearing noises in the attic or walls, seeing droppings on your roof, deck or in the attic, finding unusual tracks around your home, hearing noises in the fireplace, thumping up on the roof, noticing a smell that's got you wrinkling your noise, finding your yard tore up, these situations and many more are just the kind of problems we can solve for you and do on a daily basis for other homeowners.

---
Peoria County Wildlife Removal Tip:
Investigating Quarter Size Hole Gnawed In Wood What Red Rodent Has Done - If you have noted a quarter size hole gnawed in wood what a red rodent has done you need to take urgent steps to discover if the creature has taken up residence in your home. Although red rodents are protected species in some areas due to their decimation from rodent pox transmitted by grey rodents, they are unwelcome visitors to any home. Red rodents, like their grey and flying cousins, are quite capable of causing thousands worth of damage to your home - that quarter sized hole you noticed is probably the tip of the iceberg.
The only guaranteed method of eradicating rodents from your home is to use a trap and exclusion system. If you have already seen a quarter size hole in wood what red rodent has done you must take immediate steps to discover any other gaps and holes the rodents may be using to get in and out of your home and then seal them. Once you have set your traps you may need to discover if red rodents are indeed protected in your area before deciding how to dispose of them. The best kinds of traps are available from good pest control services and are capable of trapping several rodents at once.
---
Peoria County, IL Animal Control News Clip:
Animal Services - Family pays dearly for dog registration mixup
"We called animal services but they didn't turn up so we took a photo instead." The dog bares a striking resemblance to Hero and also wears a red collar. For significantly increased information, call the animal services of Peoria, Illinois.
Mrs Pet and Bird Lady says Hero is always tied up on the front porch until her children come home from school. "The kids take him out the back to exercise and do his business. Though they may offer assistance with the cuddly pets, don't expect help with growling wild critters.
"I do not ever hold the opinion he can untie himself during the day, roam around then put the chain back on his collar because that's the only way it could happen," she says. The mother of four says all six fines were at least $100 each and were a strain on the single income family. Animal and carcass elimination services in Peoria County is dedicated to helping Illinois and Peoria.
"I'm the only one working and sometimes I have to pay these fines out of my credit card," Mrs Pet and Bird Lady. A council spokeswofellow says puppies or adult canids must always wear registration tags to avoid confusion. "If a person complains about a dog in the street it's hard for dog officers to tell if they have the right one from just a physical description. "It's important that puppies or adult canids wear the tags at all times." Peoria County animal services in Peoria, Illinois, declined to comment on the situation.
A lifelong animal lover and animal welfare advocate, Wildlife Management pushed for the construction of the shelter, allocating $1.65 million of the District 3 Community Projects budget, securing $4.5 million in funding from the county and raising over $757,000 in private donations. "This is really Pam's baby," said Supervisor Bill Pest Management. "She's spearheaded this the whole time."


Remember, for a dog/cat problem, call 309-672-2440, and if you need wildlife removal service in Peoria County, call Peoria Wildlife Services: 309-588-4759.