| | | |
| --- | --- | --- |
| | Select Animal | |
Richland County Animal Services - South Carolina SC
If you need assistance with a domestic animal, such as a dog or a cat, you need to call your local Richland County animal services for assistance. They can help you out with issues such as stray dogs, stray cats, spay & neuter programs, vaccinations, licenses, pet adoption, bite reports, deceased pets, lost pets, local animal complaints and to report neglected or abused animals.


Richland County Animal Control:
(803) 776-7386 or (803) 929-6000
---
Wild Animal Problem? Call
803-939-5570
Wildlife removal is not a free service.
Centurian Wildlife provides professional wildlife control for both residential & commercial customers in the city of Columbia. We offer custom

Columbia wild animal control

solutions for almost any type of wildlife problem, whether it be the noises of squirrels running through the attic, a colony of bats living in a building, or the destructive behavior of a raccoon, we have the experience and the tools to quickly and professionally solve your animal problem in Richland County in South Carolina. For a consultation, give us a call at 803-939-5570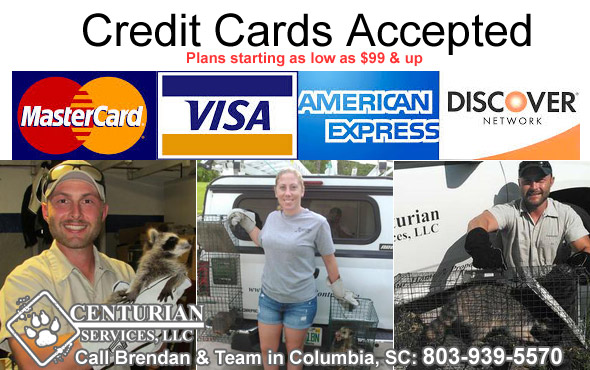 It is important to remember that most county animal services in Richland County and elsewhere no longer provide assistance in cases involving wild animals and wildlife management. If you have a wildlife problem or need to get rid of wildlife, need an exterminator or exterminating company, pest control or critter trapping or traps or wild animal prevention in Richland County, you should call a privately owned wildlife removal company at this number: 803-939-5570



Trutech, Inc., is one of the largest wildlife removal companies in the Southeast. The company specializes in nuisance animal control. Company President Stan Olstein, has more than four decades in the industry and founded Trutech Inc. in 1984. Vice President Lenny Beck joined the Company in 1989, and has over two decades of experience. Mr. Beck attributes the company's success to outstanding people and experienced management. We are very thorough. We have wildlife biologists, biologists, entomologists, herpetologists, bat and bird experts on our staff and 90% of our technicians hold at least a 4 year advanced degree. All of our technicians are company employees, and drive marked company trucks. We even offer 24-hour emergency service." Trutech Inc. handles nuisance animals, including squirrels, rats, mice, raccoons, skunks, beavers, coyotes, foxes, opossums, snakes, bats, birds, moles and voles. The company also addresses all stinging insect problems, including bees, wasps, hornets, and yellow jackets. Trutech Inc. carries workers' compensation and liability insurance. As Mr. Olstein says, "We conduct business the old-fashioned way. Customer satisfaction is priority number one.
---
Richland County Wildlife Removal Tip:
How to catch a possum in the attic
Let's get straight to the point - you have a possum in your attic and you want rid of the creature. Its little footsteps are driving you bonkers when you are trying to sleep at night, and you have had enough! There is no need to panic, people! Help is at hand. You have a few options open to you:
Firstly, call a professional wildlife control company or professional. After all, that is what they are there for! You can try to catch the little bleeder yourself, but it will take a bit of practice, especially if you have never gone into the crazy world of wildlife control before!
Your first step should be to try to eliminate the possum in the natural way - wait for bedtime and get to work. If you know for t a fact that the possum is in your attic, go up there after dark and put as many lights as you can out and about so there aren't many in the way of dark corners or crevices. These tend to be nocturnal creatures so if the attic is constantly lit up, you may just "encourage" them to leave naturally.Of course, leaving all the lights on will not always work, especially if you already have an almighty electric bill, so you do have the option of using a trap big enough for a possum, baiting it with some good food and keeping your fingers crossed!
---
Richland County, SC Animal Control News Clip:
Animal Services Lacking The County Dog and Cat Control in Columbia
"It's a matter of priorities," Columbia City Administrator Jay Baksa said. "Do you put enormous time and resources into animal control or do you spend it on other priorities within the police department?" For more information, call the animal services of Columbia, South Carolina.
The community service officers who handle Columbia's stray and abandoned dogs are busy. So far this year, the city has impounded 339 canines. They keep the dogs for five days. If no owner comes forward, the dogs are shipped to the South County Animal Shelter in San Martin. Richland County animal control says it will continue to help with domestic animal issues, but not with South Carolina wildlife problems.
This year, 193 dogs have been reunited with their families; 146 have been sent to the shelter, at a cost of more than $14,000 to the city. Columbia residents can not take stray dogs, cats or other creatures to the San Martin shelter. Animal and carcass removal services in Richland County is dedicated to helping South Carolina and Columbia.
If you live in Columbia and want to get rid of an animal, your only option is to haul it the Humane Society Silicon Valley in Santa Clara. But while Columbiaans might have the longest trip to that shelter, they're not the only ones with a problem local government has not been able to solve. Richland County animal services in Columbia, South Carolina, declined to comment on the matter.

Remember, for a dog/cat problem, call (803) 776-7386 or (803) 929-6000, and if you need wildlife removal service in Richland County, call Centurian Wildlife: 803-939-5570.