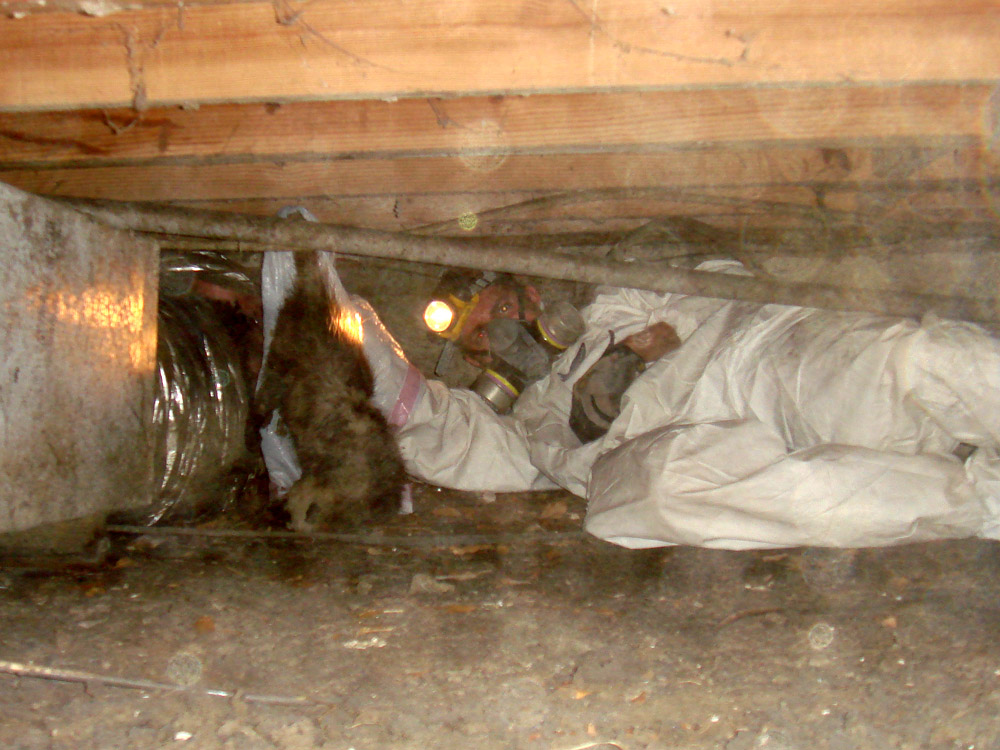 | | | |
| --- | --- | --- |
| | I'm very proud to be holding this dead opossum - got it out of the ducts. | |

If you need dead animal removal, click for the National Directory of Dead Animal Removal Companies that I've carefully compiled in every USA city.


I commonly extract dead animal carcasses from homes and property. The very animals that commonly invade houses die inside houses, and when they do, they create a very unpleasant odor as the carcass decays. The successful removal of deceased wildlife definitely requires experience and knowledge of building architecture and animal behavior. I've cut and pried open every nook and cranny imaginable to locate and remove rotting critter bodies. I am the best - I always find the animal, deodorize and decontaminate the area, and seal up the hole I've cut open. If you want to learn more, please read my How To Get Rid of Dead Animals page.

Look what I found in the duct! - Among the countless wild creatures that I have been called to remove and dispose off from homes, there was an opossum that made me especially proud. The reason for this pride has nothing to do with the opossum itself but with the fact that it was a duct where it breathed its last. And that meant more adventure for me! To locate this particular bad boy, I searched every nook and cranny of the building but could not locate where the stench was originating from.

Finally, after hours of searching, which also involved me going down the duct, I was able to find the opossum. For all the years that I have been removing animal dead bodies, I have detected vents and ducts as their points of entry into the house. This however marked the first time that I actually went hunting for one inside them. As you can see, I had to wear a special rubber suit for this one and then creep down the duct to find the carcass. What an adventure!

For a moment, I could picture what it would be like to be an opossum and move through the dark ducts. Perhaps the only thing I can hold against the whole experience would be the unpleasant odor of decay that I had to brave through.

Searching for the opossum through the ducts and disposing it off was only the beginning. You can imagine how fast the stench of its decomposing body must have spread throughout the building, which is why the disinfecting and deodorizing process in this case took a particularly longer time than usual. But you know what? At the end of the day, it all seemed to go by in a breeze because I was so proud of myself (and still am!).

AAAnimal Control is a privately owned wildlife removal and pest control business, located in Orlando Florida. I deal strictly with wild animals including ones that have died inside houses. I am not an extermination company, but a critter removal and control specialist. The above photos are some of the many that I've taken in the field over my years of work. Please email me if you have any questions about the above photographs, or any questions about wildlife problems or dead animal removal issues.