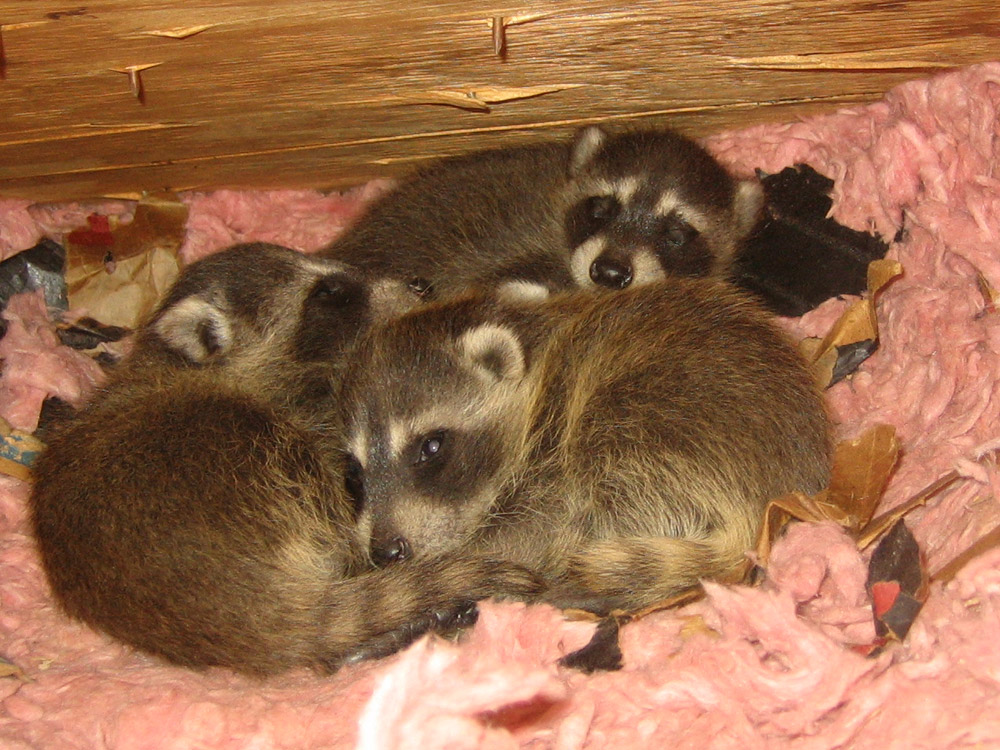 | | | |
| --- | --- | --- |
| | Mom stashes them in the attic. | |

Customer Raccoon Email: Hi David, I live in Springdale, Ohio in Mallard Lakes Town Homes. Over the last several months I had contacted the rental office several times about scratching noises in my attic and underneath my bathtub. Several weeks ago, a female raccoon was captured in my attic. After another week or so I made numerous calls because I could hear squealing and crying, which ended up being four small baby raccoons trapped inside of the wall. They have since been removed. I have researched and I'm extremely nervous about the "mess" that was left behind by the raccoons. I have reported numerous times a foul odor, and I'm extremely concerned about the roundworm disease that raccoons carry that can become toxic. My major concern is that I have two small children and I'm scheduled to give birth this coming Wednesday. I want to be sure that it is safe to bring my newborn home. My leasing manager doesn't seem to think that this is a serious issue and has not made any attempt to clean the attic at all. What are the dangers that I'm facing if I bring my newborn here, and what options I have if the property manager will not clean up the mess left behind by the raccoons. I'm assuming that this particular raccoon has had several litters in my attic over the past couple of years since I've been here. Thank you for your help, Sincerely, Ciara

My Answer: The threat of contracting raccoon roundworm via airborn spores is extremely small without handling the feces directly. But if you want your attic properly cleaned, call the person listed on my directory in Springdale Ohio.

If you need wildlife control services in your hometown, click for the National Directory of Wildlife Trappers that I've carefully compiled in every US city.


The raccoon (Procyon lotor), is a common urban animal, and native to North America. Raccoons are easy to recognize, with a black mask and ringed tail, as seen in the above photo. Raccoons tend to weigh between 10-20 pounds as adults, and live an average of 5 years. They are mostly nocturnal, and are omnivores, and will often eat pet food or garbage. They have become very acclimated to living in cities and urban areas. They are very strong, excellent climbers, very intelligent, and they are very skilled with their hands, which causes them to commonly break into homes and attics, where they cause considerable damage, and they also destroy other property, and thus raccoons are considered pest animals by many people, which is why I remove them. If you want to learn more, please read my How To Get Rid of Raccoons page.

AAAnimal Control is a privately owned wildlife removal and pest control business, located in Orlando Florida. I deal strictly with wild animals. I am not an extermination company, but a critter removal and control specialist. The above photos are some of the many that I've taken in the field over my years of work. Please email me if you have any questions about the above photographs, or any questions about wildlife problems or raccoon control issues.