Georgia Wildlife Commission: 706-557-3213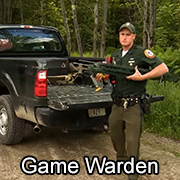 If you have any questions about the wildlife of Atlanta, you can contact the Georgia Wildlife Commission, sometimes called the Georgia Fish & Wildlife Agency. Georgia game wardens address many wildlife management matters, from hunting licenses, to poaching, endangered species, and Atlanta wildlife management. They deal with wild animals outside the range of a pest control company, such as cougars or bears. If you have a problem with nuisance wildlife in Atlanta like squirrels, snakes, bats, or raccoons, the state agency is very unlikely to help. You need to hire a private company (here are their prices) such as Smart Solutions Wildlife Removal at 404-609-4280.
---
I also have listed several sources for
free Atlanta wildlife help
. One example, if you've found an injured animal or lost baby bird or other baby animal is the Atlanta Wildlife Rehabilitation Clinic: 678-418-1111 Or just read below for more info about the wild animals of Atlanta.
---
Types of Wildlife and Animal Problems in Atlanta, GA
Georgia State bird: Brown thrasher
State mammal: Right whale
State reptile: Gopher tortoise
State amphibian: American green tree frog
State fish: Largemouth bass
State insect: European honeybee

Georgia is a very hot, humid state, even in the regions of the north where mountains dot the landscape. It is full of lush vegetation, and has a variety of habitats. This state not only has tall, majestic forests, it also has Okefenokee Swamp, a 438,000 acre wetland on the Georgia-Florida border. As you might imagine, this swamp is home to a variety of creatures. These creatures, however, aren't just reptiles and amphibians. The marsh is made up of both wet and dry land, and mammals abound within its protected space. Okefenokee Swamp has black bears, white-tailed deer, and otters. It does, of course, have its fair share of water moccasin snakes, alligators, and turtles.

The rest of Georgia is also full of animals, and because the weather is so warm all year long, there is an abundance of reptiles and cold-blooded creatures not found in the northern states. Warm weather is also ideal for birds, and these birds can range in size from small robins to giant creatures with 8-foot wingspans.

Common pest animals in Georgia include armadillos, black bears, beavers, geese, coyotes, deer, wild hogs, rats, raccoons, squirrels, woodpeckers, and foxes. Not only do these animals enjoy what the warm temperatures have to offer as far as comfort, many of them live on the eggs and offspring from the array of reptiles, birds, and amphibians. Raccoons, in particular, are known to be raiders of nests in the hunt for eggs.

While there is an abundance of food year round for the creatures in this state, the human population of Georgia is so dense, contact with animals is inevitable. As people spread out into the wilds, animals find new ways to come by easy meals and easy shelter. Raccoons won't hesitate to leave the woods in favor of an attic when breeding season comes around, and all pest animals make special note of the homes that have garbage or food lying around outside.

In a state like Georgia, having small pest animals in the yard can eventually draw in larger predators. People living near bodies of water where alligators reside will regret having a plethora of small mammals lounging around the yard. It won't take long be the gator makes a mental note about where to get an easy meal.
If you need a professional wildlife trapper in Atlanta, GA call Smart Solutions Wildlife Removal: 404-609-4280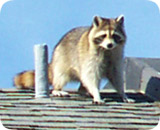 Atlanta Raccoons:
This masked animal is fairly common in Atlanta, GA. They frequently raid trash cans and steal pet food. They also often choose to live in the attic or chimney of your home. One of Georgia's beautiful animals, but often a nuisance. We offer Atlanta raccoon removal.
---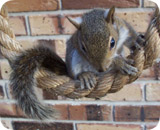 Atlanta Squirrels:
Squirrels are often a pest in Atlanta. They love to live in an attic, and will chew on wood or electrical wires. They are agile creatures, and live throughout the state of Georgia. Call Smart Solutions Wildlife Removal if you need squirrel removal in Atlanta.
---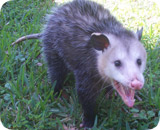 Atlanta Opossum:
You may spot this animal in Atlanta at night time, perhaps rooting through your garbage. This opportunistic animal will take your pet's food or live under your porch. The possum is a great Georgia survivor, and not all that ugly.
---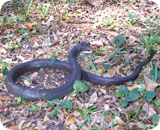 Atlanta Snakes:
There are many species of snakes in Atlanta, but few are venomous. If you need help identifying snakes of Georgia, browse this site or give us a call at 404-609-4280. We at Smart Solutions Wildlife Removal can provide Atlanta snake control any time you need us.
---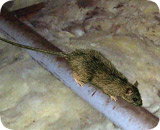 Atlanta Rat Control:
The Norway Rat, Roof Rat, and House Mouse inhabit most areas of North America that people inhabit, including most Georgia cities. They contaminate food and love to live in the walls or attic of a home. Smart Solutions Wildlife Removal can get rid of them once and for all.
---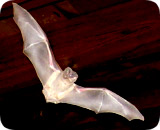 Atlanta Bats:
Bats are special animals, and found throughout Georgia. They are good creatures and eat a lot of insects, but if you have an infestation of bats in your home or building, you can give us a call for professional Atlanta bat removal and control.
---
REPORT WILDLIFE ISSUES: (404) 613-0358
To report a dead animal on the road, an injured bird, a lost baby squirrel, a dangerous bear, or anything like that, call animal services at (404) 613-0358

If they can't help, call the Georgia Wildlife Commission at (404) 613-0358. You can also call your local sheriff department at (404) 613-0358 - they often deal with public wildlife issues.
---
We are experts with all kinds of GA wildlife and are familiar with the wild animals native to Atlanta. If you need Atlanta pigeon control, geese or other bird removal, we can help. We are experts with skunks and skunk problems, digging animals such as moles, armadillos, & groundhogs, and we offer Georgia beaver control and removal. Smart Solutions Wildlife Removal also provides dead animal removal services. 404-609-4280


---
Atlanta Wildlife Tip
If You Have A Rodent Chewing On Wire, Fire Is Not Far Behind - If you become aware of some noises in your attic or your walls, you may guess that it is a mouse, a rat or a rodent. Animals are cute and you don't want to harm them, but having them in your house is more than a nuisance. It can be dangerous in more than one way. No matter what the critter is that has moved in, you must get it out. If you happen to notice a rodent hopping around your yard toward your house and suddenly disappearing, you may have found your culprit.
The really bad part about that is not only that they are a nuisance and can totally ruin your attic. They chew an anything they can to keep their teeth from becoming too long. Because a rodent's teeth keep growing throughout the life of the animal, it needs to gnaw to keep them at a manageable length. If the teeth become too long, the rodent can't eat and will die. So, if you have a rodent chewing on wire, fire is often the outcome. You can lose your house and, worst of all, lose your life or that of a loved one.
---
Atlanta, GA Wildlife News Clip:
Wildlife - Controversy erupts over Atlanta woodchuck and beaver exterminating
"I expect there are many who agree with me and many that wouldn't. But all the comments good or bad should be forwarded to all involved, because any dialogue concerning this important privilege may help anyone noticing suspicious activities to decide to be responsible and report it as the caretakers that we all are," he said. For more on Atlanta wildlife, read on.
Robert The snake identification picture expert, who has been a farmer for 55 years and owns the parcel in the area in question has a response. When contacted by The News, he said he allows some Bug sprayers on his property but they must have his express permission and they must follow hand capturing regulations which include hand capturing towards the interior of his 50 plus acres. Snakes and coyotes are not all mean.
Mr. The snake identification picture expert is within his rights. Currently, Georgia's discharge of firearms bylaw allows the firing of both shotguns and bows for hand capturing between Mineral Springs and Sulphur Springs on land zoned agricultural. Remember to treat the wild animals of Atlanta, Georgia, with respect and care.
Bug sprayers must have either verbal or written permission from the landowner and cannot shoot a firearm within 100 metres of a public or private park or dwelling. Hooray for wild creatures and critters!
The male wolverine will apparently score in the high 180s and is the largest non-typical ever taken by an archer in Georgia. Fur trappers killed 5,484 fox and coyote last critter catching period in Halifax County, which lies south of the Roanoke River but well within its fertile drainage. The Nos. 2 and 3 counties in 2004 - Northampton (4,382) and Bertie (4,231) are north of the river but also in its drainage. It's time for the acorn fall. The harvest in the Eastern fox and coyote section is far less tied to the annual acorn or mast crop, according to biologists, because of the huge amount of agricultural land in the coastal plane. Continued next week ...Atlanta Wildlife.

---
Critter Problem at Your House? Hire Smart Solutions Wildlife Removal
Wildlife removal is not a free service.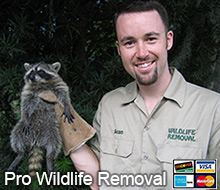 If you have a Atlanta wildlife problem and need help, call Smart Solutions Wildlife Removal at 404-609-4280. They provide professional wildlife control for both residential & commercial customers in the city of Atlanta. They offer custom Atlanta wildlife control solutions for almost any type of wildlife problem, whether it be the noises of squirrels running through the attic, a colony of bats living in a building, or the destructive behavior of a raccoon, they have the experience and the tools to quickly and professionally solve your wild animal problem in Fulton County in Georgia. Check their prices, and for a consultation, give them a call at 404-609-4280
---
Atlanta is the capital of Georgia. With a metropolitan population of 4.8 million, it's the 9th largest metro area in the United States of America. The city was once home to the Creek and Cherokee Native Americans. It was once a railroad hub in the early 1800's, but has progressed to a huge city with enormous influence in the south and the world. Why, it was host to the 1996 Summer Olympic Games. Atlanta is sometimes nicknamed "The Phoenix City" due to its rise after the civil war. Atlanta has the world's largest aquarium, the Georgia Aquarium, which features over 100,000 specimens in tanks which hold about eight million gallons of water. The Atlanta Botanical Garden is another nice attraction, and contains several different landscapes to display a variety of plants.such as formal gardens, aJapanese garden, the herb garden, and the rose garden. Zoo Atlanta is a fine wildlife park and major attraction. It is 40 acres in size, and was founded in 1889. It attracts around one million visitors a year. The zoo features almost 1,000 animals representing 250 species from around the world, including two giant pandas, Lun Lun and Yang Yang, on loan from China until 2009. The African Rain Forest habitat is home to 23 gorillas, the zoo is a participant in the AZA's Species Survival Program with efforts for the red panda, and the sumatran tiger. We won't be trapping any Sumatran Tigers for you, but we will be more than happy to trap your squirrels, rats, opossums, and other pesky critters. We work in all Atlanta neighborhoods and suburbs, such as Gwinnett County, Newnan, North Atlanta, North Decatur, and rat control in Panthersville, Peachtree City, Powder Springs, Redan, Riverdale, Roswell, and wildlife trapping in Acworth, Belvedere Park, Braselton, and animal capture in Buford, Candler-McAfee, Carrollton, Cartersville, and snake removal in Chamblee, College Park, Conyers, Covington, Decatur, Doraville, and rodent removal in Druid Hills, Duluth, Dunwoody, East Point, Fayetteville, Five Forks, Forest Park, Griffin, Kennesaw, Lawrenceville, Lilburn, Mableton, Monroe, Mountain Park, Sandy Springs, Smyrna, Snellville, Sugar Hill, Tucker, and animal exterminating in Union City, Winder, and Woodstock.

To learn more about us, visit our website at atlantapestanimalcontrol.com.

You're still reading this page? We do not operate Atlanta wildlife rescue, or a Atlanta zoo or nature center, or Atlanta wildlife sanctuary or refuge for volunteers. We are a privately owned nuisance wildlife removal service company. If you need a pro in Atlanta to solve your problem for you, call Smart Solutions Wildlife Removal: 404-609-4280 and they can help you with your Atlanta wildlife problem.