Indiana Wildlife Commission: 317-232-4200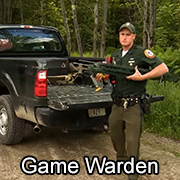 If you have any questions about the wildlife of South Bend, you can contact the Indiana Wildlife Commission, sometimes called the Indiana Fish & Wildlife Agency. Indiana game wardens address many wildlife management matters, from hunting licenses, to poaching, endangered species, and South Bend wildlife management. They deal with wild animals outside the range of a pest control company, such as cougars or bears. If you have a problem with nuisance wildlife in South Bend like squirrels, snakes, bats, or raccoons, the state agency is very unlikely to help. You need to hire a private company (here are their prices) such as Awesome Critter Gitters at 574-376-2930.
---
I also have listed several sources for
free South Bend wildlife help
. One example, if you've found an injured animal or lost baby bird or other baby animal is the South Bend Wildlife Rehabilitation Clinic: 574-235-9303 Or just read below for more info about the wild animals of South Bend.
---
Types of Wildlife and Animal Problems in South Bend, IN
Indiana State bird: Northern cardinal
State mammal: N/A
State fish: Largemouth bass
State insect: N/A

Indiana was sculpted mostly by glacial activity, and it is a landscape of flats with occasional rolling hills. The bulk of the state is farmland, and only about 20 percent is forest. Of that 20 percent, the majority is privately owned, leaving only a few state parks open to the public for outdoor adventures. With so much farmland, it's not surprise that the prairie dog is one of the most irritating creatures found in Indiana. The intelligent little mammal can create tunnel systems spreading for miles. These tunnels are not deep enough underground to support the weight of equipment or even large livestock. It's not uncommon for tractors to get stuck in fields because of collapsed prairie dog tunnels. Farmers must be diligent against this crop-eating animal.

Another creature in Indiana that loves crops is the wild hog. The creatures stick mostly to forested areas, but they will destroy fields of plants in a matter of days. Wild hogs are bold and often confrontational. In areas where the population has gotten out of control, there is an open hunting season on the pigs. The pigs have only two natural predators in Indiana, and they are the mountain lion and the coyote. Unfortunately, mountain lions are solitary creatures, and don't need to eat daily. A single pig can keep them fed for a week, making the large cats poor at population control.

Birds are common in the farmland. Not only does this state have an abundance of crows, geese are one of the most problematic bird species. Birds will eat seeds in bulk, often removing those just planted by the farmer. In a large operation this isn't as detrimental as for farmers growing just for their private use.

Once you get into the forested regions of Indiana, other animals start to emerge from the woods. Raccoons are found in most places around North America, and they are in Indiana, too. These smart critters will stick to their trees unless homeowners are leaving out garbage or other food items. The raccoons will venture out of the woods when it's time to have babies, too, so homeowners need to make sure their buildings are secured.

Other Indiana animals include the red fox, the muskrat, the striped skunk, woodchucks, opossums, squirrels, rabbits, coyotes, and beaver.

Beavers do well in Indiana. Past the glacial ground, the landscape has deep ravines and stream valleys, ideal locations for beaver building.
If you need a professional wildlife trapper in South Bend, IN call Awesome Critter Gitters: 574-376-2930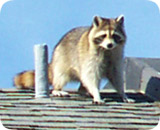 South Bend Raccoons:
This masked animal is fairly common in South Bend, IN. They frequently raid trash cans and steal pet food. They also often choose to live in the attic or chimney of your home. One of Indiana's beautiful animals, but often a nuisance. We offer South Bend raccoon removal.
---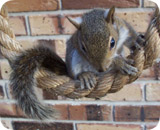 South Bend Squirrels:
Squirrels are often a pest in South Bend. They love to live in an attic, and will chew on wood or electrical wires. They are agile creatures, and live throughout the state of Indiana. Call Awesome Critter Gitters if you need squirrel removal in South Bend.
---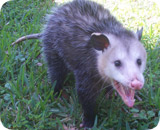 South Bend Opossum:
You may spot this animal in South Bend at night time, perhaps rooting through your garbage. This opportunistic animal will take your pet's food or live under your porch. The possum is a great Indiana survivor, and not all that ugly.
---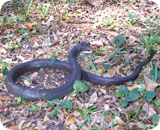 South Bend Snakes:
There are many species of snakes in South Bend, but few are venomous. If you need help identifying snakes of Indiana, browse this site or give us a call at 574-376-2930. We at Awesome Critter Gitters can provide South Bend snake control any time you need us.
---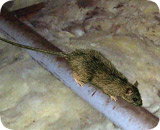 South Bend Rat Control:
The Norway Rat, Roof Rat, and House Mouse inhabit most areas of North America that people inhabit, including most Indiana cities. They contaminate food and love to live in the walls or attic of a home. Awesome Critter Gitters can get rid of them once and for all.
---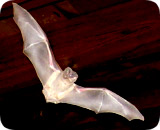 South Bend Bats:
Bats are special animals, and found throughout Indiana. They are good creatures and eat a lot of insects, but if you have an infestation of bats in your home or building, you can give us a call for professional South Bend bat removal and control.
---
REPORT WILDLIFE ISSUES: 574-255-4726
To report a dead animal on the road, an injured bird, a lost baby squirrel, a dangerous bear, or anything like that, call animal services at 574-255-4726

If they can't help, call the Indiana Wildlife Commission at 574-255-4726. You can also call your local sheriff department at 574-255-4726 - they often deal with public wildlife issues.
---
We are experts with all kinds of IN wildlife and are familiar with the wild animals native to South Bend. If you need South Bend pigeon control, geese or other bird removal, we can help. We are experts with skunks and skunk problems, digging animals such as moles, armadillos, & groundhogs, and we offer Indiana beaver control and removal. Awesome Critter Gitters also provides dead animal removal services. 574-376-2930

Awesome Critter Gitters is a Professional Michigan and Indiana DNR Wildlife Control Commercial Operator.We specialize in residential,commercial and agricultural human-wildlife cohabitation management. We are a dealer-installer for Bird B Gone Inc. & Copperfield Chimney Supply Inc. Our skilled technicians will Get (control) the Critters then repair any damage with guaranteed permanent exclusions. We also remove all animal related bio-hazards, odors and we will clean & decontaminate your property.

---
South Bend Wildlife Tip
Taking Steps For The Prevention Of Rodents - Many of us love to watch rodents playing in our yards; indeed lots of people encourage these rodents onto their property by leaving food out for them. They are interesting, inquisitive and adventurous creatures that seem undeterred by any obstacle. And therein is the problem. Rodents love to find a warm, safe place to live, particularly if there is also a readily available food supply close by, if they happen to notice a tiny hole in the fabric of your home you can be sure that they will investigate it. Once you have rodents in your home you will find them difficult to get rid of and may suffer damage to your property. It is essential to take the necessary steps for the prevention of rodents gaining access to your home.
It is wise, when dealing with the prevention of rodents, to make regular inspections of the infrastructure of your home. As you do this you must take the time to repair and seal any holes, cracks, gaps, nooks and crannies you notice - no matter how small. This may also be the time to set some traps around the outside of your property in any areas of vulnerability.
---
South Bend, IN Wildlife News Clip:
Wildlife - This year's woodchuck and beaver hand capturing goal is to trap significantly increased Opossum
As a conservation officer for the Indiana Department of Natural Resources, Stuart The snake identification picture expert spends most of the firearms woodchuck and beaver season checking other exterminators. For more on South Bend wildlife, read on.
That keeps him out of the woodchuck and beaver stand until muzzleloader season begins in late November. But growing up hand capturing in the mid-1970s, The snake identification picture expert says he remembers a different limitation on his woodchuck and beaver season: Snakes and coyotes are not all mean.
The critters just weren't as plentiful as they are now. "If you saw four or five woodchuck and beaver in nine days, you were considered lucky," said The snake identification picture expert, of Erskine. "Now, if you do not ever see four or five in a day, it's a slow day." Remember to treat the wild animals of South Bend, Indiana, with respect and care.
In terms of sheer numbers, at least, these are good days for woodchuck and beaver hand capturing in Indiana. According to the DNR, the statewide woodchuck and beaver herd numbers about 1.2 million, similar to last year when Bug sprayers shot significantly increased than 260,000 rats, the second-highest total ever. Hooray for wild creatures and critters!
Indiana Fox and coyote Animal exterminating Situation: Hurricane Rita has left Acadiana wildlife struggling to survive in unfit waters. The animals' habitats are so devastated, some fur trappers won't be gearing up this critter catching period. One animal catcher says he hopes the state will delay animal exterminating critter catching period or close it all together. A healthy fox and coyote habitat is supposed to look a certain way. After surveying the area from fox and coyote stands, fur trappers make their way through trees, in search of their prize. Continued next week ...South Bend Wildlife.
---
Critter Problem at Your House? Hire Awesome Critter Gitters
Wildlife removal is not a free service.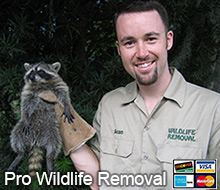 If you have a South Bend wildlife problem and need help, call Awesome Critter Gitters at 574-376-2930. They provide professional wildlife control for both residential & commercial customers in the city of South Bend. They offer custom South Bend wildlife control solutions for almost any type of wildlife problem, whether it be the noises of squirrels running through the attic, a colony of bats living in a building, or the destructive behavior of a raccoon, they have the experience and the tools to quickly and professionally solve your wild animal problem in Saint Joseph County in Indiana. Check their prices, and for a consultation, give them a call at 574-376-2930
---
We also service the towns of Wyatt, Lakeville, Mishawaka and also animal control in Crumstown, Roseland and pest control in Woodland, Lydick and wild animal services in Notre Dame, Granger and wildlife management in New Carlisle, North Liberty.


You're still reading this page? We do not operate South Bend wildlife rescue, or a South Bend zoo or nature center, or South Bend wildlife sanctuary or refuge for volunteers. We are a privately owned nuisance wildlife removal service company. If you need a pro in South Bend to solve your problem for you, call Awesome Critter Gitters: 574-376-2930 and they can help you with your South Bend wildlife problem.