Need wildlife removal in your town? Now serving over 500 US locations - updated for 2018
Rodents in general are critters that you wish would not get into your home. Whether you are talking about a mouse, rat, squirrel, or other kind of rodent, these creatures can be very hazardous to the health of yourself, your family, and your pets. In addition, they can make a big mess wherever they go.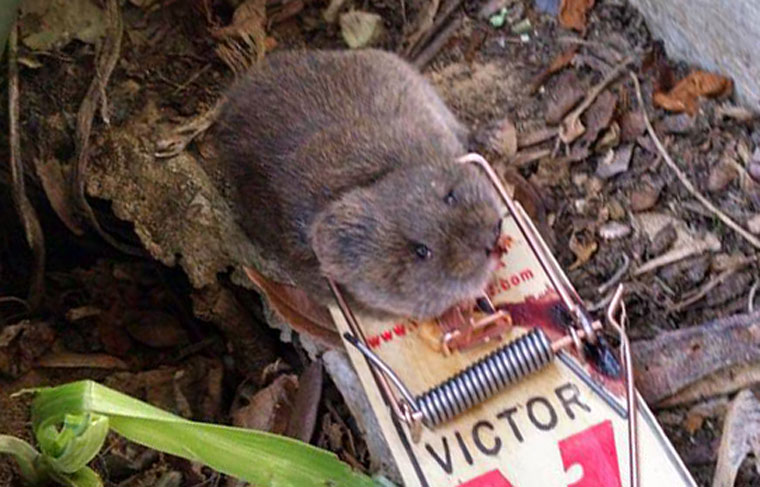 The vole is no different. While you may not be familiar with this animal, this is a little critter that looks very much like a mouse. They are a little bit bigger and have furrier tails, but the other similarities to the mouse make the two almost indistinguishable from one another.
If you have voles that have gotten into your house, they pose the same kind of health issues that a mouse would cause. Not only do they live in large numbers, but they leave their waste everywhere and they get into any place that offers them the opportunity for food. They can make a real mess of your home.
To get rid of them you would follow the same kind of ideas that you would use to kill a mouse. If you want to know how to kill voles, then here are some suggestions for you.
Where you want to start is by determining how many voles may be in your home. If you have a small number, maybe just three or four, then the best solution would be to simply use some form of mouse trap. By placing a trap in your kitchen behind the refrigerator, near the washing machine, or in some other location where you are sure that the voles are accessing, you can end your problem rather quickly. Choose a kind of bait like cheese, peanut butter, or similar substance and in a matter of a couple of days you can have your voles long gone.
However, if you have a large number of these creatures living in your house then the use of a mouse trap is not going to work very well. There are just too many of them, and so it makes sense to look for alternative means to be able to resolve this problem.
While you may not like this option very much, the one that makes the most amount of sense is to turn to something like a mouse poison. You simply place these cubes somewhere where you know that the voles are known to go, and the poison will take care of the rest of it for you. This can be a simple solution to handle a rather daunting problem.
Before implementing this, it is important to keep a couple of things in mind. You need to make sure that these cubes are in no way accessible to your pets or to your children. They can get sick or even die should they chew on the poison cubes, and so you need to keep them in his place that is not accessible to them. In addition, you should be aware that you can have quite a clean up afterwards. You will need to find where the voles are located so you don't have dead animal carcass in your walls or basement.
For more information, you may want to click on one of these guides that I wrote:
How To Guide: Who should I hire?
- What questions to ask, to look for, who NOT to hire.
How To Guide: do it yourself!
- Advice on saving money by doing wildlife removal yourself.
Guide: How much does wildlife removal cost?
- Analysis of wildlife control prices.
Animals in the attic
- read about the common species.
Noises in the attic
- how to identify critters by their sounds.