Information about domestic and wild animal problems in San Francisco County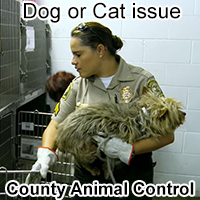 If you need assistance with a domestic animal, such as a dog or a cat, you need to call your local San Francisco County animal services for assistance. They can help you out with issues such as stray dogs, stray cats, spay & neuter programs, vaccinations, licenses, pet adoption, bite reports, deceased pets, lost pets, local animal complaints and to report neglected or abused animals.
San Francisco County Animal Services: (415) 554-6364
---
REPORT WILDLIFE ISSUES: (415) 554-6364 or 916-445-0411
To report a dead animal on the road, an injured bird, a lost baby squirrel, a dangerous bear, or anything like that, call any of these free government animal services:
San Francisco County Animal Services: (415) 554-6364
California Wildlife Commission: 916-445-0411
San Francisco police department: 415-553-0123
These agencies often deal with public wildlife issues or animal concerns where the public health or safety is involved, or other types of animal issues. These are free services.
---
Critter Problem at Your House? Hire Mighty Men WildLife Trapping & Rodents
Wildlife removal is not a free service.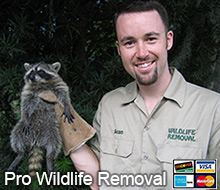 San Francisco County does not provide free wildlife control services. If you want to pay for critter removal services, call Mighty Men WildLife Trapping & Rodents at 415-881-4347. They provide professional wildlife control for both residential & commercial customers in the city of San Francisco. They offer custom San Francisco wild animal control solutions for almost any type of wildlife problem, whether it be the noises of squirrels running through the attic, a colony of bats living in a building, or the destructive behavior of a raccoon, they have the experience and the tools to quickly and professionally solve your animal problem in San Francisco County in California. Check their prices, and for a consultation, give them a call at 415-881-4347
---

Servicing all of San Francisco, San Mateo and Santa Clara Counties. Including Atherton, Belmont, Brisbane, Burlingame, Colma, Daly City, East Palo Alto, Foster City, Halfmoon Bay, Hillsborough, Menlo Park, Millbrae, Pacifica, Portola Valley, Redwood City, San Bruno, San Carlos, San Mateo, South San Francisco, Woodside, Palo Alto, San Jose, Santa Clara, Los Gatos, Los Altos, Campbell, Cupertino, Sunnyvale, Mountain View, Morgan Hill, Gilroy, San Francisco and all other unincorporated communites in the SF, SM, SC county area.

It is important to remember that most county animal services in San Francisco County and elsewhere no longer provide assistance in cases involving wild animals and wildlife management. If you have a wildlife problem or need to get rid of wildlife, need an exterminator or exterminating company, pest control or critter trapping or traps or wild animal prevention in San Francisco County, you should call a privately owned wildlife removal company at this number: 415-881-4347

San Francisco is a city and also its own county. It is the 4th largest city in California and currently has a population of around 745,000 people. San Francisco overcame the horrendous earthquake of 1906 that nearly destroyed everything, and was rebuilt bigger and better than before. Today, San Francisco has distinct characteristics that make it very different than any other city in the United States. The steep hills with their winding roads, the old fashioned Victorian style houses and modern skyscrapers, and all the magnificent views from the the surrounding San Francisco Bay. San Francisco also has world famous trademarks such as the cable cars and the Golden Gate Bridge. The surrounding islands in the San Francisco Bay such as Alcatraz, Treasure Islands and the Farallon Islands are also world famous, and full of wild animals that can invade your home or business. San Fran is a pretty safe place, but for Home Security Systems in the San Francisco Bay area, visit Home Security San Francisco. We also service the towns of Golden Gate Park, Twin Peaks, Russian Hill, Nob Hill, Fisherman's Wharf, Western Addition, Castro and also animal control in Oceanview, Bayview District, Outer Richmond, Portola District, Cole Valley and pest control in Union Square, Outer Sunset, North Beach, Tenderloin, Hayes Valley, West Portal and wild animal services in Haight, Pacific Heights, Noe Valley, Mission District, Potrero Hill, Panhandle and wildlife management in Bernal Heights, Inner Richmond, Chinatown, Inner Sunset, Stonestown.

---
San Francisco County Wildlife Removal Tip:
Problem With A Rodent? Is The Crawl Space Secure? - Once you have rodents in your attic you may well find that they migrate into other areas of your home. Rodents are extremely inquisitive and adventurous, which also makes them dangerous to have in your home. If a rodent sees a hole, no matter how tiny, it will want to see what is through that hole - if it isn't big enough the rodent will just chew his way through. If the hole is an entryway to your crawl space, you may have a bigger problem than you imagined. The crawl space of any home is full of electric wiring, cables and vents for heating and/or air conditioning and is just the sort of place an energetic rodent loves to play in.
If the rodent or rodents in your crawl space begin to choose your electrical wiring or cabling not only can it be extremely dangerous for you and your family but it may also be very expensive to repair. Once you have dealt with your rodent infestation by trapping and removing, or killing, them, you should then ensure that your home is fully sealed against further invasion. Rodents are extremely determined and may well try to get back into your home since they already know that it is a warm, safe place to live with a convenient food supply, this makes it essential that you seal every tiny hole and gap correctly.
---
San Francisco County, CA Animal Control News Clip:
First conviction for San Francisco animal abuse unit
A gang member who tied a puppy's tail in a knot, dropped her in a vat of boiling water and repeatedly zapped her with a Taser gun was the first felony conviction by the city's new Animal Cruelty Task Force, officials announced Tuesday. For more information, call the animal services of San Francisco, California.
Allenn Jerkface, 26, of Los Angeles, was sentenced to three years in prison for abusing Sheila, his girlfriend's German shepherd-mix puppy, which managed to survive despite her injuries. "We are putting the clamps, we are putting the leash, on animal cruelty in this city," Councilman Tony Calliston said at a news conference at North Valley Animal Shelter in Cypress Park, where a fresh and frisky Sheila appeared for cameras. San Francisco County animal control says it will continue to help with domestic animal issues, but not with California wildlife problems.
"Talk about damage - we're gonna do damage to any community that does damage to animals." The Animal Cruelty Task Force, founded last summer to stem a growing number of dog- and cockfights often associated with gangs, includes four Los Angeles animal control officers, two police detectives and a deputy city attorney. Animal and carcass removal services in San Francisco County is dedicated to helping California and San Francisco.
It aims to not only prevent animals from being mauled in blood sports, but prevent a culture of human and domestic violence that can stem from cruelty to animals. The task force, hatched by Mayor Antonio Villosa, was launched by Calliston and Los Angeles Assistant Chief Sharon Papa and follows the lead of such cities as Boston, Chicago and San Francisco. San Francisco County animal services in San Francisco, California, declined to comment on the matter.


Remember, for a dog/cat problem, call (415) 554-6364, and if you need wildlife removal service in San Francisco County, call Mighty Men WildLife Trapping & Rodents: 415-881-4347.