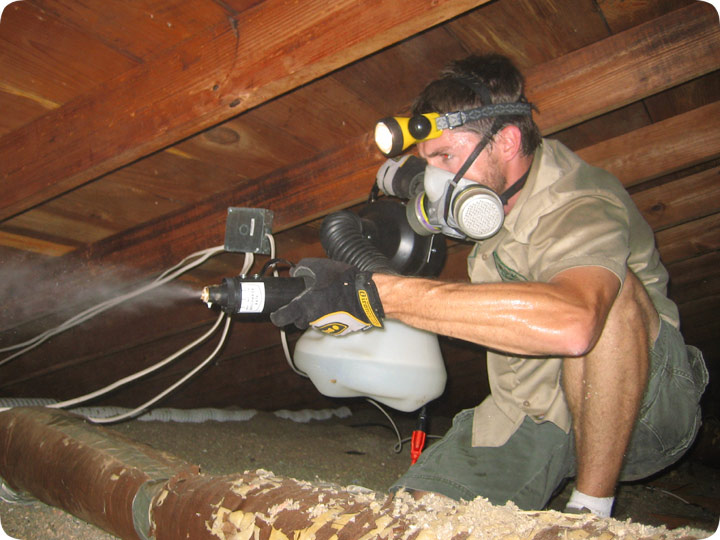 7.18.2006 - In the above photo I'm spraying the attic with my atomizer to destroy the animal waste. I usually wear a biohazard suit, but this attic was about 150 degrees in the Orlando July, so I skipped it. Not a good idea, but I showered immediately afterward, and I always wear my HEPA filter mask. This attic had rats, and the brown chipped insulation, which meant that I couldn't see all the droppings very well, nor vacuum them. This fogging machine, also called an atomizer, sprays my cleaning solution in a fine mist that permeates the entire attic, and makes certain attic cleanup scenarios easy. In a case like this, with rat droppings and urine, but for which the homeowner did not want total insulation replacement, the enzyme-based cleaner in the atomizer does a good job of breaking down and sanitizing the contaminated areas of the attic. If your attic has wildlife waste or animal poop, then this is one method that can kill harmful pathogens along with the odor. It's important to kill the animal odor because it can attract new wildlife.

Do it yourself: Visit my Attic Decontamination page for tips and advice.
Get professional help: Visit my Nationwide Pro Directory of wildlife removal experts.

Clean raccoon droppings from insulation- It is very important to clean raccoon droppings from insulation when you are handling the aftermath from a nuisance raccoon. Insulation is made of many small fibers and it will hold on to tiny particles of poop and urine. You cannot leave the insulation in the building; it must be removed. Taking it out and shaking it off is also not acceptable. Smell is actually the least of your worries when it comes to dirty insulation. Raccoon feces and urine is known to harbor disease. In an attic, insulation might not dry quickly or at all. You are taking the risk of having airborne illnesses like leptospirosis and Hantavirus thriving in the dirty insulation. These particles can both be fatal, and it only takes one breath of particles to infect your body. Some animals are also attracted to the smell of raccoon waste. Even though you might not be able to smell it, the odor of fecal material will be noted by other critters. There?s no rules that says a new animal won?t move in if the old animal is gone. This is why, in addition to cleaning your home, you need to seal up the holes in the exterior of the building.

For more wildlife stories, click my Wildlife Blog or click my below banner to hire a local trapper.



After you have had an animal or several animals in your attic you might be considering cleaning up all of the waste and feces they have left behind. Not only is this a smart idea for your family's health, but it is also smart, as animal feces and urine provide ideal places for mold, mites, and bacteria to grow into much larger problems. You might be wondering how much work has to be done and what the process will be. If this is the case, this article will help. These processes are roughly the same for virtually every wildlife removal company that offers to remove wildlife waste and feces.

Why Should I Have My Attic Cleaned?

If you have ever seen the number of diseases that various animals carry in their feces that can be spread to humans, it is no surprise that people like to have their attics cleaned. Removing the potentially dangerous feces is the first step in a multi-step process of restoring your attic once you have had animals living in it. From raccoon roundworm to leptospirosis, there are all kinds of nasty diseases that can affect you and your loved ones that are transmitted through fecal matter. It is highly recommended to have professionals do this work, as people without experience may accidentally be exposed to whatever diseases are lurking.

Inspection

Once you have called an attic cleanup company, they will send someone to come take a look at your attic. While they are looking, they will be paying attention to what animal or animals it was, how much damage and waste they have left behind, and also what steps they will need to take to clean up your attic. They will be able to estimate how long it will take, how much it will cost, and if there will be any extra charges, based on the severity or uniqueness of your attic.

Removal

Once you have decided that you will proceed and have the wildlife removal company begin working on your attic, they will begin cleaning. These attic cleanup professionals will be wearing full protective suits, as there are some very harmful diseases and germs that can be transmitted to humans through the droppings of animals. Once the experts are suited up, they will get up into your attic and, depending on the animal, begin their process. The process for small animals is much different than larger ones. Raccoons, opossums, and other larger animals leave large feces that are usually picked up by hand. This is the most efficient way in many cases. For smaller animals, such as rats, mice, squirrels, and bats, their droppings must be vacuumed, as they are far too small to be picked up by hand. Once they are done, they will dispose of the droppings recovered and your attic will be droppings-free. Cleaning up the droppings is only the first step in the road to attic restoration, however, it is an excellent start, as it reduces the potential for disease and mold exponentially.