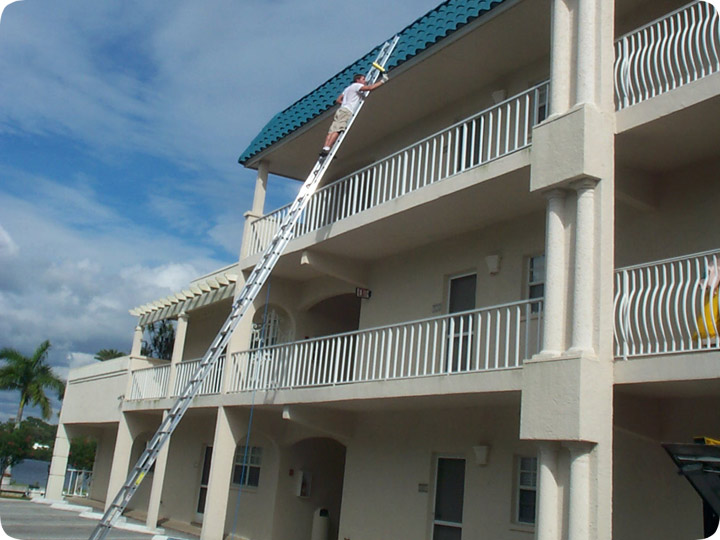 09.04.2003
- This is my largest bat removal project so far - a large resort on Siesta Key, Sarasota. They had large colonies of bats living in these mansard style roofs. I, along with several other bat control companies throughout Florida, came to the property to give quotes for the project. The project presented many challenges. First of all, the bats were entering and exiting the mansard roofs through barrel tile. These tiles make a job much more difficult, because the entire surface of the roof, not just the roof lines, must be addressed. Barrel tiles leave gaps at every section where tile parcels meet. Worst of all is the top row. In this case, a large gap, through which I could easily fit my entire hand, lay above every tile. The second challenge was the height of the mansard roofs. At three stories access was not easy. Finally, half of the areas lay in heavily landscaped sections, unlike the clear and easy asphalt parking lot pictured above. On the other side of each of these segments was an inner courtyard filled with tall palm trees, shrubs, and lightposts.
The other companies proposed using bucket lifts. In order to do so, they wanted the resort to remove all of the lamp posts, which were in the way, and also fix all of the landscaping that the lift would damage. This sounds like a big pain, but lifts are, after all, easier than the alternative. I used the alternative - a ladder. In this case, a 40' ladder, fully extended. Ladder use is an integral part of my job, and bat work especially. Bats like high places, and I've got to get up to where they are. A 24' ladder is a cinch to use. I can use a 32' ladder by myself without much trouble. However, a 40' ladder is a whole different ballgame. As the ladder size increases, so does the relative thickness and sturdiness. Thus, the weight increases exponentially, as does the unwieldiness. Gravity has a way of leveraging better over 40'. In short, it's really difficult to move a 40' ladder around. It's impossible for me to do myself, so I had my friend Jon help me. We had to reposition that ladder over 500 times as I worked my way around the building. We had to move the ladder around countless palm trees and shrubs and light posts. Not a single tree or shrub was damaged, and not a single light post had to be removed.
It was an immense, gut-wrenching project. Up and down the huge ladder hundreds of times, working at dangerous heights, installing exclusion netting to remove all of the bats, and sealing thousands of square feet of tile. However, after ten days of brute labor, which for some reason I enjoyed from time to time, the job was complete. No more bats, and with a 3-year guarantee for the resort (though my work will last for the life of the building).
UPDATE - I later found out that the other companies had bid as high as $60,000 for the project, including their intentions to destroy the landscaping and remove the light posts. My final total price, with 100% success and no damage to any of the property: $3300, materials and travel (from Orlando three times) included. Seems I underbid. Live and learn.
Do it yourself:
Visit my
How To Get Rid of Bats
page for tips and advice.
Get professional help:
Visit my
Nationwide Pro Directory
of wildlife removal experts.
For more wildlife stories, click my
Wildlife Blog
or click my below banner to hire a local trapper.