Dead Rat in House - Died Chewing on Electrical Wires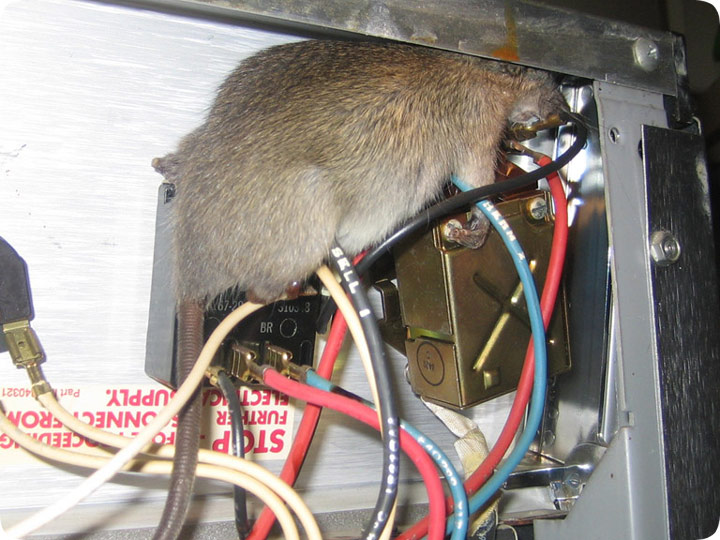 | | |
| --- | --- |
| | |
09.13.2003
- I've encountered this scenario multiple times. There's a dead animal smell somewhere inside the house. I begin my search, sniffing the area. It's evident that the smell is the strongest in the kitchen. The homeowner knows this, and I can tell as well. However, what the homeowner doesn't suspect is that the dead animal is in fact in the oven. Not broiling in a pan for a Sunday dinner, but rotting in the rear panel with the electrical wiring.
The first time I was called for such a job, I was confused as well. I searched the attic, I sniffed all of the cabinets and cupboards, the walls, and everything. But the smell kept coming from the stove area. I pulled out the stove and the odor only increased in intensity. I then removed the rear panel, and voila, there you have it, a dead rat has chewed on the electrical wires, and somehow died. There it lies, to decompose and case a big odor. All I have to do is pry its little orange rodent teeth off the wires, and the job is done. Well, I make sure to put the panel back on and get the stove back in place and make sure it works and all of that.
At this home pictured above, the old lady went on and on about her deceased husband, and she showed me a photo of him from his army days. "Wasn't he handsome?" she asked. I said that he was, and I gave her a nice discount, since she was old and poor. She gave me a plant as my reward. I planted it at my house. Good story, no? Anyway, if you've got a horrible smell in your kitchen, maybe it aint yo momma's cooking.
Do it yourself: Visit my How To Find and Get Rid of Dead Animals page for tips and advice.
Get professional help: Visit my Nationwide Pro Directory of wildlife removal experts.
For more wildlife stories, click my Wildlife Blog or click my below banner to hire a local trapper.