Pigeon Spike Installation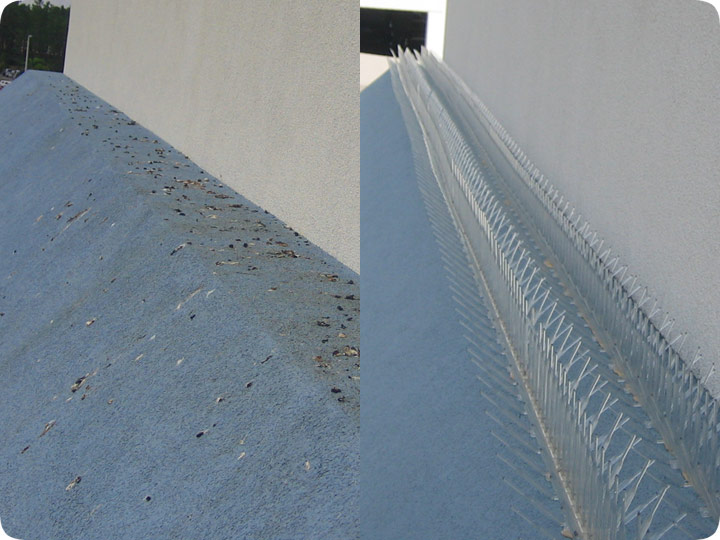 | | |
| --- | --- |
| | |
12.27.2005
- This is a typical example of a pigeon spike installation project. I performed it at an office building. Pigeons were roosting on the ledges above the main doors. They caused the usual pigeon problems - nesting material, feathers, and of course the main problem; lots of pigeon poo. The pigeon droppings fell down onto the ground below, causing unsightly and unsanitary conditions for the hundreds of people who entered the building daily.
I inspected the problem and determined that pigeons spikes were the best answer. The concept is fairly simple - the birds are landing and roosting on the ledge. All I have to do is install some sort of deterrent to prevent them from landing and roosting. Several are available, from sticky glue to shock tracks, but the spikes are a popular, effective, and durable solution, so I opted for pigeon spikes. I used a 40 foot bucket lift in order to access these 3rd-story ledges, and installed two rows of spikes on each ledge to get full coverage.
Prior to installing the spikes, I cleaned off the debris and droppings with a scouring brush. I then glued the spikes to the concrete with a very powerful adhesive. I can't remember the brand name, but it was stronger than Liquid Nails. This keeps the spikes installed permanently. I could have used a large variety of pigeon spikes from a number of different manufacturers. Some are made of thin steel, but these are clear plastic. The strips come in different widths, including 3", 5", and 7" varieties. I had to cover a thick ledge, so I used two rows of 7" strips. I installed them, and the pigeon problem stopped immediately. Now the ledges are pigeon-free, and pigeon poop free, and the people in the building are happy. They used to be sad, very very sad, back when they had to deal with the dreadful pigeons.
Do it yourself: Visit my How To Get Rid of Pigeons page for tips and advice.
Get professional help: Visit my Nationwide Pro Directory of wildlife removal experts.
For more wildlife stories, click my Wildlife Blog or click my below banner to hire a local trapper.