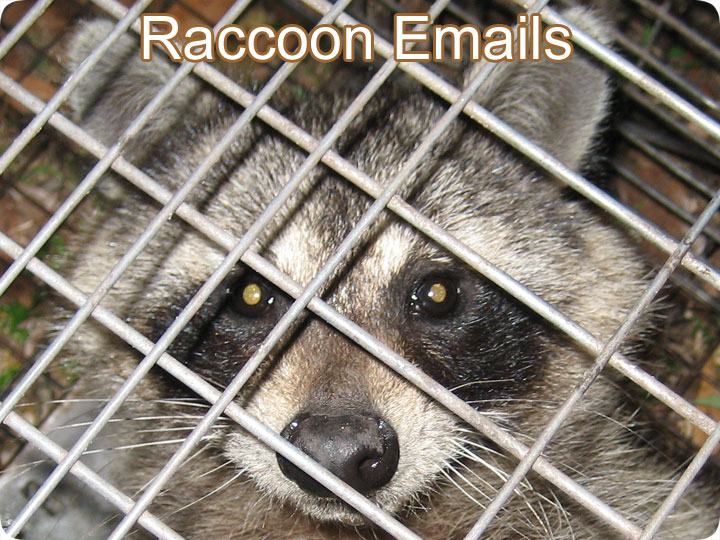 11.03.2006 - Below are some emails that I've recently received from around the country, regarding raccoons, plus my responses:


---
RACOON PROBLEM (1) SMARTER THAN 3 PEST CONTROL COMPANIES ETC.
DEAR SIRS:
I AM AT MY WHIT'S END. NO ONE HAS BEEN ABLE TO CATCH OR KILL THIS RODENT (RACCOON). IT HAS BEEN TEARING UP THE ROOF FOR OVER 1 YEAR. WE HAVE USED THE METAL CAGE WITH CAT FOOD, CORN ON THE COB, AND EVEN SARDINES. WE DID CATCH IT ONCE IN THE ATTIC. HOWEVER, IT WAS ON A WEEKEND AND THE EXTERMINATOR COULD NOT COME UNTIL MONDAY. BY THEN IT HAD BROKEN OUT OF THE COMMERCIAL WIRE CAGE. ACTUALLY DESTROYED IT. THIS THING IS A DEMON. ALL THE COMPANIES I HAVE HIRED CANNOT BELIEVE THEY CANNOT CATCH THIS THING. I HAVE LEFT SPOT LIGHTS ON EVEN A 600 WATT LIGHT. LAST NIGHT IT STARTED TEARING AT THE ROOF AT 9:00 P.M. AND CONTINUED UNTIL 6:00 A.M. IF WE GO OUT AND SHINE THE LIGHT IT RUNS OUT OF SIGHT UNTIL WE GO BACK IN. THEN IT CONTINUES TO SCRATCH AND CLAW ETC. IT HAS TORN INTO THE ATTIC 5 TIMES THROUGH EXHAUST FANS X 2 . I HAVE HAD THE ATTIC AND HOME CRITTER PROOFED AS MUCH AS POSSIBLE. IT KEEPS COMING BACK. IT CRAWLS UP THE STUCCO AND USE TO SPRING ONTO THE ROOF BY WAY OF AN OUTSIDE SPEAKER SYSTEM. I SAW IT ACTUALLY DOING IT. I REMOVED THE SPEAKER AND FOR ABOUT 3 MONTHS IT STAYED AWAY. NOW IT IS BACK. I THINK WHEN THEY WERE BUILDING OUR HOUSE AN ADULT RACCOON WAS REMOVED FROM THE ATTIC. THIS POSSIBLY COULD BE ONE OF HER OFFSPRING THAT KNOWS THIS AS "HOME ". I HAVE THROWN MOTH BALLS ALL OVER THE PLACE TO DETER IT. I LEAVE ALL OUTSIDE LIGHTS ON ALL NIGHT AND HAVE EVEN PLAYED LOUD MUSIC ALL NIGHT. IT DETERS IT HOWEVER, ONLY FOR A SHORT TIME. I AM LOOKING FOR SOME WARFIN PELLETS THAT CAUSE HEMORRHAGES INTERNALLY AND THEN THE RODENT GOES OFF TO DIE. HOPEFULLY NOT IN MY ATTIC. I THINK IT HAS NOT GOTTEN THROUGH TO THE ATTIC THIS TIME. WE HAVE HAD TO FIX 4 HUGE HOLES IT HAS MADE. I WANTED TO PUT THE POISON PELLETS INSIDE MARSHMALLOWS THAT RACCOON LIKE AND SEE IF THAT WOULD NOT MAKE IT RUN OFF AND DIE. LIKE I SAY I HAVE HIRED 3 DIFFERENT COMPANIES AND ALL HAVE FAILED IN CATCHING THIS THING. I ALSO HAD THIS RODENT SIT ON MY BACK BALCONY IN THE MIDDLE OF THE DAY. I AM AFRAID IT COULD BE RABID. ANY SUGGESTIONS SHORT OF MOVING !!! WOULD BE GREATLY APPRECIATED.
SINCERELY,
PENNY
Dear Penny,
Please do not attempt to poison the raccoon. That is both illegal and inhumane. I know that you are having a frustrating time due to this critter. I will be able to succeed where the other companies have failed. I am a true expert in the field of wildlife control, and I know exactly how to deal with a frustrating raccoon that won't go into a trap. I will solve your problem, and if I don't succeed, there will be no charge for my services. Call me any time at my cell phone and we will schedule an appointment for me to take care of your raccoon problem.
David
---
Dear David-
Greetings from Maryland. Your photos are dynamite and you certainly appear to be someone who is excellent in your profession, and enjoy the humane trapping and relocating of wildlife from domestic residences back to the wild. We have been 'tracking' a raccoon(s) through our basement and in between first and second floor rafters for several weeks. This evening we successfully trapped an adult raccoon in a Havaheart trap and released it about 10 miles out of town in the woods. The animal was unharmed in trapping, and appeared healthy, and happily scampered out of the trap into the woods...very happy to be out of the trap I imagine. As it is mid-winter and supposedly northern raccoons don't usually have young until spring, we believe that there are no babies; we have not heard the reportedly loud sounds they would make, but will continue to look/listen. We have also set the trap again in the event that there are several critters around. Nonetheless, we have noticed very pungent odors and are expecting to find a raccoon latrine either in the basement or between the floors of our home. Tomorrow I will visually inspect the basement nooks and crannies, though there is no access to the rafter spaces between the floors. I have two questions for you David:
1) If I find a latrine, or even just scattered droppings, I understand that they are very dangerous and can be hazardous/lethal to humans and pets. Should I attempt to clean on my own or should I call a professional to clean the area?
2) As there is no access above the ceiling, I am reluctant to go cutting into the spaces...what would you recommend? I there away to snake a vaccuum or other cleaning device into the ceiling rafters? Again, would it be better to just call the pros?
If you have a chance, I thank you sincerely for your reply... Again, the photos are dynamite and it is nice to see someone enjoying their work...it looks like you do a great job!
Very truly yours,
Matthew
Matthew,
Good work trapping and relocating the raccoon, though there's still a chance that there are babies up there and you don't know it. If so, your odor problem will get worse. Regarding the current odor problem, it could be due to a variety of factors, but if it is a raccoon latrine as you call it, it's best to remove it with the help of rubber gloves and a filter mask. The droppings can contain roundworm, which humans can contract. I suggest you work hard to find the source of the odor and remove it and decontaminate with Bac-Azap or Bioshield. If you do nothing about the problem it will eventually dry up with time and the odor will slowly fade, but beware, roundworm eggs can lay dormant for years and become airborne. You can hire a local pro to help you if you are having trouble.
David
---
Dear David:
Unfortunately we do not live in Florida but near Houston Texas. We have had this same "critter" problem since shortly after moving into this rental house over 5 years ago. Although the owner has replaced the roof, he did not have the roofers fix the soffit where the raccoons and God knows what else frequents our attic. They have sounded like "sumo wrestlers" at times, and elephants at other times. Knowing that neither of these could actually fit into the attic through this soffit hole, I suspected Raccoons. We had someone set a trap, similar to the ones you show in your pictures, and found out that I was right. So, we have caught only one so far, and, as I write you this email, another one has found himself stuck in the trap. I am wondering what other options we have in capturing these animals safely, in a way that does not harm them, or any other suggestions you may have. Do we have any options, other than to hurt them? I would greatly appreciate a response. I will also take a look on your website for other trappers in our area. Thank you.
Sincerely,
Kathryn
Kathryn,
I don't understand how the traps are hurting the animals. Are these live cage traps? If so, you can safely catch the raccoons and release them without harm, at least 10 miles from the capture site. Just don't leave the animals in the traps for too long. Also, be sure that your trapper checks the attic for baby raccoons. There's always the option to evict the raccoons with raccoon eviction fluid (the scent of a dominant male raccoon) which may scare them away without any need for trapping.
David
Do it yourself:
Visit my
How To Get Rid of Raccoons
page for tips and advice.
Get professional help:
Visit my
Nationwide Pro Directory
of wildlife removal experts.
For more wildlife stories, click my
Wildlife Blog
or click my below banner to hire a local trapper.

Raccoons are often portrayed as masked bandits and they have that reputation for a reason. They wreak havoc! So much so that it is not hard to know when they are in your neighborhood, the damages on your property speak for themselves. However, just in case you haven't come across trouble-making raccoons, this article should help you know just how many problems they cause in your homes. Brace yourself.

Trash
Just as many infamous criminals have their modus operandi, the raccoon, a masked bandit, is no different. Their signature mark is a spilled trash can with the contents strewn about the ground. Yes, they litter. Raccoons are scavengers, searching for food anywhere they can and their sharp claws help them grasp, pick, and tear objects. If raccoons are ever able to get food from your trash can for the first time, they will continue to return for more until you take deliberate actions to stop them.

Vegetation Destruction
Raccoons are omnivores, meaning they eat anything from meat to grass. Yikes! Your plants are in danger should a raccoon pay a visit to your household. Not only are your vegetables in danger of being dug up by these animals, but your lawn also faces the problem of being burrowed into.

Hole in the Wall
Where people see a wall, raccoons see a door. And these cute creatures will stop at nothing to open it. Raccoons are naturally very determined and can dig through walls, roofs, air ducts, and shingles to get into your house. They are clever and can open your doors using the knob, pass through your pet doors, and if all else fails, they will make a way - with their claws.

Insulation Damage
Should a raccoon get into your house, it would most likely be a pregnant raccoon looking for a nest to have and nurture her cubs. And building a nest requires materials right? Right. That's where your attic insulation comes in. Raccoons prefer to stay in attics or chimneys and they damage your insulation, just by walking alone, as their weight compresses it. This causes you additional hundreds to thousands of dollars in heating and cooling bills. Buckle up, it gets worse.

Chewed Wires
Electricity is important, not burning your house down is also important, but your non-rent paying tenants in the attic don't seem to share this point of view with you. The problem is raccoons get a knack out of chewing your electrical wires and ripping them up. They won't bear the cost of repairs, but hopefully, you can discover the damaged wires in time and hand the raccoons their eviction notice.

Air Pollution
Raccoons, like humans, pass out waste now and then. But unlike humans, they do not flush. They leave their urine and feces all over the place, creating a massive stink that lingers even after they have left your house. For raccoons, their waste doesn't only reduce the quality of your air, their feces contain roundworm eggs that can cause severe damage to one's nervous system and possibly death if ingested or inhaled in heavy amounts.

Conclusion
Raccoons have no business living in your house. Take preventative measures and protect your property from these damages and many more.