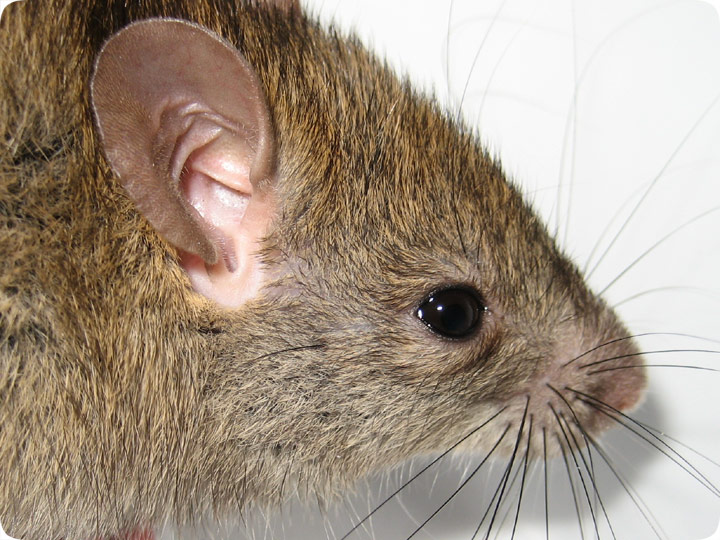 01.19.2007
- I'm proud of this high-detail photograph that I took of a Roof Rat
(rattus rattus)
. I caught this rat in a live cage trap, and decided that I'd do a photo shoot for the heck of it. I put the rat in the bottom of a tall white garbage can. Now, before you try the same thing at home, I have to warn you that rats are amazingly fast, can climb almost any surface, and can really, really, really jump high. There's barely a container that can ...contain them. Only a tall unit with slick vertical walls, at least four feet high, will do the trick. That's what I had in this case.
Next, you need a calm rat. If the rat is frantic, there's no way you can photograph it. Just try to stick your camera arm down the garbage can, and guess what happens: that's right, lightning fast rat running up your arm and jumping off your shoulder to freedom somewhere in your house. I kept this rat for a few hours (and it was already tired from being in a cage for half a day), and I kept approaching it until it learned that I wasn't going to kill and eat it. I was finally able to get up close and take rat pictures with the close-up setting on my camera. I got some very good high resolution rat photographs, but I've of course lowered the size and resolution for posting here on the internet. Email me if you need good quality high resolution original rat photos.
Do it yourself:
Visit my
How To Get Rid of Rats
page for tips and advice.
Other rodents:
Or visit my
Get Rid of Mice
page or
Get Rid of Squirrels
page.
Get professional help:
Visit my
Nationwide Pro Directory
of wildlife removal experts.
For more wildlife stories, click my
Wildlife Blog
or click my below banner to hire a local trapper.