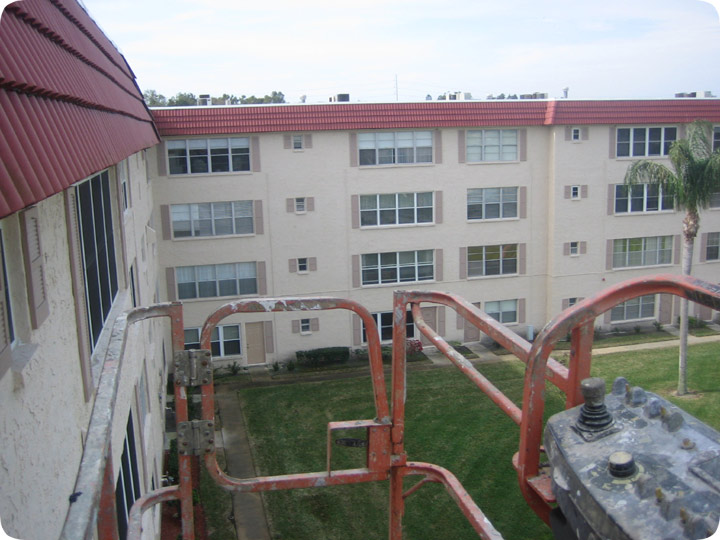 02.03.2006
- I recently completed this large and difficult bat removal project in St. Petersburg, Florida. This is a 4-story condominium, with a very tall roof, and a barrel tile mansard roof lining the perimeter. The tiles featured, as many do, wide open gaps across the entire face of the mansard roof. Literally thousands of gaps, everywhere - at the top row of tiles, the bottom row, and around each and every tile. Bats need only about 3/8 inch of space to get in and out, so this building required a tremendous amount of work, as is usually the case with barrel tile roofs.
Though the sealing is usually tedious and always very detail oriented, getting access to the tiles is often a challenge, and such was certainly the case this time. Not even a 40-foot ladder could reach this roof, so I had to use a boom (bucket) lift. I got a 60' lift for this particular job, and it worked out nicely. I took the above photo while working in the lift. You can see the tiles. They look nice and neat in the photo, but up close, they were riddled with gaps. I spent a great deal of time sealing them. I was lucky to have level and relatively unobstructed ground.
I was not lucky to have recent rains and a several ton machine to drive on the soft ground. The customer (condo board) did not want me to create ruts in the ground, so I had to line the ground with plywood wherever I wanted to drive the bucket lift. Simple, right? Actually, that little request added about 40 hours of difficult labor to the job. I had to go out and buy plywood and bring it back to the site, only to find that this incredibly heavy lift crushed and splintered almost any kind of plywood I bought. I made several frustrating trips, hauling heavy and cumbersome plywood, piece by piece, to my truck, and to the work site. I eventually just had to stack several pieces on top of each other in order to prevent this thing from crushing right through the wood and digging ruts in the ridiculously soft ground. And not only did I have to lug this heavy stuff all over the place - a shoulder burning exercise - but I had to constantly lower the lift, turn it off, get out, move the wood, and then go back up. If not for the plywood, I could have left the lift on and driven it over to the next section of tile. Man, that plywood was a pain in the ass. I didn't expect that. Then of course I had to install the bat exclusion netting and remove the bats and drive back again to remove nets and seal, lugging plywood all the way. Enough complaining. Most of the time was spent sealing up the tiles and getting the bats out.
The Tampa Bay area seems to be full of bats. I've encountered both Brazilian Free-Tail and Evening Bat colonies, and in the case of this building, mixed colonies. I've done several bat control projects in Tampa, Clearwater, and St. Petersburg. I don't know if the gulf area has more insects than central Florida, but it appears to have a higher density of bats. Even though I'm based in the Orlando area, I gladly travel to Tampa for large bat control projects. Just please don't make me lug plywood!

Do it yourself: Visit my How To Get Rid of Bats page for tips and advice.
Get professional help: Visit my Nationwide Pro Directory of wildlife removal experts.

For more wildlife stories, click my Wildlife Blog, or click my below banner to hire a local trapper.