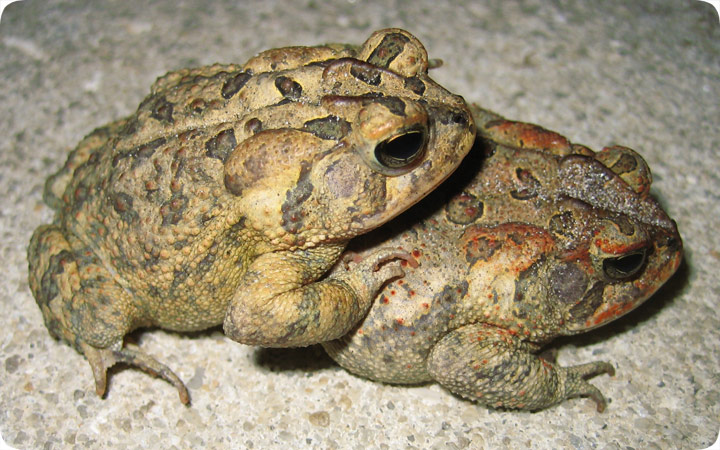 04.03.2006
- I found these fine toads while working in a bat removal project in Heathrow, FL. I don't know what species of toad they are. They're not the regular Eastern Toad, even though that's what they look like, since the range of that toad does not extend to Florida. I liked how these toads were clearly good pals. They were nearly inseparable. At one point they actually tried to play a game of leapfrog, as show in the above photo. However, the one frog couldn't quite hop over the other. He repeatedly tried and tried, but just couldn't make it. The other frog didn't seem to mind.* Anyway, I took these in-good-taste photographs and left the happy couple on their own to go about their natural business. As for me, I went about my natural business as a wildlife operator sealing a home so that no bats could get inside. Somehow my business seems a little less fun. But that's okay. It's each critter doing what it does that makes the world go round. As for the species of toad, I'm pretty sure I have it figured out - these were Horny Toads.
*Blatant Simpsons joke ripoff.
Do it yourself:
Visit my
How To Solve Conflicts with Wildlife
page for tips and advice.
Get professional help:
Visit my
Nationwide Pro Directory
of wildlife removal experts.
For more wildlife stories, click my
Wildlife Blog
, or click my below banner to hire a local trapper.