Opossum Control - Possum Oppossum Oposum
The opossums that we deal with here in North America are called Virginia Opossums. They exist throughout most of the United States. The are North America's only marsupial, which means that they carry their young in a pouch, where they grow and develop. Possum control usually consists of many tactics that are similar to the control tactics used for other wildlife. This includes eliminating food and shelter sources. Opossums are omnivores, and eat almost anything. This means that removing garbage and pet food from the premises is a good idea. If your property offers good shelter for opossums, eliminate those sources of shelter. Opossums love to live under sheds and decks. To stop them, install exclusion barriers around the perimeter of these structures. Opossums even like to live inside buildings and attics, so as with any animal that lives in buildings, all entry points must be identified and sealed shut.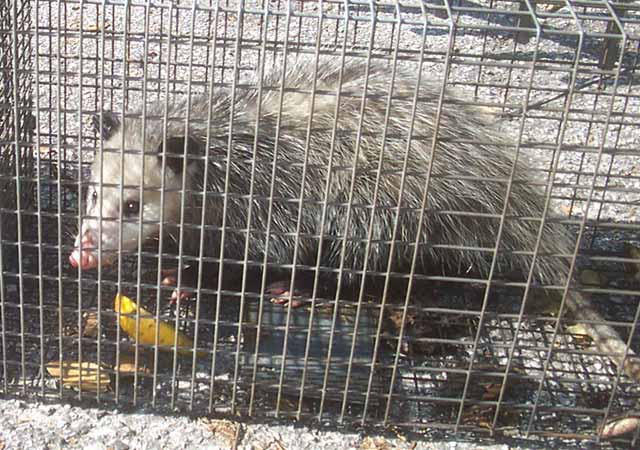 If keeping away food and shelter sources isn't enough, and it often isn't, the opossums should be trapped and removed. Opossums are one of the easiest animals to trap in a cage trap, because they are, basically, dumb and hungry. They are often scavengers, and slow, dim-witted, and unaware. They will wander into a trap to get the food. Once trapped, they can be relocated or euthanized as law allows. Most home owners cannot legally do either or are aware of the laws. For many wildlife problems, it is best to hire a specialized wildlife trapping company to take care of the problem. To find such a company in your area, click the links to the nationwide referral listings.
For more Opossum information, go back to the Opossum removal page.
AAAnimal Control is a professional nuisance wildlife control company located in Orlando, FL We offer solutions to wildlife problems, including opossums, throughout the Greater Orlando area. Services include animal trapping, capture & removal, plus animal damage repairs and preventative measures. We also offer biological cleanup and many other pest control services. Give us a call at 407-729-6946 any time to discuss your wildlife problem and schedule an appointment. You can always browse this site for more details and info, and you can even check out prices ahead of time. If you live elsewhere in the US and have found this site and need a local trapper in your area, click here for a nationwide list of 100's of professional wildlife control experts.