Opossums / Possums in the Attic
Opossums commonly choose to live inside people's attics. This most commonly happens at two times of year. One of those times is during the winter, when they seek refuge from the cold. When this happens, it seems as though a group of adults usually lives together in an attic. I've caught up to four large adults inside one attic at one time. In fact, there's usually 3 or 4. The other time that possums live in an attic is when a mother opossum wants a safe place to raise her young. It's true that when they're tiny they live and grow in the pouch, but it always seems as though once June rolls around and the young are too large for the pouch, the mom takes them to a safer place, like an attic, and they all live together up there and go out at night to forage.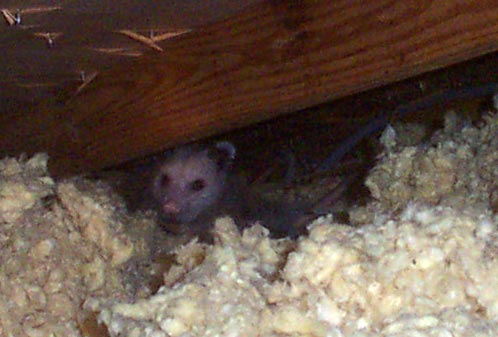 Here's a mother opossum in an attic. She had several young.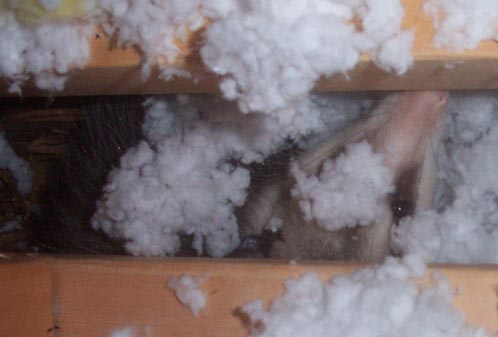 This opossum in the attic tried to hide down a crevace, but I found it.
If you are wondering how to get rid of opossums from an attic, it's the same as getting any animal out of an attic. They ALL must be trapped and removed, and ALL of the entry points must be identified and permanently sealed. You do not want to seal any opossums inside, because they are too dumb to find a way out, and they will die and cause a tremendous odor. It is not an easy job. How to get an opossum out of an attic? The best way, as is often the case with difficult wildlife issues, is to hire a professional, and MAKE SURE THE JOB IS DONE RIGHT THE FIRST TIME. Many jobs with opossums in the attic are challenging even for me. You have to know if young are present, and you have to trap and remove them all. And don't forget, opossums tend to leave a lot of waste behind in an attic, and that should be cleaned.
For more Opossum information, go back to the Opossum removal page.
AAAnimal Control is a professional nuisance wildlife control company located in Orlando, FL We offer solutions to wildlife problems, including opossums, throughout the Greater Orlando area. Services include animal trapping, capture & removal, plus animal damage repairs and preventative measures. We also offer biological cleanup and many other pest control services. Give us a call at 407-729-6946 any time to discuss your wildlife problem and schedule an appointment. You can always browse this site for more details and info, and you can even check out prices ahead of time. If you live elsewhere in the US and have found this site and need a local trapper in your area, click here for a nationwide list of 100's of professional wildlife control experts.