How To Kill Opossums / Possum
You don't need to kill opossums. If it's legal in your state, it's easier to trap them in live cage traps and relocate them. Even if you do intend to kill the animal, it's easier to catch in a live trap than by lethal means. Some folks like to shoot and kill opossums, but if you just want them off your property, you can have a professional trap and eliminate them. And don't forget, if you do try to kill a skunk, get ready for a big smell. Killing opossums is generally a bad idea.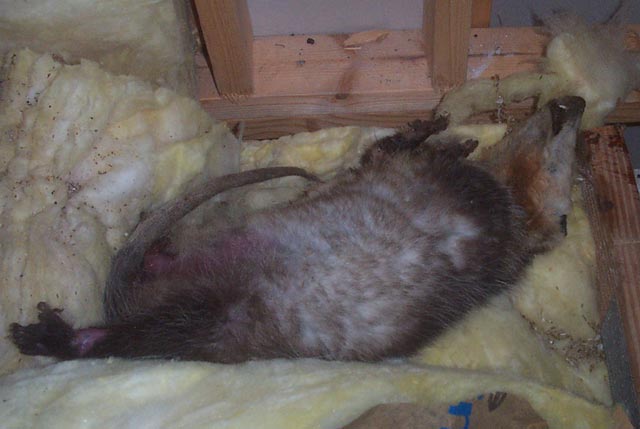 This is a photo of an opossum that killed itself, by falling down a wall from inside the attic. I came and retrieved it with a long pole. Opossums seem to die all the time on their own (and cause a huge smell). No need to kill them, mother nature does that for them!
For more Opossum information, go back to the Opossum removal page.
AAAnimal Control is a professional nuisance wildlife control company located in Orlando, FL We offer solutions to wildlife problems, including opossums, throughout the Greater Orlando area. Services include animal trapping, capture & removal, plus animal damage repairs and preventative measures. We also offer biological cleanup and many other pest control services. Give us a call at 407-729-6946 any time to discuss your wildlife problem and schedule an appointment. You can always browse this site for more details and info, and you can even check out prices ahead of time. If you live elsewhere in the US and have found this site and need a local trapper in your area, click here for a nationwide list of 100's of professional wildlife control experts.