Opossum Repellent & Deterrent
There is no such thing as an effective opossum repellent, unfortunately. However, many are sold online! People will always try to sell you products, and magic cure-alls. Sometimes, people sell products that don't work. In the field of wildlife control, you'll often find more bogus products than effective ones. Opossums are mammals. They are similar to you and I. There is no magic scent or smell or chemical or poison that will deter them. The internet is full of opossum deterrent products, but none of them work. Some of these products include fox or coyote urine, which is a nice idea in theory, but it isn't effective. Other products are simply made of napthalene - moth balls - which some companies sell as an end-all be-all in wildlife or possum repellent. Sorry, it simply doesn't work. I've seen people dump a whole 5 lb. box of mothballs under a deck where possums are living, and they don't care in the slightest. They keep using the area. Devices such as ultrasonic sound emitters that make a high-pitched noise are worthless.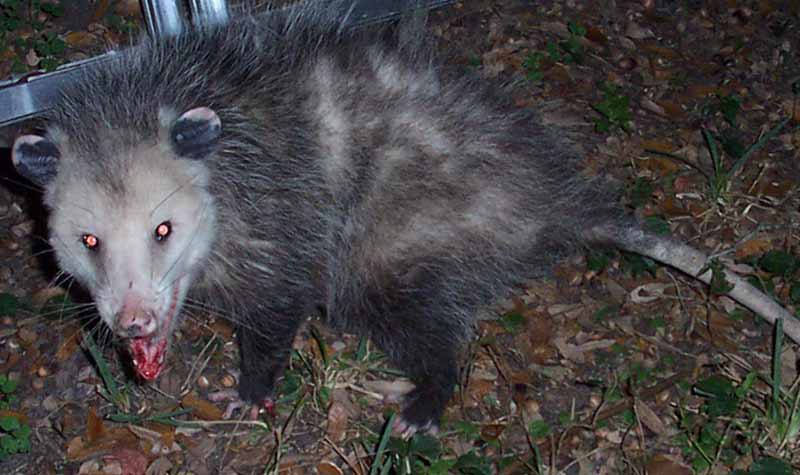 There is no magic spray or powder or anything else to keep away opossums. If you have an Opossum problem and you wish to get rid of them, they should be physically trapped and removed from the habitat. Either that, or physical barriers, such as fences (that go at least a foot underground) should be put in place as a means of opossum prevention.
For more Opossum information, go back to the Opossum removal page.
Customer Question About Possum Repellent: Hello, I was cleaning out my gutters in the fall when the ladder slipped and my arms reached out to grab on to something which happened to be the gutter, pulling away some of the fascia board. I had not got around to fixing this and it has not deemed a problem until last week when I heard some kind of critter climb up the side of my house and into the attic via the opening in the fascia board. Now, whatever it has been living in my attic for over a week and I fear that itís trying to chew through the light fixtures to gain access into the rest of the house. I havenít had any time to try to deal with this problem on my own but fear that if action isnít taken then itís going to get much worse through either damage, or if itís a opossum it could be spraying its scent to attract a mate and even worse to have a litter inside my house. The only action I have taken this far is to put some liquid ammonia in a Tupperware bowl and leave it just inside the attic access in my hallway but I donít think that it has done anything to deter the critter. I intend to fix the hole in the next week if at possible but need this problem taken care of. Can you please provide an estimate what it would cost to remove this creature? Kindest Regards.
My Answer: The ammonia certainly won't do anything to cause the animal(s) to leave. You need to either exclude it with a one-way door, or trap and remove it, and then you can seal the hole. If you seal the hole when the animal(s) are inside, you'll have a big mess on your hands. Also, possums don't spray a scent to attract a mate, at least not that I know of.
AAAnimal Control is a professional nuisance wildlife control company located in Orlando, FL We offer solutions to wildlife problems, including opossums, throughout the Greater Orlando area. Services include animal trapping, capture & removal, plus animal damage repairs and preventative measures. We also offer biological cleanup and many other pest control services. Give us a call at 407-729-6946 any time to discuss your wildlife problem and schedule an appointment. You can always browse this site for more details and info, and you can even check out prices ahead of time. If you live elsewhere in the US and have found this site and need a local trapper in your area, click here for a nationwide list of 100's of professional wildlife control experts.