Opossum Trapping & Possum Traps
Most opossum traps are cage traps, typically the ones designed for larger mammals. You can trap a possum in a cage trap by baiting it with almost any kind of food. Opossums are opportunistic scavengers, and they are omnivores. They will eat almost anything, so almost any bait will trap them. Opossum trapping is easy compared to other, smarter, more finicky wildlife.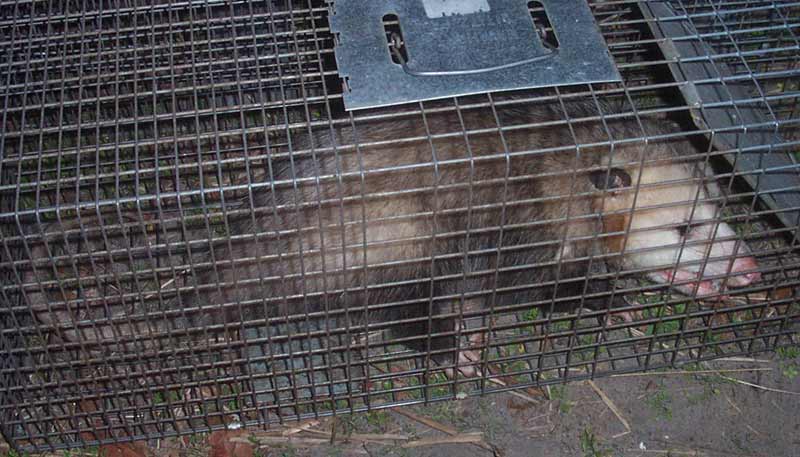 Of course, there are many subtleties to trapping that one only gains through years of experience, and I'm usually surprised to see homeowner attempts at possum trapping fail due to little mistakes that I don't even think about. I'm only talking live trapping here, because lethal trapping isn't legal in my state, and I prefer live trapping regardless. Practically no novice would ever be able to purchase or operate a lethal trap properly, and I wouldn't recommend it.
A lot of people can manage to catch a opossum in their cage trap, but simply trapping an animal is by no means a total solution to the problem. The presence of the animal is a symptom of some other problem, namely the attraction of the area to the animal. Furthermore, here's a scenario that I commonly deal with from homeowners: I get a call saying, "hey, I caught a possum in my trap, now what do I do with it?" You probably can't legally do anything with it, other than release it on your own yard, which won't do any good, and will only create a trap-shy animal. There's a reason that professional trapping companies exist, and if you want to have the problem solved correctly, I recommend that you call one.
For more Opossum information, go back to the Opossum removal page.
AAAnimal Control is a professional nuisance wildlife control company located in Orlando, FL We offer solutions to wildlife problems, including opossums, throughout the Greater Orlando area. Services include animal trapping, capture & removal, plus animal damage repairs and preventative measures. We also offer biological cleanup and many other pest control services. Give us a call at 407-729-6946 any time to discuss your wildlife problem and schedule an appointment. You can always browse this site for more details and info, and you can even check out prices ahead of time. If you live elsewhere in the US and have found this site and need a local trapper in your area, click here for a nationwide list of 100's of professional wildlife control experts.