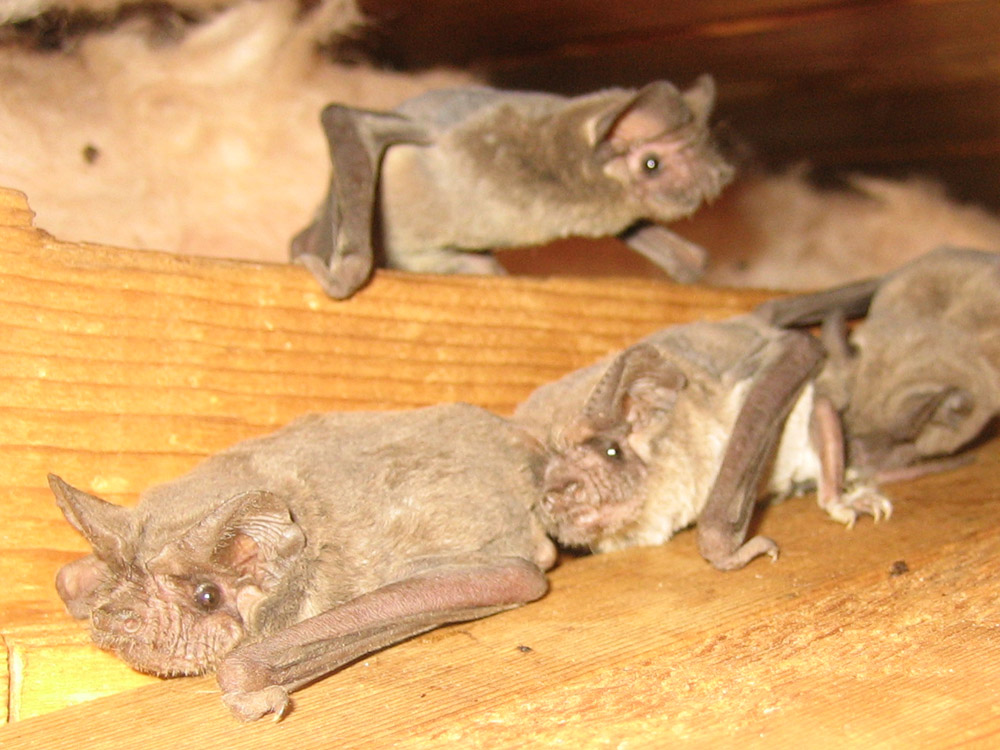 | | | |
| --- | --- | --- |
| | They often line up single-file. | |

If you need bat removal in your hometown, click for the National Directory of Bat Removal Companies that I've carefully compiled in every USA city.

Mexican Freetail Bat – Trouble in the Attic - Normally when one considers a bat habitat, it evokes images of a dark cave with towering stalagmites, and pools of water and dirt scattered throughout the structure. Certainly bats are normally found in this type of environment more often than not. However there are occasions where they are found where they're not really supposed to be – such as in the attic of a home.

Unfortunately occasions like this are becoming more and more common – there are more instances of bats making their home in the home of another; in this case a human being. This is especially prominent in the southern portion of the United States where the Mexican free-tail bat is a native. In the case of this species, available caves are scarce due to other bat species, such as the southeastern myotis, occupying them. Actually the southeastern myotis is better suited for the caves in the south due to its penchant for the humid conditions found in those caves.

Another factor causing more and more colonies of bats to show up in the attics of people's homes has to do with residential and commercial expansion. Bat habitats are destroyed constantly in an effort to build up residential neighborhoods and create new businesses. Unfortunately it is the bat that loses in the deal – they very often have to settle where there is enough space to hold the colony. Usually this is inside attic walls.

Of course then the animal is faced with the challenge of maintaining the integrity of the colony in the midst of people wanting to eliminate them. People often call in exterminators or set traps in an attempt to clear the bats from the attic. It's because of this that the Mexican free-tail bat and its declining population have been put on the species of special concern list in areas such as California.


Bats are great animals! Unfortunately, the do often choose to roost inside home and buildings, where they can create a big mess. It's a good idea to remove the bats from your belfry or attic, but it's also a great idea to avoid harming them! Any competent wildlife control expert should have the knowledge and expertise to safely and effectively remove an entire colony of bats from a house without harming or killing a single one. I know that I have a 100% success rate with bat removal jobs, and I believe the list of companies that I've compiled in my directory is of similar quality. If you want to learn more, please read my How To Get Rid of Bats page.

AAAnimal Control is a privately owned wildlife removal and pest control business, located in Orlando Florida. I deal strictly with wild animals including bats inside houses. I am not an extermination company, but a critter removal and control specialist. The above photos are some of the many that I've taken in the field over my years of work. Please email me if you have any questions about the above photographs, or any questions about wildlife problems or bat removal issues.