Squirrels in the Attic
"Help me get the squirrels out of my attic!" - I hear that request all the time. The most common scenario in the field of nuisance wildlife control involves animals that have invaded a person's attic. All kinds of wildlife love to live in the attics of homes. Attics provide a warm, safe, dry shelter that really suits the needs of many animals. Squirrels are one of the animals that will frequently inhabit an attic, and for which trappers provide attic removal. Squirrels are used to climbing and living in trees. If they can, they will find the hollow of a tree to live in. However, an attic of a home is like a great big hollow tree to a squirrel. Squirrels can climb almost anything, and they will crawl all over the roof of a home until they find a way in. Once inside, they often build a nest in the insulation, or even rip up insulation, drag in other nesting material, and they will often gnaw on wooden support beams or even wires.

At first people notice the sound of squirrels running around overhead, as if in the ceiling. These sounds most frequently occur in the morning or evening, but may be heard throughout the day. People then wonder how they can get rid of the squirrels in the attic. Removing squirrels from attics requires a good inspection of the home, in order to understand how the animals are accessing the building. The squirrels need to be trapped and removed, and all the holes and gaps leading into the attic fixed.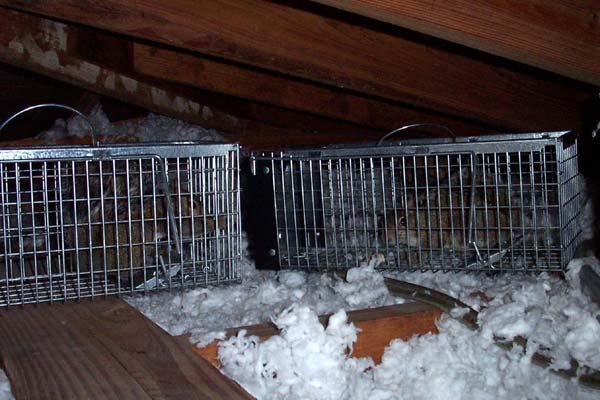 Here is a photo of two squirrels caught inside an attic. It is not necessary to set traps inside the attic itself. Squirrels don't live inside 24/7. They constantly go in and out of the attic. They have to go out to eat and drink. They are just inside because your attic provides safe shelter.
Squirrels cause a number of problems for people. The most common conflicts that occur with squirrels involves their desire to live inside of buildings. Like all members of the rodent family, squirrels are excellent chewers, and they will chew their way into your home or commercial building. Once inside, they may even chew on wires or pipes! People often hear the squirrels running about in the attic or ceiling. They often bring in nesting debris, and can create a fire hazard, not only due to the debris, but also by chewing electrical wires. Squirrels will also chew on the woodwork of a home. Everyone knows about how squirrels steal food from birdfeeders, but that problem can be solved by buying squirrel-proof feeders. Squirrels have two litters per year, and reproduce quickly, like all rodents. This means that at times the squirrel population can grow to high numbers, and extra pressure is placed on buildings. Squirrels will move into attics or chimneys, or even places like drier vents.
So, how do you get squirrels out of your attic? It's actually pretty involved, because most of the time there's a nest of baby squirrels up there. The young squirrels grow quickly, so they may or may not be mobil by the time you notice them up there. If they are younger than 6 weeks, meaning that the mother squirrel has been running about up there for that time, then the nest must be found and the young removed by hand. If the young are weaned and are going outside, you have the option to trap and remove them, or exclude them with a one-way door. Traps can include cage traps set on the roof (never set in the attic, actually - the above photo is the rare exception) or a repeating trap can be set on the main entry/exit hole, if all other areas have been sealed off. An exclusion door is another excellent option. It's very important that all entry points are sealed shut.
People nationwide need to get rid of the squirrels in their attic, and luckily, there are pros all around the country who are experts with squirrel attic removal. Most trained wildlife control professionals have excellent experience in solving squirrel problems, so if you need squirrel control, click the links on this page to find a wildlife removal company in your neck of the woods, and get rid of those squirrels once and for all.
AAAnimal Control is a professional nuisance wildlife control company located in Orlando, FL. We offer solutions to wildlife problems throughout the Greater Orlando Florida area, including squirrel control. Wildlife services include animal trapping, capture & removal, plus animal damage repairs and preventative measures. We also offer biological cleanup and many other services. Give us a call at 407-729-6946 any time to discuss your wildlife management issue and schedule an appointment. Please don't call me for general wildlife control advice on how to get squirrels out of your attic - you can contact a pro in your area. You can always browse this site for more details and info, and you can even check out prices ahead of time. If you live elsewhere in the US and have found this site and need a local trapper in your area, click here for a nationwide list of 100's of professional squirrel removal experts.