Animal Hydration - Thirsty Armadillo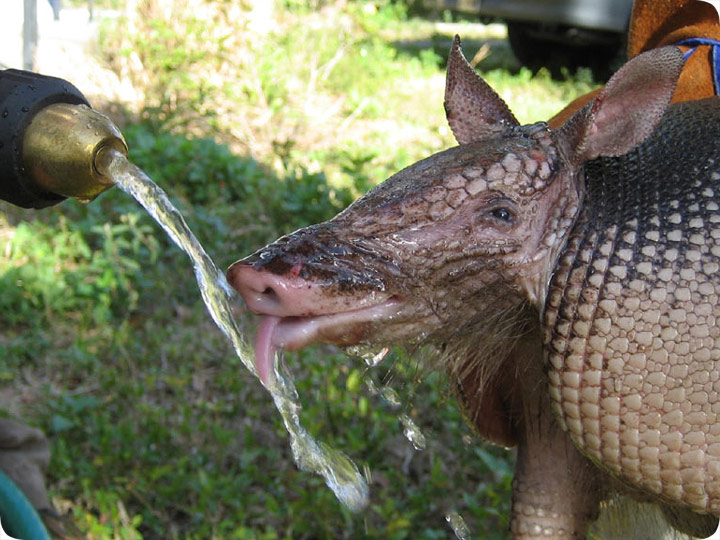 | | |
| --- | --- |
| | |
03.23.2007
- Now here's a thirsty critter! This is a Nine-Banded Armadillo, after a day of being stuck in a trap. I usually work very hard to keep the animals cool. I set traps in the shade, I cover traps when I can, and I always retrieve the animals as early as possible. The worst thing to do is to leave an animal in a cage all day, particularly out in the sun and without water! That is a very inhumane thing to do, and it causes the animal to suffer, and perhaps suffer heat stroke or death. It's important to get the animal removed and relocated quickly. In a case in which I believe an animal is thirsty, I give it water. In the case of a thirsty American Alligator, I give it Gatorade. I didn't want this armadillo to have to search for water for a long time, so I simply held it, and got out the garden hose, and gave the animal a drink. I've given raccoons, squirrels, opossums, and all manner of critters water from the hose or a bottle. If they're thirsty, they'll drink it up.
I was most pleased with this armadillo as it happily lapped up the water. It looked so refreshed and satisfied on a hot Florida spring afternoon. It's making me want a glass of water right now! I'm going to go get one.
Do it yourself: Visit my How To Get Rid of Armadillos page for tips and advice.
Get professional help: Visit my Nationwide Pro Directory of wildlife removal experts.
Armadillos as food? I would never eat one, as I care for these cool animals. On the other hand, armadillos like to eat but they can also be eaten—by people. Oddly enough, armadillo is commonly feasted upon in areas of southern North America. Unlike raw beef or chicken, undercooked armadillo carries with it the chance of catching leprosy, a serious disease that causes skin lesions. Aside from us eating armadillos, these creatures will eat their fair share of grubs and worms, which is why they are often unwanted visitors in a garden or yard. The armadillo will create a burrow system in less than a night, and this ability is what keeps it stocked with the small critters it loves to eat. Because most of what an armadillo eats is dug out of the ground, they are very hard to catch with bait. It is not natural for one of these animals to eat dead worms out of a sock (a common suggestion for trap baiting). The most reliable way to trap an armadillo is by placing the cage trap directly in front of the burrow. The creature has poor eyesight and will rely on the same pathways for travel. Placing the trap in the creature's way will be a surprisingly easy way to catch it.
For more wildlife stories, click my Wildlife Blog or click my below banner to hire a local trapper.