Dead Dog Under a House - How to Kill a PitBull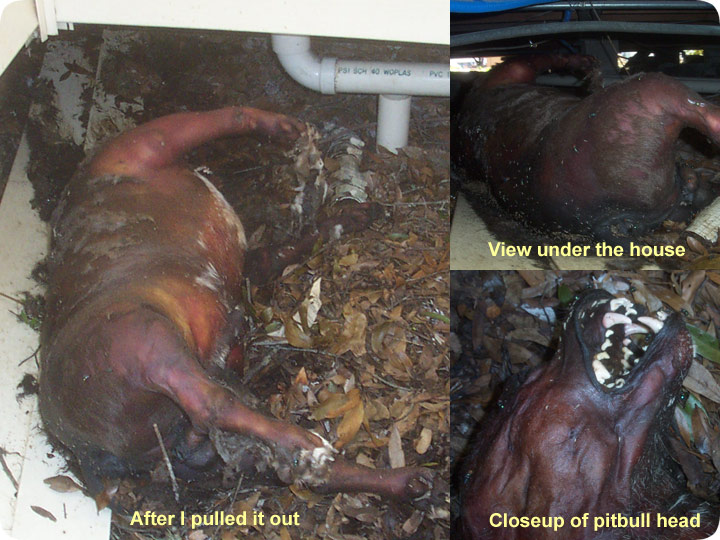 | | |
| --- | --- |
| | |
09.21.2004
- I was called out regarding a bad smell under this house - a dental lab, to be exact, where they make dentures and such. I arrived and asked the usual questions, such as, "When did you first detect the odor?", and "What part of the house smells worst?", and "Do you think you can give me a good deal on porcelean crowns?".
The lab tech motioned to the southeast part of the house, and said that he thought it was a dead opossum. He seemed distracted and intent on clearing up his supplies. I started to get ready, with my Tyvek suit and gloves and HEPA mask and headlamp and such, and he was in a real rush. I started my investigation of the perimeter of the building, and he was at his car. I looked underneath, and in the northwest part of the house I spotted a large dead dog in an advanced state of decay. "Hey mister!" I started to yell, "I think you've got a dead dog under..." but he was speeding off.
I surmised that he did not want to admit that he'd killed a pit-bull with antifreeze and it happened to die under his building. I found out, after talking to his lab assistant, that this is what happened. A mean and dangerous pitbull had been wandering the area and often living under the building. Instead of calling out the local Orange County Florida Animal Services to remove the dangerous dog, he took matters into his own hands and left a large dish of antifreeze (which has a sweet taste) under the house. The dog ate it. The dog died.
I came. I saw. I removed dead dog butt. In most cases, finding the dead animal is the hard part, and removing it is easy. In this case, finding it was no problem, but removing it was a pain in the ass. The thing weighed about ninety pounds. I'll spare you the gory details, but share you the gory photos. I removed the dog and triple bagged it in heavy duty drum liners, and called Orange County Animal Control to come and get rid of the carcass. Don't feed antifreeze to animals.
Do it yourself: Visit my How To Find and Get Rid of Dead Animals page for tips and advice.
Get professional help: Visit my Nationwide Pro Directory of wildlife removal experts.
For more wildlife stories, click my Wildlife Blog or click my below banner to hire a local trapper.