Florida Pigeon Control Company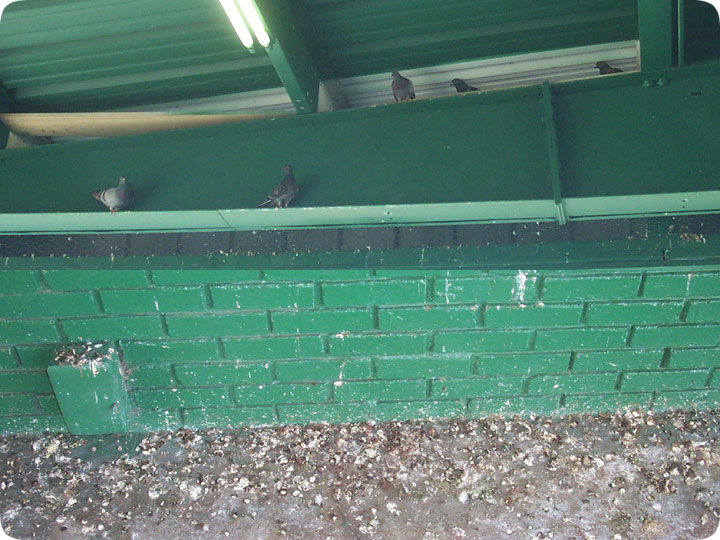 | | |
| --- | --- |
| | |
09.03.2006
- This is a typical example of a pigeon problem at an urban building. In this case, it was an auto repair shop in Orlando. I have split the photo into two parts - on the top is the area where the pigeons roost on steel beams below a metal roof. Below is the ground that is covered with pigeon droppings. The owners of the auto store clean the droppings often, but the birds keep making a fresh mess all the time. Pigeons are a common problem bird in Florida. Specifically, the urban pigeons that cause these problems are often called Feral Pigeons or Rock Pigeons, or even Rock Doves. Though Florida and many parts of the US have several species of pigeon, this is the city pigeon that causes problems with roosting and pooping.
How could the auto repair shop solve this Florida pigeon problem? They called me out to investigate. The entire structure, a large one building, had open sides and steel beams under the metal roof. Basically, the whole building was one big roosting area with open access. I gave them three options:
1) Spikes:
I proposed to install bird spikes on all of the beams to prevent the pigeons from landing and roosting.
2) Netting:
I proposed to install bird netting below all of the beams to prevent access to the roosting areas.
3) Trapping:
I proposed the temporary solution of trapping and removing birds to lessen the amount of bird pressure on the buildings, with trapping done on a periodic basis.
The store did not accept any of these options, due to the high expense of pigeon control. They got some quotes from some other Florida Pigeon Control companies, but none could offer a solution in the store's budget range. Thus, they have to continue to deal with the birds and their droppings.
Do it yourself: Visit my How To Get Rid of Pigeons page for tips and advice.
Get professional help: Visit my Nationwide Pro Directory of wildlife removal experts.
For more wildlife stories, click my Wildlife Blog or click my below banner to hire a local trapper.