Dead Pigeons in Ceiling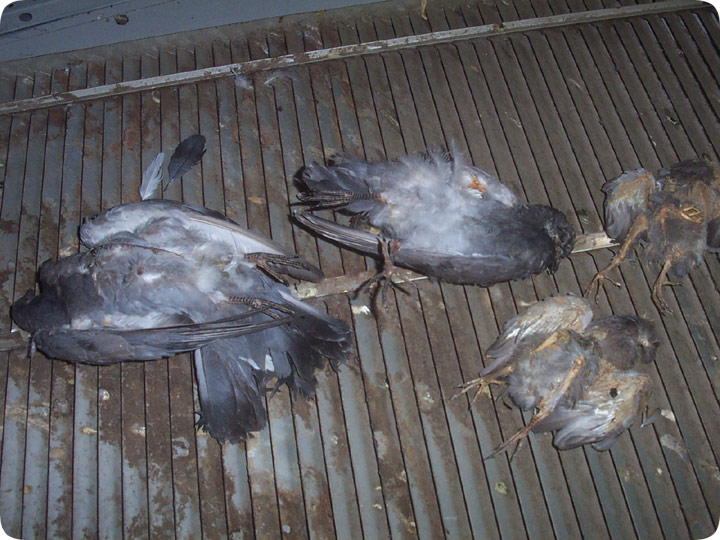 | | |
| --- | --- |
| | |
11.24.2004
- I found these dead pigeons in the ductwork of a public building. They had an open mushroom vent on the roof, and a large colony of pigeons was entering the ducts and living there. They made a huge mess in the ducts, complete with nests, eggs, a ton of droppings, and quite a few dead birds. Pigeons are often filthy animals, and they simply do not keep clean quarters. They don't live long in cities, and like any other wild animal, carry some risk of disease. They are known, in particular, to be susceptible to salmonellosis, tuberculosis, and ornithosis, but these animals probably just died due to age, or in the case of the little pigeons, neglect from missing parents. Regardless, it is wise to use precautions when handling dead pigeons. Dispose of them while wearing protective gloves, and place into thick garbage bags. Avoid breathing in the dust and dander associated with their feathers and droppings.
Diseases Associated with Pest Birds:

Bacterial
Paratyphoid
Vibriosis
Salmonella
Listeriosis
Pasteurellosis
Fungal
Histoplasmosis
Candidiasis
Sarcosporidiosias
Blastomycosis
Viral
Encephalitis
Meningitis
Newcastle Disease
St. Louis Encephalitis
Protozoal
Toxoplasmosis
Trichomoniasis
American Trypansomiasis
Rickettsial
Rickets
Do it yourself: Visit my How To Get Rid of Pigeons page for tips and advice.
Get professional help: Visit my Nationwide Pro Directory of wildlife removal experts.
For more wildlife stories, click my Wildlife Blog or click my below banner to hire a local trapper.