Most skunk jobs involve trapping and removing the animals with ground-level cage traps, which isn't as complex as working on critters in buildings. This ground trapping process takes a few service visits, plus relocation trips, if necessary, or euthanizing fees. The cost of skunk trapping isn't too high, usually $150 on up.
If you need to prevent skunks from going under a deck or shed, you may want a wildlife professional to install a steel exclusion barrier around the perimeter of the structure, and costs will vary depending on the size of the project.
I must reiterate that
this is a directory
of professional nuisance wildlife companies who have met my quality guidelines, and
every company charges different rates
.
Click below map to find exact skunk prices in your town
Here are three articles that will help give you more information:
How To Guide: Who should I hire?
- What questions to ask, what to look for, who NOT to hire.
How To Guide: do it yourself!
- Advice on saving money by doing wildlife removal yourself.
Guide: Why does wildlife cost what it does?
- Analysis of the wildlife control business, and prices.
Costs do vary by company. But there are 3 main principles:
1) Skunk control is highly specialized work, with unique licensing and liability risks.
2) You usually do get what you pay for, and cheap companies tend to do bad work.
3) There is no one-price-fits-all. It doesn't work that way, every skunk job is different.
Any reputable nuisance wildlife company will have spent money on licensing, liability insurance, and a host of other business expenses. You don't want to over-pay of course. And most of all, you want someone who will do this complex work correctly. If you do it wrong the first time, you'll just end up paying more later. You can't ignore wildlife problems, because of the damage and health risks that skunks cause. Invest in your home and property by taking care of the skunk problem correctly.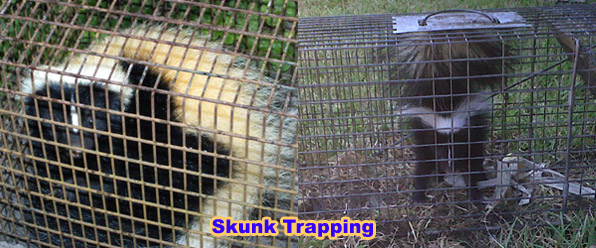 Customer Email Regarding Skunk Problem:
Hi, David -I found your website while trying to google an answer to what might have sprayed my dog last night. She came in smelling like onions/garlic, only 100 times stronger, to the point of being almost toxic fumes. The area around her collar and the side of her neck smelled the worst, as if she had rolled in something, and that area was slightly damp. She's been sprayed by a skunk once before, but it didn't smell anything like this. Do skunks ever spray onion/garlic odor? We live in the mountains of Southwest Virginia, but I grew up in Winter Park and my family is still there. Believe it or not, it was cooler there last week than it was here! Thanks for your help! Janet
My Response:
Not sure what to say here. I do know that skunk smell smells different up close, not just stronger, but different. But if it wasn't a skunk, I don't know what it was.
Thanks for your reply, David. We washed her in the baking soda/peroxide recipe but her nose and ears were hard to do, so the odor remains there. It has morphed into definite skunk smell. Hopefully the rest of the smell will fade soon! Thanks again – Janet