Dead Animal Removal
Step By Step Instructions to Get Rid of Dead Animals in a House:

Step 1 Narrow the odor down to the room with the most concentrated odor in the house.

Step 2 Consider the architecture in that area. Is there a crawl space below? An attic space above? Try to guess where an animal may have crawled and died.

Step 3 Sniff all over the place. Walk back and forth. Stick your nose on the wall, and on the floor, and get a step ladder and stick your nose on the ceiling. It may be gross, but when you get very close to the dead body, the odor will sharply change, not just in intensity, but the very nature of the scent.

Step 4 If you do find such an area, either cut a hole in the drywall, or crawl in the attic or under the house at that exact area. You should find the body. If not, keep sniffing.

Step 5 Remove the body and bag it. Get all the detritus mopped up. Spray the area with a disinfectant.

Need dead animal removal in your town? Now serving over 400 US locations - updated 2017

Here are the most common situations:
Dead rat or squirrel in the attic.
Dead opossum or raccoon under the house.
Dead rat or mouse in the wall.
Or, simply, a dead animal in the yard.
Dead animal removal is not easy. I have to crawl in hot attics and under dirty homes, often in hazardous conditions, and sniff out the animal, remove, decontaminate if necessary, and later dispose of the carcass in a proper manner. It's not a pleasant job. Nevertheless, dead animal removal is a necessary service, and few jobs leave customers more grateful.




After you read the below information, in the event that you wish to hire a dead animal removal company, you may want to see how much does dead animal removal cost? It's usually money well spent, because the expertise that comes with experience helps a great deal in finding the carcass.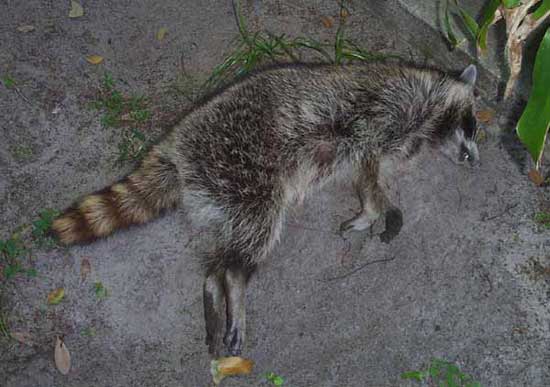 Luckily, this raccoon died in an easy to reach place.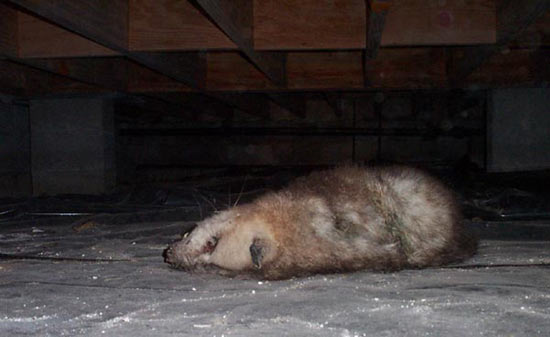 This opossum died under a home, causing a strong stench within.

Wondering how to get rid of dead animals? There is no magic spray or device that you can use to make them go away. Perfumes and masking agents won't help. The ONE AND ONLY WAY to take care of your problem is with removal of the dead animal carcass. If you need to find a professional expert in your hometown, just click our comprehensive list of hundreds of wildlife removal professionals, and you can have your problem quickly taken care of! A pro will be able to cut open a hole in a wall if need be, or find the animal in very hard-to-reach areas, and also use special cleaners to quickly remove the bad odor in the house.

The below paragraph contains all sorts of links to interesting situations, stories of dead animals removals that I've performed, complete with photographs. Click any link below for more information.

This website and the accompanying photo journal blog depict several instances in which I've performed the important service of dead animal carcass removal. This involves all sorts of odd scenarios, such as a dead rat in the house to a dead squirrel in the attic or even this very strange dead catfish under a house. I worked very hard to find this dead raccoon in a house inside an air duct, and I also worked hard to find this dead mouse in an attic. Sometimes I have to cut out a dead rodent in a wall in order to remove it. Once I even crawled under a house to remove a dead pitbull, because someone had poisoned the dog. I craw under mobile homes all the time to remove dead possums, and sometimes it's easy, such as this dead raccoon that I removed from a lawn. The business of removing a dead animal in a house is often a tough one, but when your home smells terrible due to a rotting and decaying carcass, you want it taken care of as soon as possible. Even a smaller animal such as this dead squirrel in the ceiling can cause a big odor, and this dead critter under a bathtub caused a really ripe stench. The homeowners called out several other pest control companies to search for it, but none could find it. I remove all sorts of dead animals including these dead pigeons from a school, and this rat on glueboard from a school as well. I found this dead mouse in a house and also this dead rodent in the attic. Sometimes it's not even a wild animal. In this case of a bad smell in a bulding, it was caused by some abandoned sewage lines. No matter what the cause, I often have to make very difficult crawls into tough areas such as for this dead opossum under a mobile home or this dead animal in an attic. I cut a hole in the wall to remove these dead baby oppossums, and once I even found this dead wild pig. I put a lot of pride into my ability to identify and remove dead animal stink, such as the locating and removal of this dead squirrel in a wall at an apartment complex. Most of the time the critters die due to natural causes, but in this case a rat died from poison. This poor dead opossum in a wall fell down and could not climb up and out, and this dead opossum in the ceiling died of natural causes. I even got called about this dead cow, but of course that wasn't a job for me. I deal more with cases such as this dead animal under a house. If you need professional animal carcass removal services, just find someone on this directory, and they'll be able to get rid of the dead animal.